The End of the Cold War: A Russian View
Vladimir Batyuk describes how the Gorbachev reforms, and the collapse of the Warsaw Pact and Soviet Union, changed Moscow's view of the world.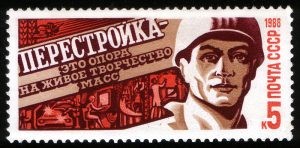 While the geopolitical differences between Russia and the West should not be underestimated, the Cold War was fundamentally about ideology not geopolitics. By contrast, the British-Russian Great Game of the nineteenth century never led to anything like the Cold War, since the ideological differences between the Russian and the British empires at that time were insignificant.
Russia and the other great European powers then belonged to the same privileged club, ruled by a like-minded European aristocracy. The Russian Revolution, a product of the First World War, was both a symptom of, and a contribution to, the decay of that cosmopolitan aristocracy and of the ideological unity of Europe that it epitomised. The Russian form of Communism thus became an attempt to create an alternative, non-Western way of life. In this sense, ideologically the Cold War began as early as 1917. After 1945, with the Soviet Union ascending to the status of superpower, the Cold War was transferred also to the sphere of geopolitics. At the end of the 1980s, however, it became obvious that the Communist experiment had failed miserably. The Soviet way of life, characterised by such ugly features as economic hardships, technological standstill and moral degradation, lost its appeal even for the Soviet people themselves. In the 1920s and 1930s, the West had been scared by Soviet Communist propaganda. In the 1980s, on the other hand, the Soviet authorities had to jam Western broadcasts in order to maintain control over its population.