The Elusive Byzantine Empire
Dionysios Stathakopoulos surveys the history of the Byzantine Empire from its foundation in 324 to its conquest in 1453.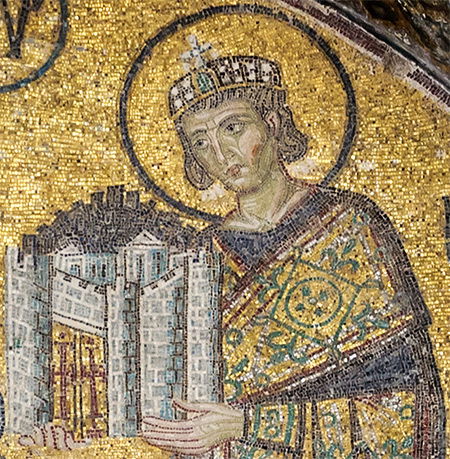 Mosaic from Hagia Sofia depicting Constantine I with a representation of the city of Constantinople
The Byzantine empire means different things to different people. Some associate it with gold: the golden tesserae in the mosaics of Ravenna, the golden background in icons, the much coveted golden coins (besauntas Wycliffe calls them), the golden-hued threads of Byzantine silks used to shroud Charlemagne. Others think of court intrigues, poisonings and scores of eunuchs. Most will think of Constantinople, which used to be Byzantium and is now Istanbul, and will possibly bring to mind the city's skyline with the huge dome of the Hagia Sophia. Little else perhaps exists in the collective imagination. All this is indeed evocative of Byzantium, but there is so much more to explore.