The artist was born in London on November 10th, 1697.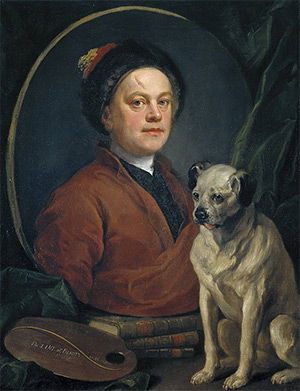 William Hogarth, Painter and his Pug, 1745
Satire often ages badly. A great book though it is, who today reads and fully understands Gulliver's Travels without a full set of footnotes and an in-depth knowledge of the shenanigans of Queen Anne's court? With William Hogarth, the case is very different. As a visual artist, his work, and its scathing social commentary, is as fresh today as ever.
Hogarth painted in an era of relative peace and prosperity, the so-called Augustan Age between Queen Anne and George III. If the good life does not usually produce great art, the self-satisfaction and moral decline caused by this prosperity were meat and drink to Hogarth. In a series of uncompromising works he depicted all that he saw was wrong with his country. Perhaps the best examples are his 'comic histories', such as 'The Harlot's Progress' (1732), 'The Rake's Progress' (1735) and 'Marriage à la Mode' (1745). This last was a series of six scenes charting the progress of an arranged marriage between the offspring of an impoverished earl and a social-climbing merchant, through the meeting of the reluctant bride and groom, and ending in adultery and death. In other well-known images, like 'Gin Lane' and 'Beer Street' Hogarth continued his analysis of society's moral state, this time among the lower classes.
But Hogarth was no misanthrope. He hated what was happening to his country, but not all the people in it. He especially admired characters, like himself, who had made their own way in life. For example, his portrait of the merchant Thomas Coram is full of admiration for the self-made businessman who set up Britain's first hospital for foundlings, and Hogarth painted the stout, ruddy-faced benefactor as a paragon of virtue. He also loved his country, as his 'March to Finchley' demonstrates. Depicting the mustering of George II's troops to do battle with Charles Edward Stuart, it is full of honest and affectionate lampoons of the English soldiery, standing in stark contrast to the bitter 'Calais Gate', whose obese Catholic monk, ugly nuns, scrawny French soldiers and cowering Jacobites systematically savages most of England's traditional enemies.
Understandably, Hogarth's work did not always please. On seeing 'March to Finchley' George II exclaimed 'take his trumpery out of my sight'. For the king, art was about propaganda, not reality. But in many ways Hogarth was lucky in his ability to upset whom he pleased. He was one of the few artists of his day who did not have to rely on the capriciousness of patrons to earn a living. By selling his engravings and prints through the newspapers directly to the public, Hogarth was able to make a living and paint what he liked. It was this which led him, in 1735, to successfully lobby Parliament to pass legislation protecting an artist's copyright, and so prevent cheap copies of his work being reproduced.
In later years he continued to upset and amaze. His portrait of John Wilkes subverted the popular image of the radical MP as the defender of liberty by portraying him as a cynical opportunist, whose ill-fitting liberty cap sits uncomfortably on his expensively-wigged head. Similarly, Hogarth's tract on art, the Analysis of Beauty (1753), contained forthright views on, amongst other things, the architecture of Wren and the poor way art was taught in England.
To the end, Hogarth continued to complain about and cajole the country he loved. It was this affection that has helped make his art stand the test of time. His works are not cruel but intensely human, as all good art is.