Margaret Thatcher's Rise to Power
Robert Pearce considers why Margaret Thatcher became Prime Minister in 1979.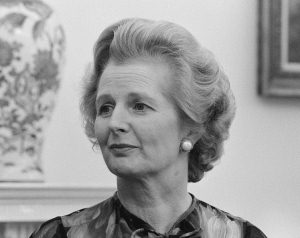 She was Britain's first female Prime Minister and our longest-serving Premier of the twentieth century. In addition, she was a dominant leader. Rather than conforming to consensus views, she was prepared to say and repeat 'No', and very loudly indeed. 'The lady is not for turning,' she once famously intoned. So intransigent did she become that cabinet colleagues had to turn on her to secure her removal, in 1990. But how did Margaret Thatcher achieve power in the first place, in 1979? Her predecessor as Prime Minister, James Callaghan, prefaced his memoirs with a quotation from the book of Ecclesiastes: 'The race is not to the swift, nor the battle to the strong … but time and chance happeneth to them all.' Yet surely mere circumstance could not have projected the 'Iron Lady' into power?
Into Politics
As William Wordsworth almost said, the child is mother to the woman. What in Margaret Roberts' childhood prepared her for politics? The simple answer is her father, Alf Roberts. Having no son, he inculcated ambition into his daughter. Not only a successful grocer but also a Methodist lay preacher, he believed in thrift, self-denial and hard work. He also believed in public service, becoming a local councillor and eventually mayor of Grantham. 'Service Above Self ', the young Margaret Roberts believed, was engraved on the heart of the man who 'gave me integrity'. (Others, however, have insisted that he was 'a mean old bugger' who exploited the young female employees in his shops not only economically but sexually.) It all meant a rather joyless childhood, but she was undoubtedly marked by her upbringing. She believed strongly in patriotism, hard work and personal responsibility. 'Never do things just because other people do them,' her father counselled. It was advice all the easier to take because, known at school as 'Snobby Roberts', she was conscious of being different from the crowd.
From Grantham she went to Somerville College, Oxford, in 1943. There she won a second-class degree in Chemistry. By this time she considered herself a 'true blue' Conservative. Churchill's wartime speeches had given her a sense that 'there was almost nothing that the British people could not do'; and her energies were increasingly being directed into politics. In 1946 she became President of the Oxford University Conservative Association. Soon she was employed as a research chemist and then as a lawyer, but politics was her consuming passion. Living in Colchester in 1947, she joined the local Conservative Association; and in 1950 and 1951 she contested Dartford, each time reducing the safe Labour majority. She was shortlisted for several other constituencies, but only in 1958 was she selected for Finchley, in North London. She was duly elected the following year, with a majority 3,500 votes greater than that of her predecessor. She entered parliament at the age of 34.
There were 25 female MPs in the House of Commons in 1959, more than ever before, but a tiny minority in a House of 630 Members. The position was generally considered too onerous for a woman, especially a wife and mother. But hers was no ordinary family. In 1951 she had married Dennis Thatcher, an affluent businessman ten years her senior; and two years later childbirth, with the production of twins, was soon out of the way. During her fortnight in hospital she worked tirelessly for her Bar finals, and within days of arriving home she found an Austrian nurse for the babies, and when they were six weeks old their first nanny arrived. At eight and nine respectively, Mark and Carol were sent to boarding schools. The latter later wrote that her mother was an extraordinary person but not an extraordinary parent.
Thatcher judged in 1969 that no woman would be prime minister in her lifetime, and it was undoubtedly a handicap to be a woman in politics, regardless of one's party. A remarkably intelligent and capable Labour MP, Shirley Williams, soon learned that patronising male MPs thought her natural position was 'if not a tea-lady, then at best a secretary'. A useful contrast can be drawn between Thatcher and Williams, first in their family lives. Thatcher made a show of combining motherhood and domesticity with political life, while in fact carrying the former duties lightly. Williams, however, though only having one child, suffered a series of debilitating miscarriages. 'Politics is a hell of a profession to combine with motherhood,' she wrote. Also her husband proved not to be the faithful spouse that Denis Thatcher was. Another contrast was that while Thatcher played on her femininity, using sex appeal as a political weapon, Williams did not. The novelist Kingsley Amis judged that, while not ugly, Williams always had the dishevelled look of someone who had just got off a train an hour late and whose hair 'has not had a comb through it for days'. In contrast, Thatcher was 'one of the best-looking women I had ever met'. Above all, Thatcher had greater self-belief. Williams admits in her memoirs that she thought herself 'not quite good enough for the very highest positions in politics', while Thatcher had a genuine touch of ruthlessness.
Into Office
After only two years in parliament, Thatcher became a Junior Minister in 1961. After Labour's victory in 1964, she entered Edward Heath's Shadow Cabinet as spokesman first for Fuel and Power, then Transport and finally Education. When the Conservatives under Heath won the 1970 general election, she duly became the Education Secretary.
She soon hit the headlines. When she removed free milk from 8-11 year-olds, she became notorious as 'Margaret Thatcher, Milk Snatcher'. The Sun dubbed her 'the most unpopular woman in Britain'. In fact, the criticism was unjust. The Chancellor was insisting on major cuts and had wanted milk taken from all children who still received it, after Labour had already taken it away from secondary school pupils. As it was, infants still received their bottle of milk every day, and in addition Thatcher resisted calls for the Open University to be scrapped and raised the school leaving age to 16. Probably this unpopularity toughened her up for challenges ahead, and anyway the spotlight of adverse publicity soon shifted to the government as a whole, as huge increases in the world price of oil caused economic mayhem and industrial turmoil.
Thatcher, who had voted for Heath in the 1965 leadership contest, wrote scathingly of him in her memoirs. He pursued 'growth at the expense of sound finance'; indulged in one U-turn after another; and in the end 'seemed out of touch with reality'. At the time she breathed not a word against him, but undoubtedly his government was all but overwhelmed by the storm of problems that confronted it – by uncontrollable inflation, a rash of major and violent strikes, by business failures and mounting unemployment. In addition, Heath himself seemed almost to delight in seeming remote and elitist. Furthermore, he fatally dithered over the date of a new election, delaying until February 1974. The contest proved a close-run thing. The Conservatives polled more votes than Labour but won fewer seats. There was now a potential vacancy for the leadership of the Conservative party.
Party Leader
No immediate action was taken to depose Heath, as Labour did not have an overall majority and a new election was in the offing. Yet Heath fared no better in October 1974 than in February, and a Gallup Poll showed that only 27 per cent of electors approved of him. Labour was returned with a majority of three seats.
Heath had now lost three general elections (in 1966, February 1974 and October 1974) and won only one (1970). Furthermore, the Conservatives had in the last election received their lowest share of the vote since 1906. Surely Heath would do the decent thing and resign? Many thought so, but not Ted himself. Who would stand against him in a leadership contest? Many thought that Edward du Cann, the influential chairman of the 1922 Backbench Committee, might stand, but he refused, perhaps because of financial worries. The heir-apparent, William Whitelaw, believed that Heath should go, but did not want to wield the sword: he let it be known that he would not stand, at this stage. Right-wing maverick Enoch Powell was out of the running, having urged electors to vote Labour, to secure a referendum on British membership of the European Economic Community he so detested. The right of the party therefore pinned their hopes on Keith Joseph, who had been Secretary of State for Social Services. Yet he was not popular with the public. One satirist said that he had the habitual look of 'someone who'd put his finger through the toilet paper' – crude, admittedly, but those who remember Joseph's tortured grimace will know exactly what was meant. His candidature was undone when he made an incautiously worded speech implying that the lower classes should be discouraged from breeding so fast. He withdrew under a barrage of criticism. Only then did Margaret Thatcher decide to stand as party leader.
Thatcher had recently been moved to the Shadow Treasury Team, where she made some effective speeches attacking Labour's budget proposals. But, even so, she was considered a rank outsider. She was a woman in a male-dominated party, she was relatively inexperienced, and not many actually liked her. She seemed too distant and too abrasive – too much, in fact, like Edward Heath. There is no point, wrote Bernard Levin in The Times, 'in jumping out of the igloo into the glacier'. Heath was confident of an easy victory, and consequently did not exert himself overmuch. Thatcher's campaign, on the other hand, was masterminded with positively Machiavellian skill by Airey Neave, who had previously planned to perform this service for du Cann. He focused on the many backbenchers who felt that Heath had neglected their talents. Thatcher, he told them, wonders why they had never had a job in government – had they simply refused to serve? To others he remarked that of course Heath was bound to win, but he should not win too easily: a vote for Thatcher would be a warning shot across Heath's bows. To Whitelaw's supporters, he insisted that a vote for Thatcher would allow Willie to come into the second round.
At the end of the first ballot, Heath gained 119 votes to Thatcher's 130. The momentum was now with her. Heath dropped out, and in a second ballot, Whitelaw could manage no more than 79 votes, leaving Mrs Thatcher victorious with a resounding 146 supporters.
The Conservatives now had their first female leader. It was far from certain, however, that she could hold on to the leadership, let alone become Prime Minister. It would be all over by Christmas, judged her hopeful critics. When she attended her first meeting of the Shadow Cabinet, she must have been aware that very few of its members had voted for her. How long could the 'peasants' revolt' last?
The Road to No 10
Could the first female party leader in British history become the first woman Premier? What had once seemed somehow contrary to nature was now at least a possibility. This was the era of women's liberation, with the publication in 1970 of The Female Eunuch by Germaine Greer. There was a growing demand for women to be in positions of authority outside the home, and a popular novel of 1972, The Mistress of Downing Street by Walter Harris, depicted the first female PM of Britain. 1975 was also International Women's Year, and women had already become premiers elsewhere in the world.
Thatcher proved no match in the Commons for the wily Harold Wilson. Nor did she fare much better when the avuncular James Callaghan took over as PM in April 1976. All too often her party seemed divided and unsuccessful. It was therefore fortunate that another general election was several years off. Yet in this time she did much to make herself and her party electable.
Thatcher gained valuable publicity from a rather intemperate speech attacking the Russians as 'bent on world domination'. When the Red Star then dubbed her the 'Iron Lady' she cashed in on the propaganda value of the description. Further support came when she spoke out against immigration into Britain, arguing that 'People are really rather afraid that this country might be rather swamped by people with a different culture'. Her message that the state was stifling personal initiative and responsibility, and had to be rolled back, also appealed to many. In particular, she insisted, government should allow a return to free collective bargaining, while controlling inflation by limiting the money supply, as monetarists like Milton Friedman in the USA and Enoch Powell in Britain had been arguing. In short, Britain should return to 'good housekeeping', even if this meant defying over-mighty trade unions. The most crucial work for the Conservatives, however, was done by the Labour government.
The main priority for Labour was tackling inflation. Their means was a 'social contract' whereby the unions would accept voluntary pay restraint. In 1976 a sterling crisis led the government to accept humiliating loans from the International Monetary Fund, at the cost of instituting unpopular public spending cuts, but even so considerable progress was made. Inflation, standing at 26 per cent in August 1975, was down to 8 per cent three years later. The question was whether the unions would accept further limitations on pay rises. When, in July 1978, Callaghan insisted that increases for the next year should not exceed 5 per cent, it was clear they would not.
Colleagues, including Shirley Williams, urged Callaghan to allow rises of 8 per cent, just above inflation, and call an autumn general election. This might well have proved a winning formula, as Labour was slightly ahead in the opinion polls in October, but the Prime Minister refused to budge. It was a fatal mistake. There were pent-up wage demands, after years of restraint during which the standard of living of many workers had fallen. The result was a rash of strikes, generally of low-paid public sector workers, that constituted – in the media hype of the time – the 'winter of discontent'.
Into Downing Street
By March 1979 strikes were dying down, but there was no respite for Callaghan. On 28 March his government lost a vote of confidence by a single vote and a general election was called.
The Conservatives undoubtedly presented an attractive alternative to the government. In a bid for popularity, Thatcher had agreed to change her hairstyle, her clothes and even her voice, and now the advertising agency Saatchi & Saatchi designed slick posters, the most effective of which showed a long dole queue, captioned 'Labour Isn't Working'. Nevertheless 1979 was essentially an election that Labour lost; and they lost, as Callaghan soon judged, 'because people didn't get their dustbins emptied, because commuters were angry about train disruption and because of too much union power'. The Conservatives gained a majority of 43 seats, with a swing of 5.6 from Labour to Tory. Margaret Thatcher became Prime Minister, at the age of 53. Yet it is not hard to envisage the Conservatives under another leader winning by a similar margin. After all, Thatcher in 1979 only gained 43.9 per cent of the total vote, less than the 46.4 per cent Heath had managed in 1970.
Conclusion
Despite her image as the implacable Iron Lady who controlled events, Margaret Thatcher had undoubtedly enjoyed a huge slice of luck.
She was fortunate in her childhood, which gave her remarkable self-confidence and inculcated in her simple, rather than intellectually nuanced, notions of right and wrong. It also fostered habits of hard work. She was also fortunate in her education, gaining her place at Somerville only when someone else dropped out. It was not easy for her, as a woman, to obtain a seat in Parliament and yet the need for a 'token woman' certainly helped her admission to Heath's cabinet. Even more vital were Heath's failures as PM, particularly his refusal to call an earlier election. Had he done so, Thatcher herself judged, he would probably have won –and what would then have become of her leadership hopes? Also remarkably fortunate was the ineligibility to stand as Tory leader of two men she admired and from whose political philosophies she learned much – Enoch Powell and Keith Joseph. Also absolutely vital was the tactical brilliance of Airey Neave in masterminding her leadership campaign. If Neave had worked for du Cann – or if he had been killed by Irish terrorists earlier, rather than in March 1979 – she would not have become party leader. In addition, she was the beneficiary of Labour's failures. Callaghan undoubtedly mismanaged the timing of the 1979 election, and his 5 per cent 'pay norm' was a crass error. A more politically astute Labour leader could well have defeated Thatcher and the Conservatives.
'Time and chance' did indeed 'happeneth' to Margaret Thatcher, of course they did; but they did not 'determineth' her success in becoming Britain's first woman Prime Minister. She showed remarkable energy and exceptional courage throughout her career, and particularly when she stood against Heath in 1975. Powell judged that she was simply 'opposite the spot on the roulette wheel at the right time'; but it was she who put herself there while seemingly greater figures scrupled to act. Thatcher had the killer instinct. The female of the species was more deadly than the male.
Further reading:
Andy Beckett, When the Lights Went Out (Faber, 2009)
John Campbell, Margaret Thatcher: The Grocer's Daughter (Jonathan Cape, 2000)
John Shepherd, Labour Wasn't Working, History Today, January 2009
Margaret Thatcher, The Path to Power (HarperCollins, 1995)
Alwyn W. Turner, Crisis? What Crisis? (Aurum, 2008)
Shirley Williams, Climbing the Bookshelves (Virago, 2009)
If you enjoyed this article, you might like these: