Wagner's Influence on Hitler and Hitler's on Wagner
Jayne Rosefield looks at the interaction between the composer and the dictator. Winner of the 1998 Julia Wood Prize.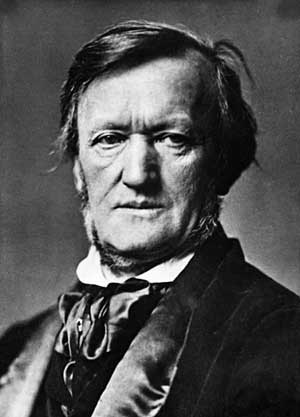 Hitler claimed that his Weltanschauung was derived from Wagner. His youthful reaction to Rienzi led him to exclaim 30 years later: 'It began at that hour'. In Mein Kampf, he praised Wagner as a great revolutionary and claimed to have no forerunner except Wagner. Fest suggests that Wagner had an immense effect upon Hitler. 'The Master of Bayreuth was not only Hitler's great exemplar; he was also the young man's ideological mentor. Wagner's political writing... together with the operas, form the entire framework for Hitler's ideology.... Here he found the granite foundations for his view of the world'. To Davidowicz, racial imperialism and the fanatic plan to destroy the Jews were the dominant passions behind Hitler's drive for power, 'forming the matrix of his ideology and the ineradicable core of Nationalist Socialist doctrine'. It was Hitler himself who placed responsibility for these ideas upon Wagner: 'Whoever wants to understand National Socialist Germany must know Wagner'. Clearly Wagner and his works were adopted as cultural symbols by Hitler and the Third Reich, but was his output misused by the Nazis, or does it contain elements that made appropriation possible?
Wagner's Operas and Written Works
Wagner's operatic works reflect the complexity of his genius, being 'many layered, not without loose ends, puzzles and internal contradictions' (Arblaster). It is this that gives those who wish to see elements of racial nationalism in his operas their opportunity. In Der Ring des Nibelungen, the hero is Siegfried, Wagner's 'man of the future'. In the contrast between Siegfried and Mime, Brearley sees thinly disguised racism. To her, Mime represents the Jewish people his very name indicates his mimetic Jewish barrenness. Siegfried is carefree and fearless, while Mime is a scheming hypocrite. The dwarf Alberich is shown to possess unpleasant stereotypical characteristics of the Jew, hoarding gold, choosing power over love, and controlling those working for him. Blood purity also features in The Ring. When Siegfried and Gunther swear their oath of blood-brotherhood, Hagen, another representative of Jewry, does not join in, explaining:
'My blood would spoil all you drink my blood's not pure and noble like yours'.
If these analogies were intended by Wagner, Mime's murder may be seen as a symbol of the ousting of all traces of Judaism from German music and society.
To Gutman, Wagner in Parsifal 'set forth a religion of racism under the cover of Christian legend'. It is undeniable that ideas of blood purity play a role or that the opera may be seen as a fable about racial degeneration and regeneration. The Jew is shown in the guise of Kundry and Klingsor to have poisoned Aryan 'blood, personified by Amfortas, whose sin was to have sexual contact with a racial inferior. His blood is thus corrupted, and he can no longer act as leader of a male community committed to preserving Christ's sacred blood. Parsifal's rejection of Kundry's blandishments is an affirmation of racial purity, which then enables him to rescue the beleaguered Grail community from its degeneration. That community becomes a metaphor for the Aryan race, threatened with decline by interbreeding but saved by a reassertion of the principle of racial exclusivity.
Wagner's detractors seek to corroborate interpretations of his operas with analysis of his letters and many essays. In a letter to Liszt, he admitted that his 'long suppressed resentment against this Jewish business' was as necessary to his nature 'as gall is to the blood'. Most commonly quoted is Wagner's essay 'Judaism in Music', where he sought to explain why 'actual physical contact' with the Jew remained for the non-Jew 'instinctively repugnant'. He inveighed against Jewish artists, who, motivated solely by commercial instincts and lacking a culture of their own, could only imitate the art produced by the host culture. True Germans could only be repelled by the alien physical appearance of the Jews and by the offensive sibilant sound of their voices. The most condemned passage is Wagner's appeal to the Jews: 'Join unreservedly in this work of redemption that you may be reborn through the process of self-annihilation and we shall all be united and indistinguishable...but remember that only this alone can redeem you from the curse which weighs upon you: the redemption of Ahasuerus – Destruction [Untergang]'. To Zelinsky, this sentence contains within it the concept of genocide.
Reinterpreting Wagner
Windell considers that while Wagner's essays do contain elements of emotional nationalism and racial overtones, in his operas 'it is almost impossible... to find any relevant connection, whatever'. Furthermore, in Wagner's many commentaries upon his own works there is not – to Borchmeyer – a single statement entitling interpretation of any of the characters or details of the plots of his operas in anti-Semitic terms. Thus, in Der Ring des Nibelungen the attempt to interpret the Nibelungs as mythic projections of Jews is no more than an unverifiable hypothesis. In fact, Wagner's original conception of the prose scenario – The Nibelung Legend, 1848 – had ended with the liberation of all the Nibelungs. The truth is that this many faceted work is capable of a multitude of interpretations. To Windell, the message of The Ring is that love and sacrifice alone can redeem the world from hatred and corruption, while to G.B. Shaw, it is a drama about contemporary capitalism. As for Parsifal, the blood purity theory cannot stand, since 'the blood which is referred to...is the Saviour's, and whatever may happen to it, racial pollution is not among the conceivable risks' (Tanner). Perhaps this view is confirmed by the fact that Wagner allowed the first performance of his sacred drama to be conducted by Hermann Levi, the son of a rabbi.
Millington considers Wagner's anti- Semitism to be no isolated phenomenon. According to Volkish ideology, Jews were intrinsically un-German, inevitably cast as rootless outsiders: 'even among liberals and other progressives, it was part of the common currency of though and discourse'. Wagner's purpose was to explain the failure of the genuine integration of the Jews. He suggested that the very rootlessness of Jewish artists prevented them from articulating the emotions of the German people. Instead of presenting the depths of the soul, Jewish art dealt in surface appearances. Perhaps Wagner's attitude may best be summed up by his comment: 'If ever I were to write again about the Jews, I should say that I have nothing against them; it is just that they descended on us Germans too soon, and we were not yet strong enough to absorb them'.
As for 'the Redemption of Ahasuerus – Destruction', Zelinsky quotes this sentence out of context. It is not simply a question of 'self-annihilation', the voluntary nature of which excludes any thought of physical liquidation, but rather an act of a symbolic nature, intended to bring about the mystic transformation of the whole of humanity. Certainly the Jew Joseph Rubinstein understood this to be the case when he sought admission to Wagner's household, arguing 'that the Jews must perish'. Clearly he did not mean physical death any more than Wagner, who aimed that 'we' should be 'united with and indistinguishable from' the Jews. In his treatise Religion and Art, Wagner re-examined the Jewish question, emphasising that the blood of Christ flowed not for any 'one privileged race', but for 'the whole of humankind'. The natural inequality of the races had led to 'a fundamentally immoral world order' as a result of the 'domination and exploitation of the inferior races'. This must be compensated for by a moral equality 'such as true Christianity must encourage'. Wagner regarded this essay as his final contribution to the Jewish question, as is clear from his letter to Angelo Neumann: 'I have absolutely nothing in common with the modern anti-Semitic movement – an essay of mine will clarify this, to the extent that it should henceforth be impossible for anyone of intelligence to associate me with the movement'.
Wagner, the Nation, and the German Spirit
Wagner's writings on the nation and the German spirit reveal no blueprint for later German history. In On State and Religion (1873), he maintained that patriotism might serve as no more than a useful illusory means of bringing people together. To the enlightened ruler, the interests of mankind in general should transcend the role of power. In What is German (1865) he warned of the yearning after German glory, in which Germans could dream of nothing but a resurrection of the Romish Kaiser-Reich. To Wagner, there was a universality in man that transcended race, religion and nationality. To encourage this to emerge required a people to act as role model – a unified Germany ruled by enlightened leadership. When other nation states emulated the 'German spirit', nationalism itself would wither away leaving only universal man. In his essay 'Beethoven' (1871), Wagner considered the most impressive aspect of the former's genius to be his ability to transcend ethnicity.
Wagner's Inconsistent Views
It is clear that Wagner was inconsistent in his views. He was 'a supreme egoist in a century of artistic egoists', and his attitudes were almost invariably reactions to the situation in which he found himself as an artist. He became a revolutionary in 1848 because he hoped that in a new Germany a German artist would be heard. His often-expressed disdain for Prussia melted completely after the Franco- Prussian war, for he felt that in the new Reich he would have his opportunity to regenerate society. Yet his enthusiasm waned rapidly when Bismarck refused to subsidise his Bayreuth theatre, and it ended totally in 1876 when the Emperor abandoned the first Bayreuth festival to attend military manoeuvres! Henceforth Wagner would largely denounce the militarism of the German Empire. In tandem with his anti-Semitism, Wagner had an unusually large number of close Jewish friends, describing his early friendship with Samuel Lehrs as 'the most beautiful friendship of my life'. He looked upon Karl Tausig as a son, appointing him to manage the entire plan for his proposed Bayzeuth festival. Joseph Rubinstein became second in command at Bayreuth and claimed that in 11 years he had never experienced any hostility relative to his religion. Angelo Neumann was placed in complete charge of the production of all Wagner's musical works outside Germany, and Hermann Levi was to conduct the world premiere of Wagner's testamentary Parsifal. Interestingly, in moments of extreme artistic frustration, Wagner, the supposed staunch German nationalist, often considered moving to the USA: 'If I am not successful I shall go to America... and never dream of returning to Germany'.
The Wagner-Hitler Link
Clearly, the link between Wagner and Hitler is by no means as direct as that seen by Gutman and Zelinsky. To Windell, Wagner's anti-Semitism may be regarded as 'offensive and unworthy of a great man, without seeing it as closely related to the unspeakable use of Hitler'. Magee too considers the charge against Wagner to be 'mere guilt by association, Wagner's works have nothing whatever to do with Aryans, jackboots, or the gassing of Jews, and to suppose that they have is to accept the perversion of them propagated by the Nazis'. Yet if this relationship is more tenuous than generally supposed, the question must be asked why the presumption of a direct intellectual relationship has continued to recur.
Wagnerism Becomes a Cult
Newman was partly right when he claimed that it was not Wagner himself but his Bayreuth successors who turned Wagnerism into a cult. Wagner had established the Bayreuth festival to provide a semi-religious environment where his works could be produced with the requisite seriousness. Yet his first choice for his festival had not been Germany but the antithesis of the nationalistic state Switzerland. After his death, it was administered by Cosima, who converted Bayreuth into an international symbol of the cultural predominance of Germany. To her, every utterance of the Master was akin to revelation. She set the tone and interpreted the meaning of Wagner to Germany. Thus Hitler himself admitted: 'It was Cosima Wagner's merit to have created the link between Bayreuth and National Socialism'. It was the Bayreuth circle which raised Wagner's message to the status of gospel, manoeuvring his ideas into a Germanic-Christian doctrine of salvation. Nietzsche first diagnosed this: 'The Germans have constructed a Wagner for themselves whom they can revere'.
After Wagner's death, the Bayreuth circle became increasingly sect-like. Thus Behr praised Bayreuth as 'the place to learn again and again to have confidence in Germanness, in German idealism and in German selflessness'. The most significant Bayreuth ideologue was H. S. Chamberlain, Wagner's son-in-law. Chamberlain called for the birth of a German Christian religion: the redemption of Aryan Christianity would be achieved only through the elimination of the Jew. To him, two 'pure' races stood facing each other – the Jews and the Germans: 'Where the struggle is not waged with cannon balls, it goes on silently in the heart of society... but this struggle... is above all others... for life and death'. Thus, Chamberlain transformed Bayreuth's passive nationalism and racism into an aggressive crusading force. Under his influence the Bayreuther Blatter and the official Bayreuth Festival Guide became oracles of militantly nationalistic and viciously anti-Semitic views. Perhaps, above all, the real contribution of the Bayreuth Circle to future fascism lay not in nationalist ideology nor in racist ideas, both of which could be found elsewhere: it lay in the resoluteness with which the opposition between Germandom and Jewry was raised to the central theme of world history, and in its exclusiveness, its Knights of the Holy Grail mentality, its total and submissive devotion to the Master. Here were rehearsed socio-psychological mechanisms which became politically exploitable in the twentieth century.
It was not just that the Bayreuth Circle provided Hitler with the intellectual basis for his Weltanschauung. The Wagner family itself gave him the psychological support to counter 'his insecurity, the painful sense of being an outsider in bourgeois society, which remained with him for a long time'. Winifred Wagner joined the NSDAP in 1926, giving Hitler the Wahnfried's total endorsement: 'For years we have been following with the deepest personal sympathy and approval the constructive work of Adolf Hitler...who... sacrifices his life for this ideal of a purified, united national Germany'. This association lent Hitler an aura of high culture and prestige seldom enjoyed by German politicians, in a country proud of its musical heritage. It was by mixing with the cultural elite that Hitler acquired a sufficient veneer of refinement to make him appear a plausible candidate for high political office, despite his humble origins and minimal formal education. Corroboration of the importance of Winifred's role is contained in the judgement of 2nd July 1947 which convicted her for having 'supported and promoted the NSDAP significantly through her friendship with Hitler'. It was, however, H.S. Chamberlain who was to give Hitler the political legitimacy he sought, lauding him 'not as the precursor for someone greater, but as the saviour himself, the key figure of the German counter-revolution'. As Fest comments, 'To the demagogue... those words came as an answer to his doubts, as a benediction from the Bayreuth Master himself'.
Hitler's Appropriation of Wagner
If the Bayreuth Circle, rather than Wagner himself, was the predominant influence upon Hitler, to what extent was the ostensible Wagner-Hitler link caused by Hitler's own appropriation of Wagner? It is clear that the Nazi regime sought from its first days to link Wagner with itself. On Wagner's birthday in 1933, the mayor of Bayreuth compared Wagner's struggle against 'all the world on behalf of German culture and the German spirit' with the battle in which the Nazis were engaged. In that same year, the Liepziger Neueste Nachrichten commenced: 'Bayreuth is the symbol of the Third Reich. National Socialism sees in the works of Richard Wagner something related to it in the essence and in the spirit'. It is hardly surprising that a new revolutionary regime, seeking to capitalise on intense racial feeling, would claim for itself elements in the nation's cultural tradition which had already attained national and international prestige. Moreover, such views evidently represented Hitler's firm conviction too. Rauschning reported a conversation with the Fuhrer in 1934 showing Hitler's firm belief that he truly comprehended the real meaning of Wagner's ideas. 'Everything written by that great man that he had read was in agreement with his own innermost, sub-conscious, dormant conviction'. Thus, Hitler found in the composer's writings precisely what his inner convictions made him want to find. Kubizek, Hitler's childhood friend, stated that he sought in his reading 'merely confirmation... for principles and ideas which he already had'. All this is borne out by Hitler's remarks to Rauschning on Parsifal: 'It is not the Christian religion of compassion that is acclaimed, but pure, noble blood, in the protection and glorification of whose purity the brotherhood of the initiated have come together'. Thus Hitler saw in Parsifal the religious vision of the SS plan for the new aristocracy of blood and soil. Wagner's Untergang or metaphorical Destruction was to be transformed into Hitler's Endlosung or Final Solution.
Hitler's appropriation of Wagner continued into his years of political dictator- ship. He claimed that his Emergency Decree of 4th February 1933, banning political meetings and newspapers, was necessary because Wagner had received negative press reviews of his music dramas, and the Fuhrer wished 'to preserve the present-day press from similar errors'. The very title Fuhrer was appropriated from a passage at the end of Lohengrin: 'Zum Fuhrer sei er euch ernannt! ' – 'Accept him as your leader!' Surely Hitler also identified with Siegfried as the avatar of racial purity. Most importantly, Hitler appropriated from Wagner a vision of the role of the artist in society. He always regarded him- self as an artist who bad condescended to become involved in politics. The real core of Hitler's political drive lay not in politics but in the religiosity he appropriated from Wagner. Hitler assumed from Wagner the absolute right of the artist to intervene on every subject he wished. He did not view politics as collective action to achieve limited objectives but rather believed in the dictatorship of genius, in the artist intervening like a philosopher-king to impose his will upon the people, leading them to a heroic goal.
Conclusion
It is not difficult to see that with the apotheosis of Wagner and the glorification of Bayreuth there took root a perceived symbiotic relationship: Wagner- Bayreuth-Hitler-National Socialism-Third Reich. Yet the blame must be more accurately laid at the door of the Bayreuth Circle, the Wagner family and of Hitler himself. Wagner's output was used by the Bayreuth Circle to pursue its own agenda, and Wagnerism became a more consistent and powerful ideology than Wagner himself could ever have foreseen. The blame that may be attached to Wagner is that his works lent themselves too well to appropriation. It was rather Wagnerism that Hitler appropriated, but it was to Wagner that the Fuhrer gave the credit. Nothing was more symbolic of this appropriation than the manner of the Fuhrer's defeat. Just as Siegfried and his lover Brunnhilde were consumed in a funeral pyre, Hitler and Eva Braun were immolated together in the Gotterdammerung that was Berlin. As always, Hitler followed the Wagnerian myth, for Wagner himself had died quietly in his bed in Venice, surrounded by his loving family.
Further reading:
A Arblaster Viva La Liberta: Politics in Opera (1992)
L Davidowicz The War Against the Jews 1933-1945 (1975)
J FestHitler (1974)
R Gutman Richard Wagner: The Man, His Mind and the Music (1968)
E Levi Music in the Third Reich (1994)
B MillingtonWagner (1984)
E Newman The Wagner Operas (1991)
J Tambling Opera and the Culture of Fascism (1996)
M Weiner Wagner and the Anti-Semitic Tradition (1995)
If you enjoyed this article, you might like these: