Pioneering Royals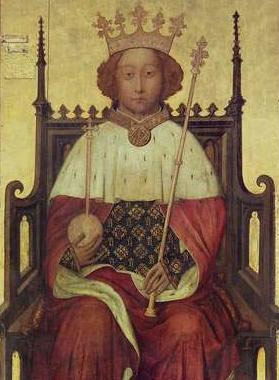 On June 2nd, 1953 Elizabeth II was crowned in Westminster Abbey in the first coronation service to be televised. Here are more pioneering Royals:
The first English king to use a spoon at meal times rather than his hands was Richard II. He also built the first royal bath-house at the Palace of Westminster and is credited with inventing the handkerchief, being recorded in contemporary documents as using square pieces of cloth to wipe his nose.
The first monarch to wear silk stockings was thought to be Elizabeth I, who was given a pair by her 'silk woman', Alice Montagu, in 1560. They can be seen in Hatfield House, where Elizabeth spent much of her childhood. Her successor, James I, attempted to exploit the fashion for silk stockings by planting a mulberry orchard next to St James's Palace in London to feed silk worms. The plan never took off and the site of the orchard is now occupied by Buckingham Palace.
The first monarch to travel by train was Queen Victoria, on June 13th, 1842, when she travelled from Slough station, near Windsor, to Paddington in a specially adapted royal carriage drawn by a new steam engine called Phlegethon, named after one of the five rivers of the Greek Underworld. Victoria was also the first British monarch to be photographed. On May 26th, 1857, not long after the birth of her youngest child, Princess Beatrice, Victoria and her family posed on the terrace at Osborne House on the Isle of Wight for the first ever official royal family photograph.
The first British monarch to travel in a motor-car was Edward VII who in 1896 as Prince of Wales was taken for a ride in England's first automobile, a Panhard Levassor owned by the Hon. Evelyn Ellis of Datchet in Berkshire.
The first monarch to broadcast a Christmas message on the radio was George V, who gave a speech, scripted by Rudyard Kipling, from the Sandringham estate in Norfolk in 1932.
The first British monarch to fly in an aeroplane was Edward VIII, who in 1936 flew from Sandringham to London to be proclaimed king. He took his own twin-engine Dragon Rapide, which in July that year became the first aircraft of the newly created King's Flight.
From The Archive
The Art of Kingship: Richard II

A precocious tyrant? A charismatic Renaissance prince? An out-of-touch autocrat? Or a progressive monarch maligned by usurpers? Caroline M. Barron assesses the reign of Richard II.