Oral Communication and the Arab Spring
Richard Hamilton on why the West has overstated the role of social media and understated the oral tradition in the Arab Spring.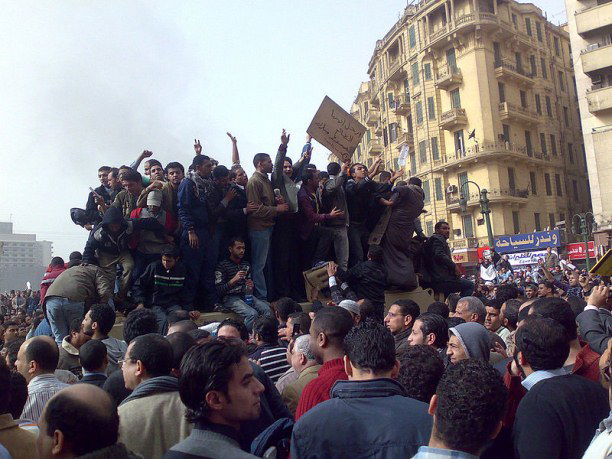 Upheavals in North Africa during the Arab Spring over the past year were eagerly seized upon by western journalists in particular as barometers of the use of social media. From the streets of Tunis to Cairo's Tahrir Square phrases such as 'Twitter revolution' and 'Facebook generation' have been liberally applied.
Yet of the thousands of people who filled Tahrir Square most  were not rich enough to own a laptop and the protests carried on for several days, even when the internet and mobile phone networks had been turned off. In North Africa only around twenty percent of the population has access to the internet and only five percent use Facebook. In contrast eighty percent has television. I think it is less a question of Facebook and more face to face. The role of old fashioned oral communication has been understated and the importance of social media has been overstated, to such an extent that people forget that uprisings in the past were perfectly effective despite the lack of such modern tools.
My own research into oral storytelling in Morocco during the resistance struggle against the French protectorate is a case in point. The storytellers in Marrakech used the Berber language as a form of code to pass messages to one another knowing that the French authorities were oblivious to what was going on (they had not taken the trouble to learn Berber). It was a vehicle for communication that did not rely on technology. It did however require a code and in that sense there are similarities with modern encrypted internet communication.
One storyteller who I interviewed was Ahmed Temiicha who was born in Marrakech in the early 1920s. A decade later he teamed up with street performers in the main square, the Jemaa El Fna. He came to acquire a reputation as one of the great storytellers.
He remembered the advent of new technologies. He recalled the silent movies that were shown in a store in Marrakech and remembered a time when they 'started to talk.' He told me of an incident during the French occupation when, wanting to taste alcohol, he bought a bottle of pastis from a Jewish store owner. There was a curfew at night and gendarmes stopped him at a barricade. They frisked him and found the bottle hidden in his djellaba. "we're not looking for alcohol," they said, "we're looking for guns."
At this time, he said, the storytellers or hlaykia used to tell political stories to foment revolt as part of the underground resistance. One renowned hlayki who did this, Omar Ahroush, was incarcerated several times.
By the 1980s Ahmed had to retire. Now, completely blind, he sits in a dark room with only a radio for company. Technology allows him to keep in touch with the modern world but at heart he is still a teller of tales and a living testament to the unadulterated power of the spoken word.