Pearl Harbor and Japanese-Americans
Following the attack of December 7th 1941, many Japanese-Americans were guilty until proven innocent in the eyes of the US military.
On December 7th, 1941, between 7.53am and 9.55am, Japanese planes flew over the Pearl Harbor Naval Base in Hawaii and destroyed eight battleships and hundreds of aircrafts. During the attack, 2000 members of the US military, nearly 70 civilians and 55 Japanese military personnel were killed. This story has been told. Through the accompanying pictures, however, another side to the story appears.
Immediately after the attack, US animosity toward Japanese-Americans reached a fever pitch. All of the photographs displayed in this article were taken just after the attack. The locations were southern California and 'Little Tokyo', an area in downtown Los Angeles where around 20,000 Japanese-Americans lived. The picture above is fascinating on a number of levels. The American paperboy stands out, surrounded by Japanese-Americans. Perhaps he is attempting to remain calm and not make eye contact with the Japanese paperboy standing next to him. 'Japan Attacks Hawaii, Manila', the Los Angeles Examiner's top line reads.
Undertones of mistrust had started long before the attack. On June 6th, 1941, Raymond Lawrence, an Oakland Tribune columnist, used subheadings such as 'Japan Nears Showdown', comparing Japan to Italy. Lawrence wrote: 'With Japan playing Hitler's game in the Pacific, we are forced to keep the whole fleet at Pearl Harbor. With Japan in the war, we could deal with her expeditiously and then turn our attention to the Atlantic where the final issue will be decided.' Although Lawrence was simply stating his opinion, his words show how a large swathe of American population had long feared a Pacific attack.
By October 1941, FBI agents were targeting dozens of Japanese-American citizens, perhaps following leads based on hints they had received from local law enforcement. By the afternoon of December 7th, however, the FBI was given carte blanche when it came to questioning anyone suspicious. Perhaps this feeling of resignation, or 'shocked silence', is what we see on the faces of the Japanese-Americans in the picture at the top of this article, snapped in the late afternoon of December 7th. Next to his American counterpart, the Japanese paperboy is handing out the Rafu Shimpo, a Japanese newspaper still in circulation today. Though it is difficult to see, we can pick up a few kanji, reading 'Gogai' which translates as 'Extra Edition'.
Rather quickly, respectable Japanese-American citizens saw that they were trapped within a cultural quagmire. They loved America and the opportunities it gave them. In particular, the Nisei (second generation, American born) had carved out lives in Little Tokyo and had only the faintest connections to Japan. Yet simply based on their appearance, they realised that glares from other American citizens would now be a regular part of their daily lives. Japan in their blood, America in their hearts, they walked quietly down the sidewalks of Los Angeles, torn between two countries.
On February 19th, 1942, a mere 72 days after the attack, President Roosevelt signed Executive Order 9066, essentially creating internment camps for 'suspicious' Japanese-Americans. 'The successful prosecution of the war requires every possible protection against espionage and against sabotage to national-defense material', Roosevelt stated.
America has a dark tradition of ethnic paranoia and racial profiling. In the 1950s, the Cold War caused countless Russian-Americans to be imprisoned and questioned due to communist fears. After 9/11, Arab-Americans were subjected to multiple levels of racial profiling, and to this day still feel ostracized. American law enforcement has been unjustly profiling African-Americans for centuries. Donald Trump's presidential candidacy was a perpetual parade of xenophobic vernacular, and comparions have been made betwen Trump's attitudes toward Muslims and Roosevelt's decision to register Japanese-Americans as exiles in their own country.
As early as the afternoon of December 7th, the FBI had started to round-up close to '300 alien Japanese suspected of subversive activities' and had made plans to place another 3000 in 'protective custody.' Terminal Island, an artificial island that rests near Long Beach, California, was home to nearly 6000 first and second generation Japanese-Americans, many of whom were fishermen. Moments after the attack, according to the Associated Press, 'Federal agents and army troops … established a blockade around Terminal Island … FBI agents ordered no aliens would be permitted to enter or leave.'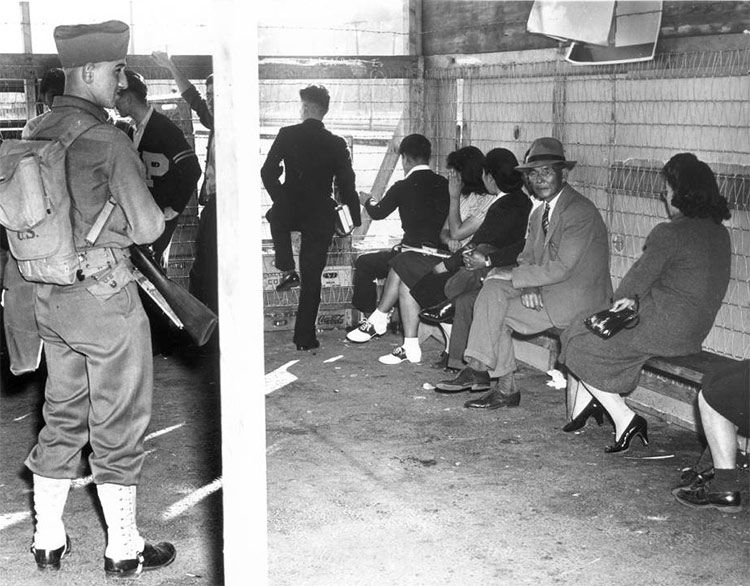 For the Terminal Island residents who had been in transit on a ferry, all were stopped and taken by military personnel to a location such as the one in the picture above, taken late on December 7th. The photo shows the anger and humiliation many Japanese-Americans felt, such as the woman holding her left hand up to her face to avoid identification: 'They were herded into a wire enclosure and were guarded by soldiers from Fort McArthur … Terminal Island…has become (a) huge concentration camp with aliens refused right to leave confines and citizens ordered to stay home.'
Later in the day on December 7th, 'watching bulletins' started to appear in Little Tokyo, words of caution influenced no doubt by the US military's manic ambition to questions any and all residents of Japanese descent.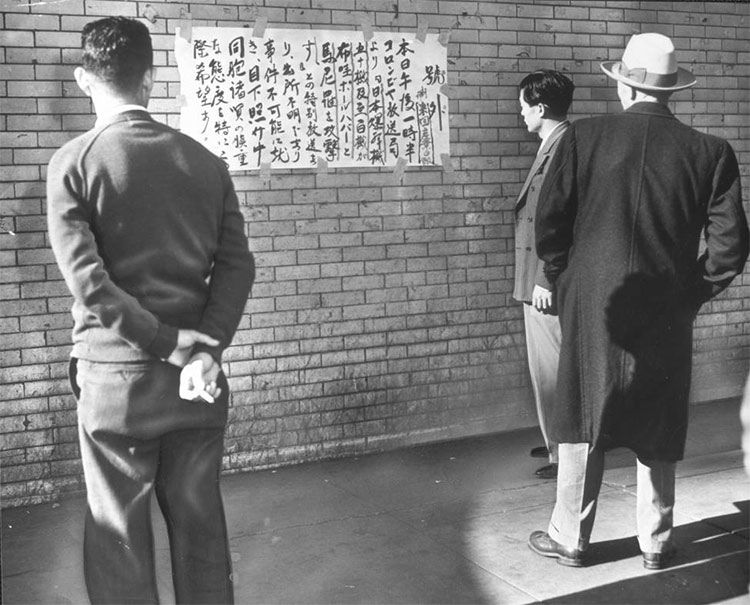 A translation, by Yuka Goto, of the bulletin shown above reads:
Extra Edition - from America Industry Journal
Today at 1.30pm, Columbia Broadcasting Station announced that 50-100 Japanese bombers attacked Hawaii's Pearl Harbor and Manila. Since the source is unknown and it is an impossible event, still we are seeking verification and expect fellow citizens and everybody to stay cautious.
Thousands of men and women grew nervous that their Los Angeles lifestyles would soon be taken from them. With stealth-like quickness, the military had decided to pursue a blanket-judgment policy, when in fact they had had their eyes on turning Terminal Island into a base for almost a year before the attack.
The attack on Pearl Harbor should always be seen as an impulsive and short-sighted reaction to failed negotiations between two countries hungry for global authority. The Japanese government had wanted the US to 'restore all commercial relations with Japan, unfreeze Japanese assets in (America) and supply Japan with oil.' If the US complied, Japan 'agreed to undertake not to send armed forces into any other country in the South Pacific except French Indo-China,' but were willing to compromise on this, if it meant an 'establishment of an equitable peace in the Pacific area', (key word being 'equitable').
America's demands were more absolute: 'Japanese withdrawal of all military forces from China and Indo-China.' The US also wanted Japan to join them in 'recognizing only the national government of China.' If Japan complied, 'trade barriers' would, generally speaking, be reduced between the countries, and assets unfrozen.
Neither side wished to budge, too invested in their own on-going struggles to soften their stance. Japan accused America of being too 'obsessed with its own views and opinions (and) may be said to be scheming for the extension of the war.' Such an extension is exactly what the Pearl Harbor attack achieved. Millions more would be killed in what ended up being one of the deadliest wars in human history. Meanwhile, around 120,000 Japanese-Americans lost their livelihood and civil liberties, all because of an ethnic paranoia that is all too swiftly implemented during difficult times. In December 1944, Fred Korematsu lost his case against the US Government for impinging upon his basic rights as an American citizen in a 6-3 decision that ruled that Executive Order 9066 was constitutional. The decision implied a general understanding that might be summed up in the statement: In times of war, exceptions can be made to the assumption of innocence until proof of guilt.
Photographs courtesy of USC Special Collections.
Patrick Parr is lecturer at University of Southern California's International Academy.