The founding of the great city by the Dutch, and other New York firsts.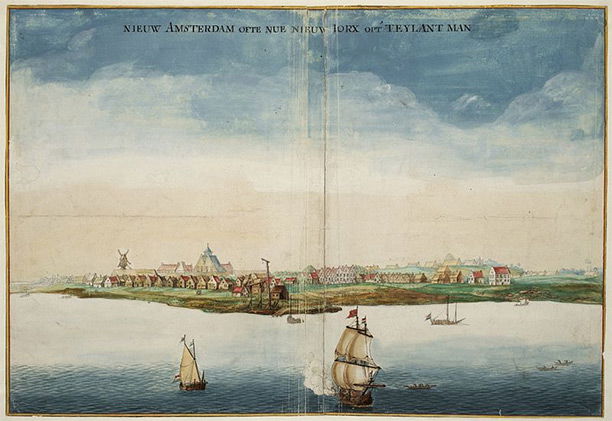 On the morning of May 6th, 1626 Peter Minuit, director of the fledgling Dutch settlement of New Amsterdam on the island of Manhattes, met with a delegation from the local Lenape Indians and purchased the island from them for trinkets worth an estimated $24. A boulder, called the Shorakkopoch Rock, in woods on the northern tip of Manhattan Island, marks the spot where the negotiations took place.
The Lenape had no concept of land ownership and were probably agreeing only to share the fishing and hunting on the island. So Minuit either pulled off the greatest land deal in history or the Lenape duped him into paying for something they didn't own. Nonetheless, the transaction legitimised the Dutch occupation of Manhattan and 27 years later, in 1653, New Amsterdam became the first legally chartered city in America.
New York, as New Amsterdam became when it was handed over to the British in 1664, has since achieved numerous 'firsts'. Here are some more New York firsts that occurred in the month of May.
On May 20th,1895 the the first moving picture ever to be shown on a screen to a paying audience was shown in New York, in the storefront of 135 Broadway – alas, no longer there. The movie was a four-minute film of a boxing match between 'Battling' Charles Barnett and an Australian boxer known as 'Young Griffo', filmed on the roof of Madison Square Garden by Woodville Latham.
On May 30th, 1896 New York was the scene of the first recorded automobile accident in America, when Henry Wells of Springfield, Massachusetts knocked Evylyn Thomas off her bicycle on Broadway.
On May 1st, 1931 the Empire State Building opened in New York as the tallest building in the world, 1,454 feet high, and the first building in the world to have more than 100 floors. New York has boasted more of the world's tallest buildings than any other city in the world and the Empire State would go on to be the world's tallest building for over 40 years, a longer period than for any other building in the 20th century.