A Traveller's Guide to Ruritania
There are many ways to visit Ruritania, although the country doesn't exist. Anthony Hope's bucolic kingdom – replete with chocolate-box royalty and swashbuckling adventure – has a long cultural history.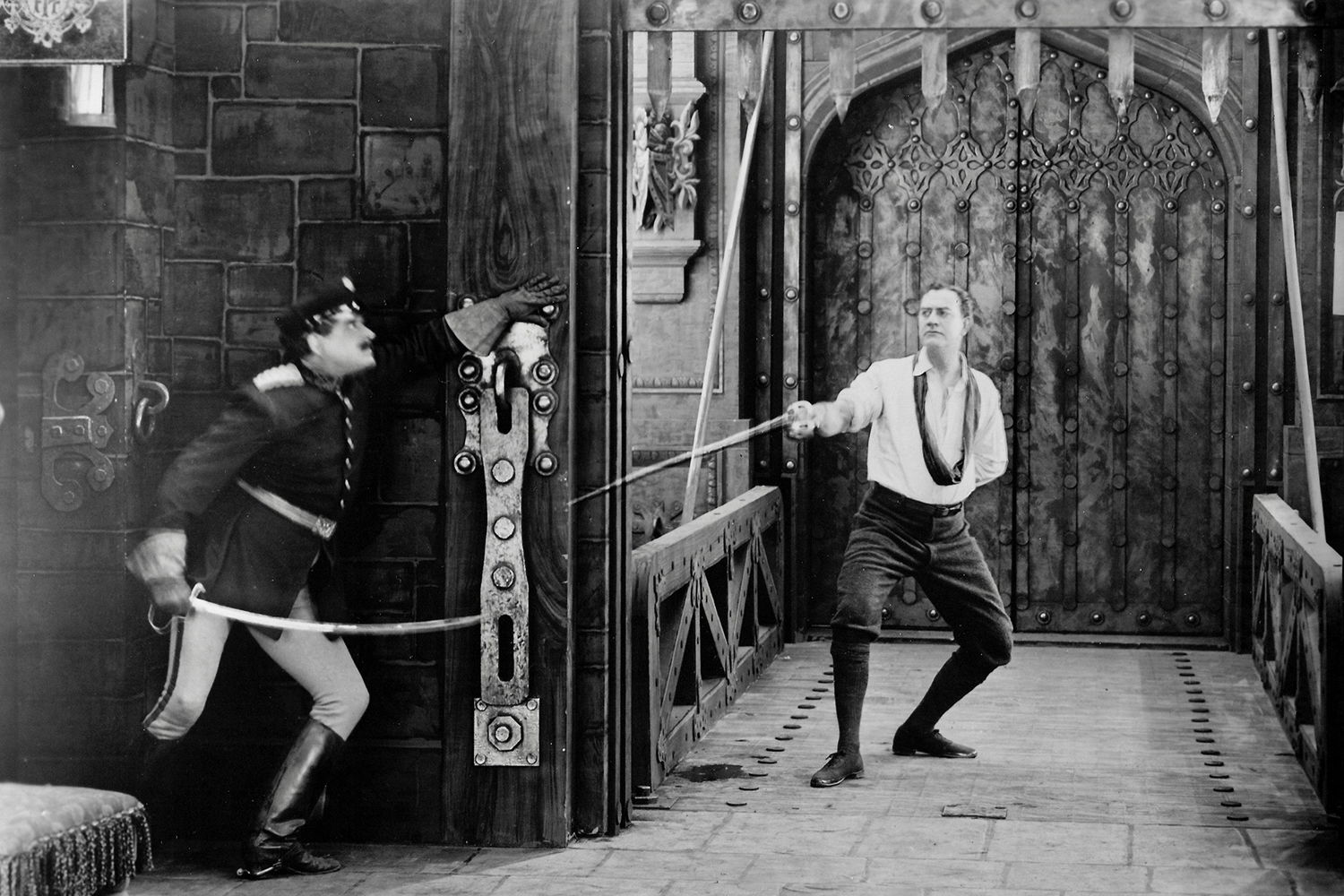 In November 1893, Anthony Hope Hawkins, then a struggling young barrister, was strolling back from court to his chambers in Middle Temple when he came up with a story about lookalikes set in a fictional pocket kingdom. The resulting book, The Prisoner of Zenda, became a bestseller and has never been out of print since it first appeared a year later in 1894. But its setting, Ruritania, has cast an even longer shadow in popular culture. While there have been many adaptations of Zenda on page, stage and screen, there followed countless 'Ruritanian' adventure stories, costume dramas, operettas, stage musicals and films. Frances Hodgson Burnett, P.G. Wodehouse, John Buchan, Marion Davies, Ivor Novello, the Marx Brothers, Peter Ustinov, Dick Van Dyke and Anne Hathaway are just a few of those who at some point have crossed the border into such Ruritanian territories as Samavia, Mervo, Evallonia, Graustark, Krasnia, Freedonia, Concordia, Vulgaria and Genovia.
Anthony Hope had already published novels and short stories, including a tale of mistaken identity set in the fictional principality of Glottenberg, and the plot for Zenda came to him quickly. Rudolf Rassendyll is the younger son of an earl and a distant relation of the Elphbergs, the ruling family of Ruritania, a small, bucolic German state bordering Saxony. At a loose end in London, he travels to Ruritania where he discovers that he bears a striking resemblance to the new king, also named Rudolf, who is due to be crowned. When King Rudolf is drugged by his half-brother, the scheming Duke Michael, the Englishman is recruited by the king's loyal men, Colonel Sapt and Fritz von Tarlenheim, to impersonate him at the coronation, foiling a possible coup. His royal role-play goes well until the real king is abducted and Rassendyll finds himself trapped in his part; worse, he falls in love with Princess Flavia, the king's intended. But his better self prevails and after much scheming and swordplay the real king is rescued from the Castle of Zenda. The player king must now part with his beloved Flavia and he returns to England to daydream of further Ruritanian adventures. A sequel, Rupert of Hentzau, appeared in 1898. 
Reviewers and readers delighted in this thrilling yarn of instant royalty, chivalric love and swashbuckling action. Some hailed it as an escape from the more intellectual fin-de-siècle literary tendencies of Naturalism, Aestheticism and 'New Woman' fiction. Although it is set in the recent past, many critics felt it was more of a piece with Dumas' Three Musketeers (1844) or even the tales of the Round Table.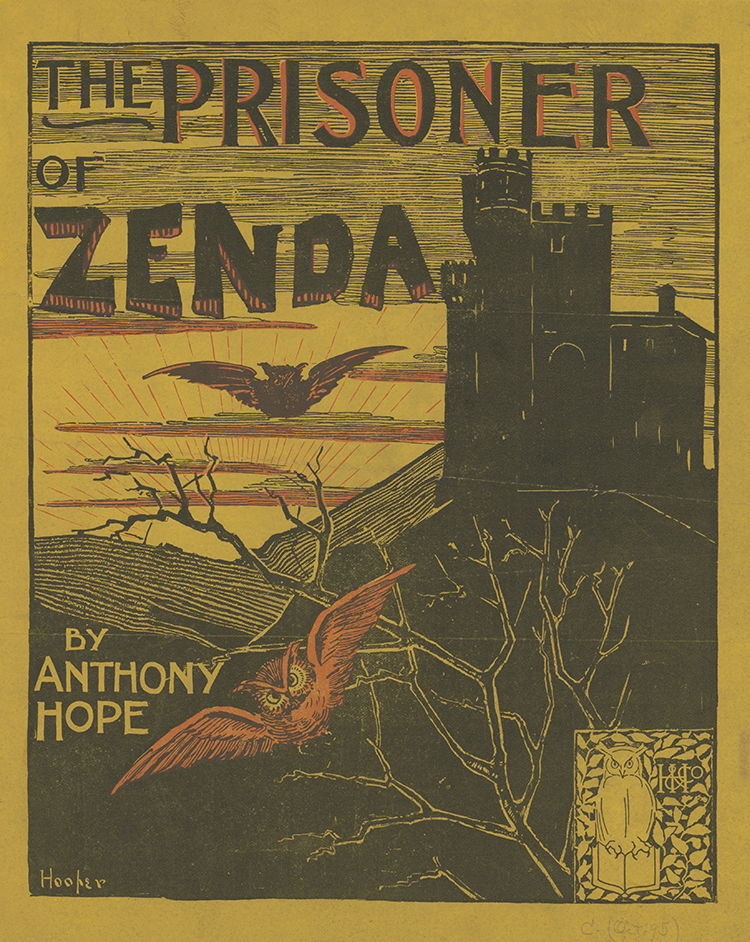 Part of its appeal was that the bijou state of Ruritania seemed to be a land out of time, largely untroubled by modern policing or industrial modernity (though accessible by rail). At a time when Britain appeared to be hurtling into the future, Hope's toy state provided a miniature mirror image in which older certainties held true: men were men and not aesthetes, there were no 'new' women and king and country were sacrosanct.
The fictional use of imaginary countries was nothing new, of course: Thomas More's Utopia, Jonathan Swift's Lilliput and the Brontës' Angria are a few of the more famous earlier literary instances. The colourfully comic German duchy in Jacques Offenbach's operetta The Grand Duchess of Gérolstein (1867) is another significant predecessor. But Hope's ersatz German kingdom is a little different from all of these. A short train journey from Dresden, Ruritania is a realistic, German-speaking territory, barely exotic to his British readers, whose royal family was linked to similar statelets. Yet it is also a place apart, a place of swashbuckling adventure. Ruritania's very name (from the Latin, rus, ruris: country or farm) suggests that we will be stepping out of the modern world into a more rustic or pastoral land. Its diminutive size and sequestered nature are by no means incidental to the story's appeal, as they create intimacy, even a cosiness, and we know that these adventures will have no consequences outside Ruritania's borders; what happens in Ruritania stays in Ruritania. In subsequent versions of Hope's formula, the same ingredients reappear with variations: a small, backwards-looking territory; swashbuckling, romance and disguise; and, on stage and screen in particular, plenty of courtly pomp, offering scope for pageantry and splendid costumes.
The novel's success was accelerated by stage versions that appeared on both sides of the Atlantic. In Daniel Frohman's production at the Lyceum in New York, E.H. Sothern originally starred, but his young understudy James K. Hackett made the quick-change role of Rassendyll/Elphberg his own, bringing a physicality and athleticism to the sword fights that soon made him a 'matinée idol'. Ruritania's American vogue spun beyond page and stage: there were Zenda Waltzes (1895), towns named Zenda (in Kansas, for example) and from Parker Brothers, later of Monopoly fame, came a board game version, its cover featuring a cameo of Hackett as the fearless Rassendyll. In later years Hackett became something of a prisoner of The Prisoner of Zenda, travelling the country in his private railroad carriage to play the role in countless venues of ever-dwindling prestige.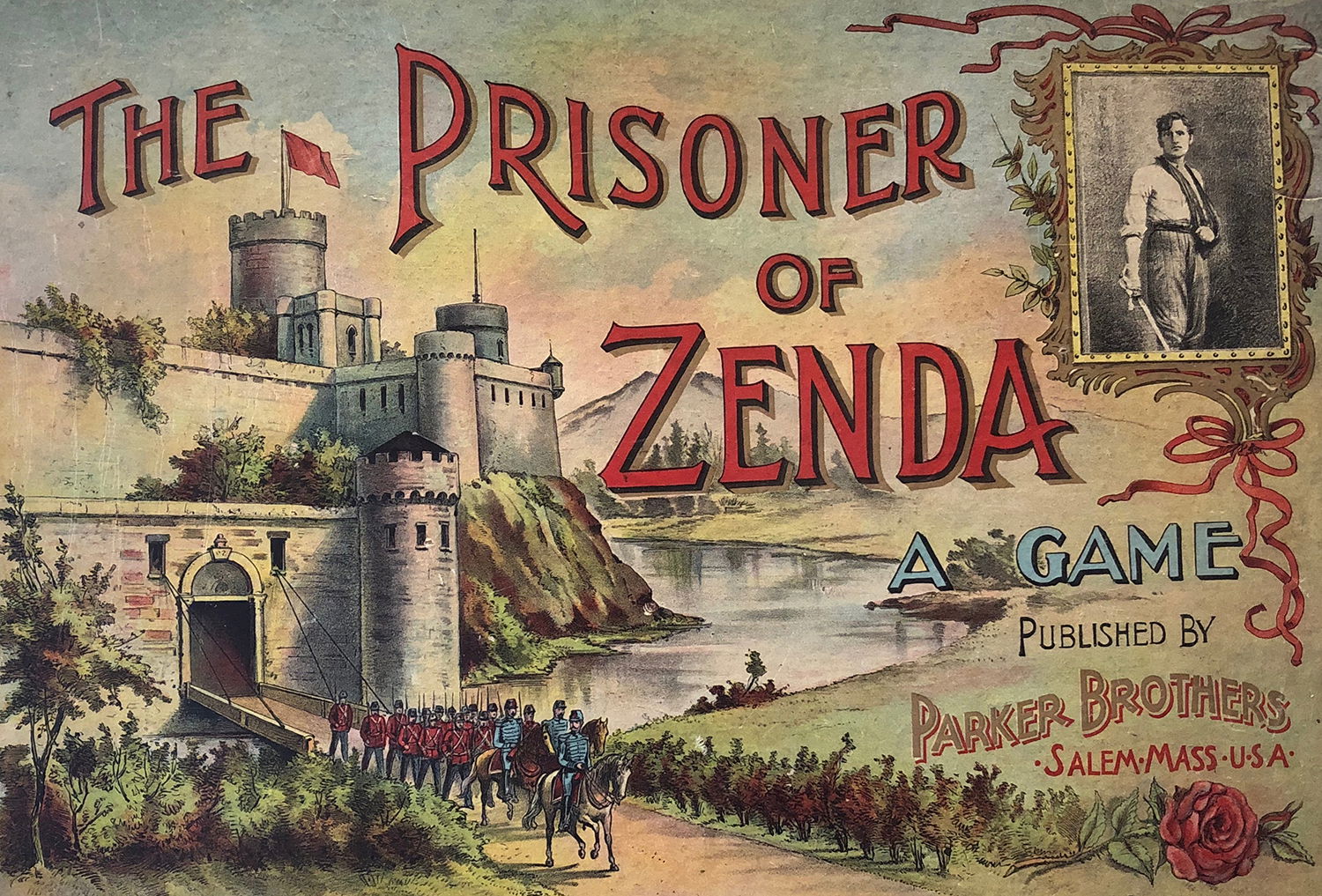 In London, Zenda opened in January 1896 at the St. James's Theatre. Actor-manager George Alexander desperately needed a hit. He had begun 1895 with Henry James' disastrously unpopular Guy Domville and although he enjoyed brief success with Oscar Wilde's The Importance of Being Earnest in February, Wilde's prosecution for acts of gross indecency rendered his sparkling comedy box-office poison. Unsurprisingly, Alexander decided on a change of direction. Where the New York production had emphasised action, the London Zenda brought Hope's cardboard kingdom to life with sumptuous sets and spectacular uniforms and gowns. The St. James's was a small, fashionable venue, but its sophisticated audience nonetheless relished this turn to romantic melodrama and the play ran and ran in London and in parallel touring productions. As with the novel, reviewers noted that this was a retreat from the more challenging fare that the 1890s offered: this was no 'morbid' problem play in the style of Henrik Ibsen, but an old-fashioned melodrama with heroes and beautiful but self-denying heroines. This conservative turn made a great deal of money for Alexander and the St. James's; when it re-opened in 1900 after a lavish refurbishment, its new telegraphic address was, aptly enough, 'Ruritania'.
From its earliest years the film industry found Ruritania to be a useful place.  Pioneering producer Adolph Zukor realised that his Famous Players Picture Company could court the carriage trade by offering audiences a chance to see the great stars of stage on screen, beginning with Sarah Bernhardt. Next, he and Daniel Frohman persuaded James K. Hackett to recreate his performance in The Prisoner of Zenda. The resulting 1913 film became the first successful American-made four-reeler, highlighting the possibilities of longer 'feature' films. 
Many adaptations followed, including the classic 1937 film for which David O. Selznick assembled a British ensemble led by Ronald Colman and Madeleine Carroll. The venerable C. Aubrey Smith, who had played Duke Michael in 1896, is Sapt, flanked by David Niven as Fritz. The villains, on the other hand, are all North Americans and Canadians: Raymond Massey as Duke Michael, Douglas Fairbanks Jr his daredevil henchman, Rupert of Hentzau and Mary Astor his mistress, Madame de Mauban. (Fairbanks Jr had been assured by his father that the role of Rupert was so 'actor proof' that even the canine star Rin Tin Tin could play it successfully.) 
For the Anglophile Selznick, Zenda's renunciation plot resonated with the royal abdication crisis of 1936 involving Edward VIII and Wallis Simpson, which he feared would 'wreck the Empire'. But in his screen fantasy, duty to country would trump love. For the coronation of George VI in May, 1937 Selznick even managed to create a place for himself and his film in the royal pageant of succession and stability: with the film's British stars as pretext, he organised an international radio hook-up from Hollywood to salute the new monarchs. The East Coast was not to be outdone: for the New York premiere the legendary publicist Russell Birdwell flew in the entire population of Zenda, Ontario – all 12 of them.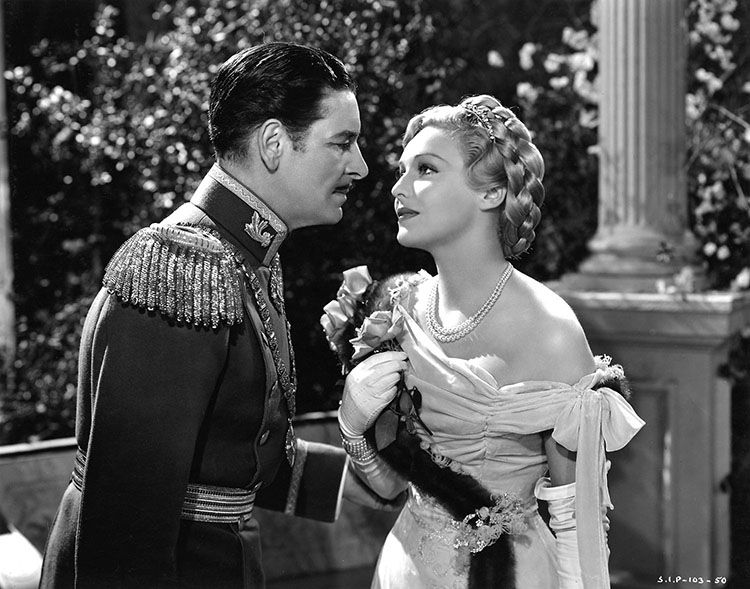 Zenda's greatest legacy, though, has been the endless series of variants on the Ruritanian theme. In 1906 a reviewer in the Academy calculated that there were already more than 100 'Ruritanian romances' that borrowed Hope's formula of love, adventure and chocolate-box royalty. With the Balkans sometimes replacing Germany, they continued to come in the 1910s from writers as different as P.G. Wodehouse (Mervo in The Prince and Betty, 1912) and Edgar Rice Burroughs (Lutha in The Mad King, 1914-15). Unlike many of Europe's actual pocket kingdoms, they also thrived after the war, for example in the work of E. Phillips Oppenheim (Jakovia in Jeremiah and the Princess, 1933), Dornford Yates (Riechtenburg in Blood Royal, 1929) and John Buchan (Evallonia in The House of the Four Winds, 1935). Among the American variants, George Barr McCutcheon's now forgotten Graustark series (1901-27) was hugely successful and the basis of a plethora of adaptations.
There were also Ruritanian musicals and operettas, in which pocket kingdoms were always colourful and tuneful but also sometimes restrictive and protocol-ridden. These thrived in the first half of the 20th century, with Sigmund Romberg's The Student Prince (Karlsburg, 1924) and Ivor Novello's Glamorous Night (Krasnia, 1935). Writing in 1949, J.C. Trewin recalled a prewar musical stage dominated by toy states of 'Ruritanian fabrication': 'loud with bells, polychromatic with uniforms, bushy with beards'.
After the Second World War, the Ruritanian romance mutated into a series of Cold War narratives set in such tiny territories as Lichtenburg, Concordia and Gaillardia. The Grand Fenwick of Leonard Wibberley's The Mouse That Roared series (1954-81) is perhaps the best known of these atomic-age microstates, now less escapist adventure playgrounds than small players jostled by the superpowers. If the original Ruritania has lost some of its magic, pocket kingdoms linger in our popular culture still, now metamorphosed into such Hollywood backlot territories as the Genovia of The Princess Diaries series (2000-) and the tinselly Aldovias, Belgravias, Cordinias, Madelvias and Voldavias of streaming TV Christmas romances with titles like A Royal Christmas (2014) and A Christmas Prince (2017). These are, of course, American fantasies rather than British ones, though like their predecessors they are comfortable with ideas of hierarchy and ascribed status. In them Europe is a quaint place whose principal attractions are its picturesque castles and the lingering premodern prestige of its royals, both of which generally fall into American hands. 
Nicholas Daly is the author of Ruritania: A Cultural History, from The Prisoner of Zenda to The Princess Diaries (Oxford, 2020) and editor of The Prisoner of Zenda (Oxford World's Classics, 2020).