The President's New Stadiums
Recep Tayyip Erdoğan's ruling Justice and Development Party has consolidated its power with relentless construction projects, pursued at the expense of Turkey's cosmopolitan heritage. The country's historic football stadiums are among the collateral.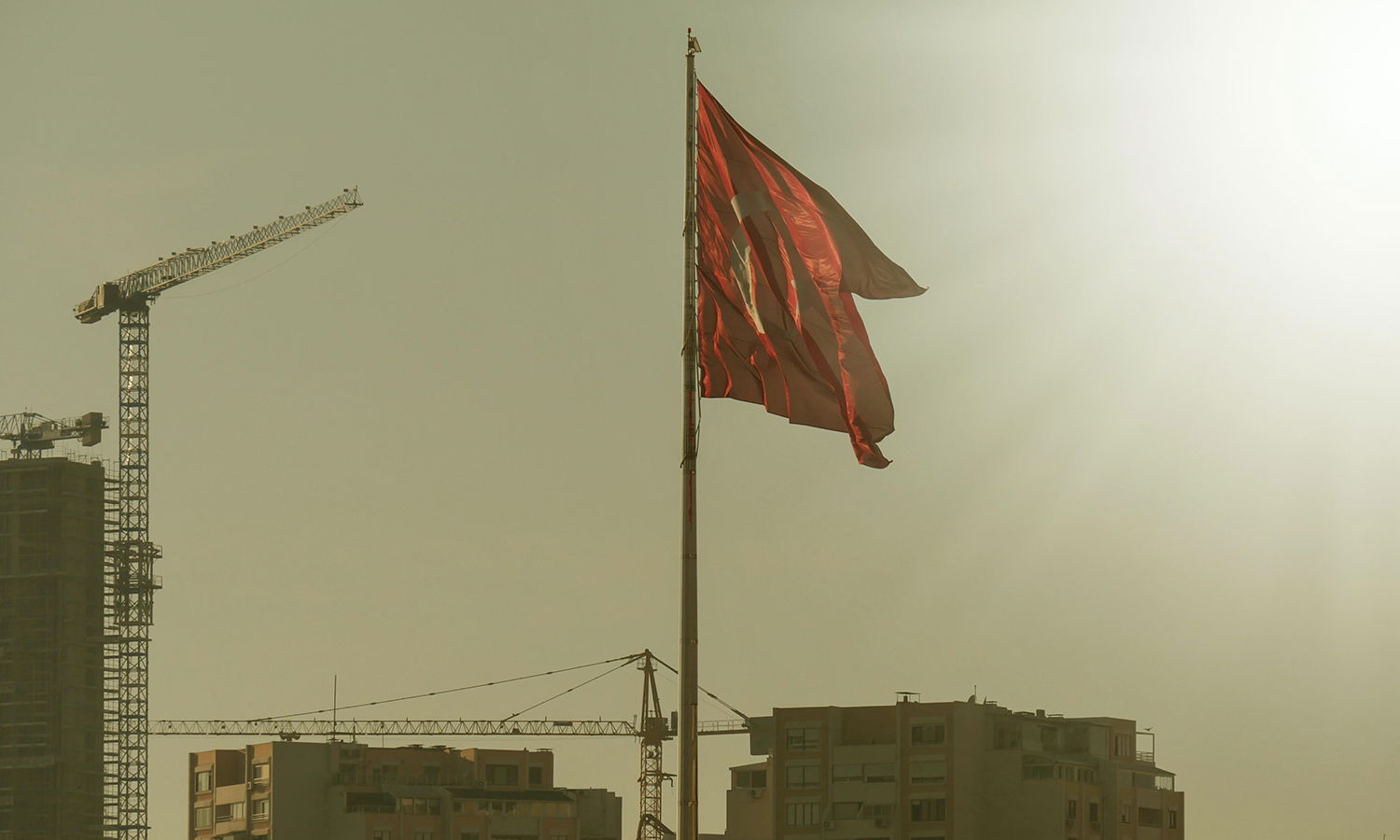 When I visited İzmir's historic Alsancak Stadium in October 2015, only the floodlights, pitch and goalposts remained. The ground where the stands had stood had been raked and churned by the teeth of a huge machine. A man picked his way through clumps of earth, looking for something to salvage.
Football has been played on the site of Alsancak Stadium since at least 1910, when a local Greek team, Panionios, owned the land. Founded by the ancient Greeks, İzmir was a cosmopolitan city then known as Smyrna. As in other major Ottoman ports, football was introduced to the city by the British in the late 19th century and was soon taken up by local Greeks, Armenians and Jews. Muslims were subject to a de-facto ban by the authorities under the autocratic Sultan Abdülhamid II, who was suspicious of the sport.
In 1908 an uprising within the military, mostly led by the Turkish nationalist 'Young Turks', forced the sultan to cede powers and restore the more liberal 1876 constitution. It ushered in a more pluralistic era. The ban on Turkish Muslims playing football ended and the sport was increasingly seen as a way of promoting nascent Turkish nationalism. Karşıyaka S.K. was formed in İzmir in 1912 and took the colours of red and green to represent Turkey and Islam. Altay S.K. was formed in 1914 to encourage Turkish youth to play sport in the city – they would become the eventual owners of Alsancak Stadium, built in 1929.
During Turkey's War of Independence, the Turkish National Movement led by Mustafa Kemal (who became Turkey's first president and later took the surname Atatürk – 'Father Turk'), defeated Allied occupation troops to establish the Republic of Turkey. A few days after Mustafa Kemal's Turkish army had driven Greek forces out of İzmir in 1922, a fire almost totally destroyed the Armenian and Greek quarters. How the fire started is disputed, but little was done to stop it. 'Let it burn, let it crash down,' responded Kemal. Panionios relocated to 'New Smyrna' in Athens to escape the mutual ethnic cleansing of Greek and Turkish communities in both countries – euphemistically called 'population exchange' – following the Greek army's defeat. İzmir went from having an estimated non-Muslim population of 62 per cent in 1900 to 14 per cent by the late 1920s. This figure would dwindle further over subsequent decades.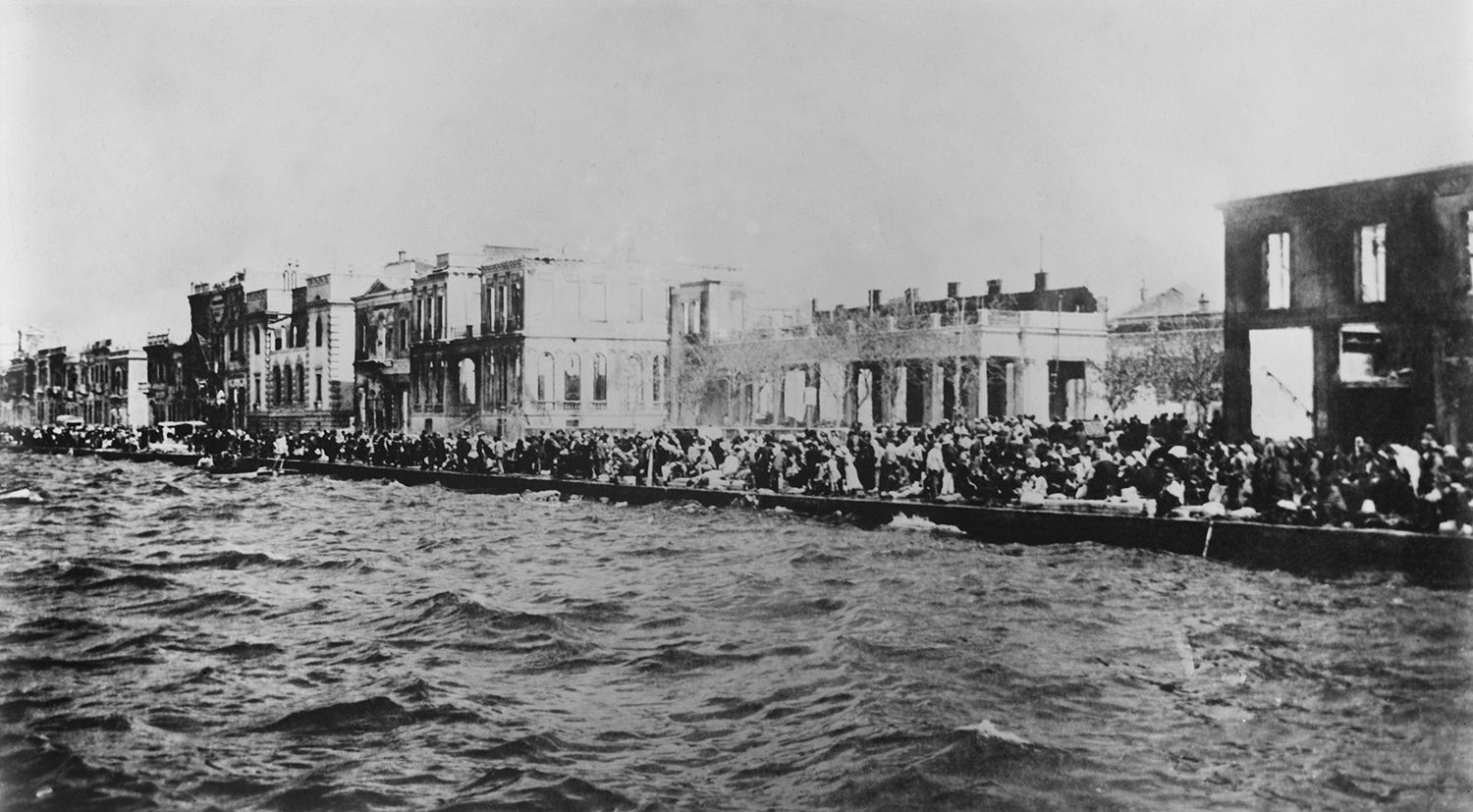 But Alsancak continued to be an important fixture in the city. In 1959 the stadium hosted the first ever game in Turkey's national league, founded that year, between İzmirspor and Beykoz 1908. Several teams – including bitter rivals Göztepe and Karşıyaka – shared a home at Alsancak Stadium. Although creaking and decrepit, the stadium was a symbol of İzmir's cosmopolitan footballing culture.
*
The Justice and Development Party (AKP) – a conservative party with its roots in Islamism, co-founded by Turkey's current president Recep Tayyip Erdoğan in 2001 – has been in power since 2002. It has partly built its hegemony through the construction sector. Football stadiums are a major component of this policy. In the past few years there have been at least 30 new stadium projects across 27 cities in Turkey.
Football fans in İzmir feared that the AKP government would seek to capitalise on Alsancak's prime location, following a trend in which old stadiums, traditionally built in city centres, have been demolished in favour of shopping malls – with new stadiums then built on the outskirts.
The battle to save Alsancak for football had a remarkable impact on football fans in İzmir, who set aside rivalries and came together in 2012 to form Turkey's first football supporters' network, Taraftar Hakları – 'Fan Rights'. In spite of their activism, the stadium was officially condemned in August 2014 after tests confirmed it was at risk of collapse in the event of an earthquake. The demolition began a year later, just days before the start of the new season, leaving the teams of Alsancak Stadium – Altay, Altınordu, Göztepe and Karşıyaka – scrambling to find a new home.
The AKP's ambitious urban development projects have often been criticised for favouring capital and gentrification over history, heritage and the environment. And, while the AKP has often adopted a softer approach to minorities than its predecessors – as the dialogue regarding historic violence towards Armenians has become more open, churches have been restored and relations with Greece have improved – it has come under criticism for propagating a nostalgic view of Ottoman history that prioritises Sunni Muslims and their heritage over other sects. In its early years – before a more recent nationalist turn – the AKP stressed unity between citizens (particularly the Kurds) as Sunni Muslims, rather than as Turks.
Some conservative Ottomans referred to İzmir as 'Gavur' – meaning infidel or heathen – due to the large numbers of non-Muslims living there. The football academic John Konuk Blasing has written that the AKP has also 'made no secret of its disdain for "heathen" İzmir'.
Today the city is overwhelmingly Turkish and is a rare, major bastion of the struggling main opposition Republican People's Party (CHP), first formed by Atatürk. Kemalist, CHP-supporting, liberal, 'infidel' İzmir today embodies resistance to conservative AKP hegemony. When the Turkish Football Federation fined three of the teams for not having a venue, just days after the authorities had abruptly demolished Alsancak Stadium, it felt suspiciously like a politically motivated punishment to some fans.
*
Stadiums have helped to create alliances and patronage between clubs and politicians in Turkey since the 1930s, when football became widely popular and, accordingly, politically important. But the scale and ambition under the AKP is unprecedented.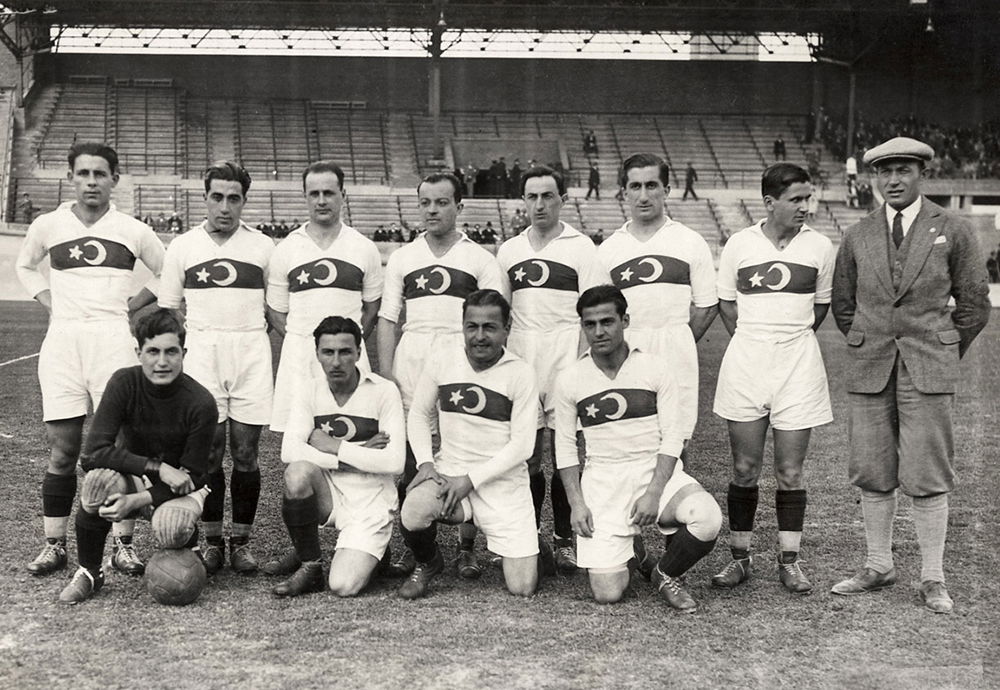 As mayor of Istanbul in the 1990s, Erdoğan was involved in the development of the city's Atatürk Olympic Stadium, which opened in 2002. It was the first new stadium built in Turkey in over two decades. Erdoğan had overseen significant infrastructure improvements in Istanbul as mayor and when the AKP came to national power in 2002 they prioritised the construction industry to power the economy, building airports, bridges, roads, hospitals, thousands of mosques and football stadiums in a nationwide infrastructure boom.
Önsel Gürel Bayralı, an economist who studies Turkish football stadium construction, says it also helps turn ideology into matter. 'People in Malatya, for example, say "oh yeah [the AKP] are working." How can they understand that? They constructed a soccer stadium.'
Galatasaray's new stadium, opened in 2011, became a template for much of the AKP's subsequent stadium construction, with TOKI – Turkey's Housing Development Administration – playing a major role. TOKI brokered construction tenders for the venue, acquired land for the complex on the outskirts of Istanbul and sold the land of the old Ali Sami Yen Stadium in the central neighbourhood of Mecidiyeköy for the construction of a shopping mall.
Typically, municipalities own the stadiums and rent them to the clubs – usually for a nominal fee, perhaps 1 Turkish lira – currently around 16p – per season. The clubs gain revenue from the stadium through sponsorship and ticket sales. The municipality makes money from developing the old stadium's land. TOKI gets a cut of this income and, theoretically, capital flushes back into the state's coffers.
To help smooth this process, the AKP has amended scores of procurement laws and building regulations to enhance TOKI's powers. Yet critics claim that TOKI is opaque and unaccountable, that it helps the government to transfer rent to friendly firms, facilitating gentrification and cronyism.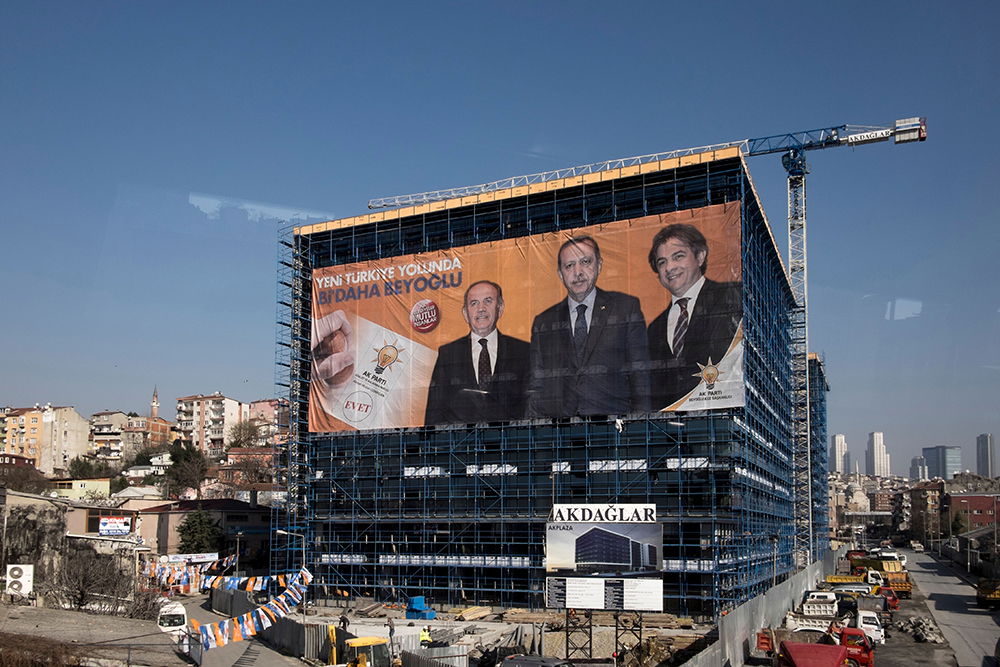 While the AKP and its Islamist precursors have long positioned themselves as the champions of the poor and marginalised masses, Bayralı argues that the AKP's use of the construction industry has helped it to build a loyal business class, largely conservative and Islamic, which can overshadow the traditional Kemalist, 'secular' elites that have long dominated the state. 'Other industries are controlled by the Kemalist bourgeoisie, so the AKP wanted to create an alternative by promoting the construction industry.'
There are ideological and commercial factors at play with the naming of the new football stadiums. In a speech last year Erdoğan deemed the word 'arena' to be 'un-Turkish' and clubs removed it from their venues overnight, replacing it with 'stadium' (incidentally derived from the Greek word 'stadion'). Many of the old stadiums were named after Atatürk or other Kemalist politicians – new venues tend to be named after their corporate sponsors, although Kasımpaşa SK now play in the renovated 'Recep Tayyip Erdoğan Stadium' – the president grew up in the neighbourhood.
Erdoğan – an ex-semi professional footballer – eagerly associates himself with new stadiums; he even scored a barnstorming first half hat-trick while playing in the opening exhibition match of Istanbul Başakşehir's new stadium in 2014, which led the pro-government Daily Sabah newspaper to liken him to Lionel Messi. The new stadium is a major factor in the rapid rise of the tiny club, which is based in an AKP stronghold on the periphery of Istanbul. It has mounted credible title challenges in the past two seasons. Close links with the government and personal attention from Erdoğan likely ensured that the stadium was built quickly and efficiently.
*
Many of Turkey's old stadiums, most at least 40 or 50 years old, had become decrepit and dangerous, with roofless stands exposing fans to the elements and toilets rank enough to leave lasting emotional trauma. Turkey's new stadiums are certainly safer and more comfortable – some are even equipped with gigantic heaters – and their concepts are often impressive: Bursaspor's new stadium resembles a crocodile, the team's mascot.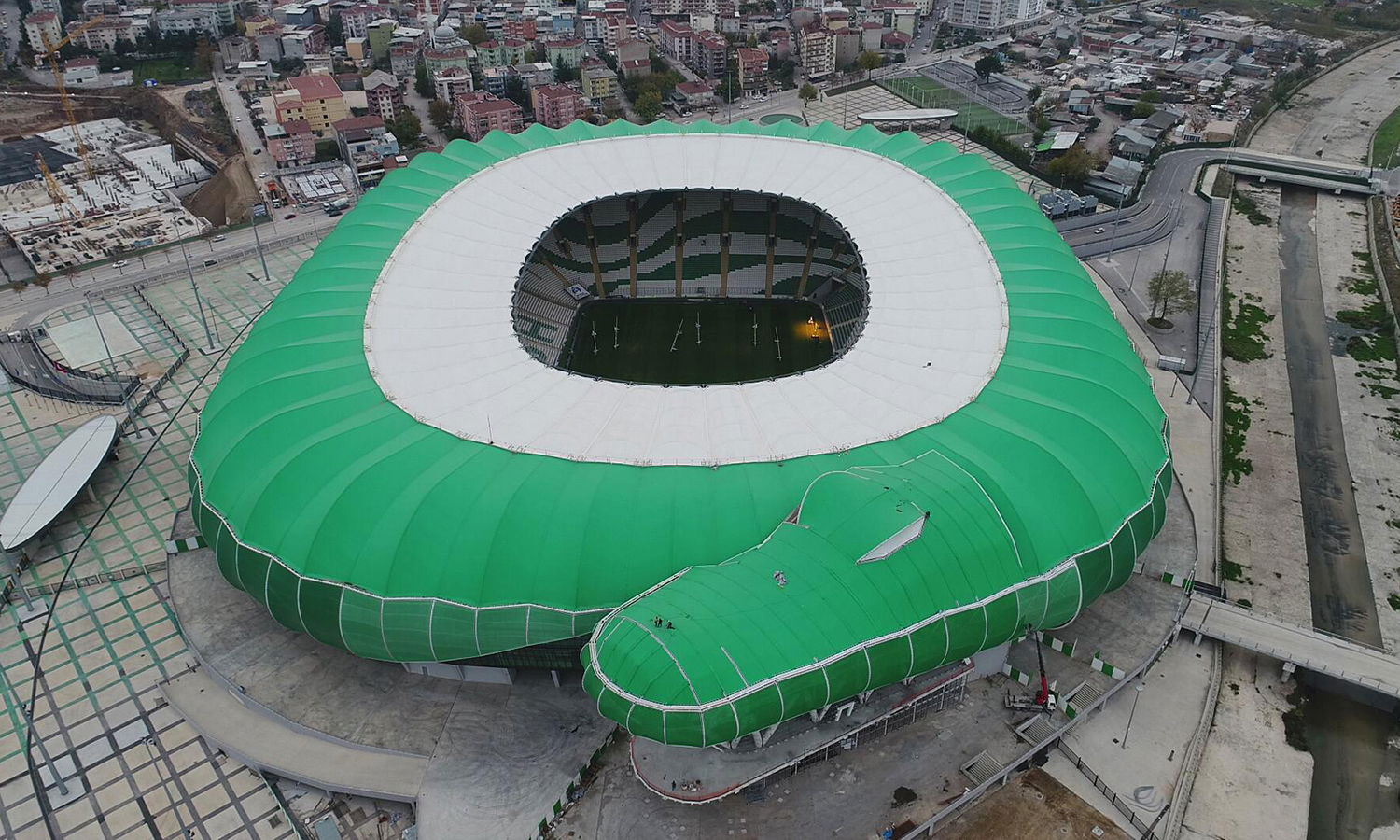 Yet, despite some architectural quirks, many of the stadium interiors have an identikit feel and their hinterland locales can be depressing. Galatasaray's new stadium is an awe-inspiring arena, with sheer-drop stands and bone-rattling acoustics, but it is situated in a bleak, soulless space next to a traffic-throttled ring road. The site around the stadium is marred by concrete, ditches and potholes. The club's famous slogan 'Welcome to Hell' is now more apt for those sitting for hours in congestion outside the stadium or the bottlenecked car parks, rather than the intimidating reception waiting within.
And, with a few exceptions like Başakşehir, the stadium-building programme has not gone smoothly. Many projects faltered or stalled as the firms undertaking the work experienced financial problems, often relating to a downturn in the economy, or have found the projects to be more technically challenging than anticipated. A surge in stadium openings followed the June 2015 election, but in the rush many were essentially still building sites. Capacity often hugely exceeds likely attendances.
But, the larger the stadium, the greater the prestige and the higher the cost, meaning more money can be doled out. The vast programme is also linked to the government's ongoing ambitions – so far unsuccessful – to attract prestigious international competitions. At the opening ceremony of Beşiktaş' new venue, Erdoğan stated that the new stadiums across the country made Turkey's future hosting of the Olympics a mere 'formality'. In April, Turkey submitted a bid to host Euro 2024, although the country's fraught political climate and instability may well undermine it, especially considering that UEFA will consider human rights criteria for the first time in the bidding process.
Indications that Turkey's economy, including the construction sector, has overheated and may now be rapidly faltering is a likely factor behind the decision to call snap elections on 24 June, 17 months ahead of schedule.
Still, the AKP remains firmly committed to its ambitious, mega-project model of construction-driven power. New stadiums keep opening. This year's Turkish Cup Final was played in Diyarbakır's box-fresh venue. The decision appeared designed to send a message: that a degree of 'normalcy' is returning to Turkey's largest Kurdish-majority city, which has seen brutal violence between the security forces and Kurdish militants since 2015.
Reflecting a trend, the new stadium is several kilometres outside of the city, far from the ravages of conflict in the city's historic centre. It has a 33,000 capacity in a city where the largest attendances tend to be 1,500 at most for Amedspor, a third tier team.
*
Back in İzmir, much has changed since 2015. New stadiums are now being built for Göztepe and Karşıyaka in the city. Meanwhile, Taraftar Hakları's activism may have helped save the site of Alsancak for football. In 2017 Turkey's prime minister Binali Yıldırım announced that a new earthquake-proof Alsancak Stadium would be constructed for Altay on the site. It was a rare victory against what critics see as AKP gentrification.
'When you uproot history, everything you plant in its place becomes rootless,' wrote the sociologist Dağhan Irak in 2012, in reference to historic erasures in Turkish history, such as confiscations and wealth taxes on minorities after independence, the 1955 anti-minority pogroms in Istanbul and the destruction of Alsancak.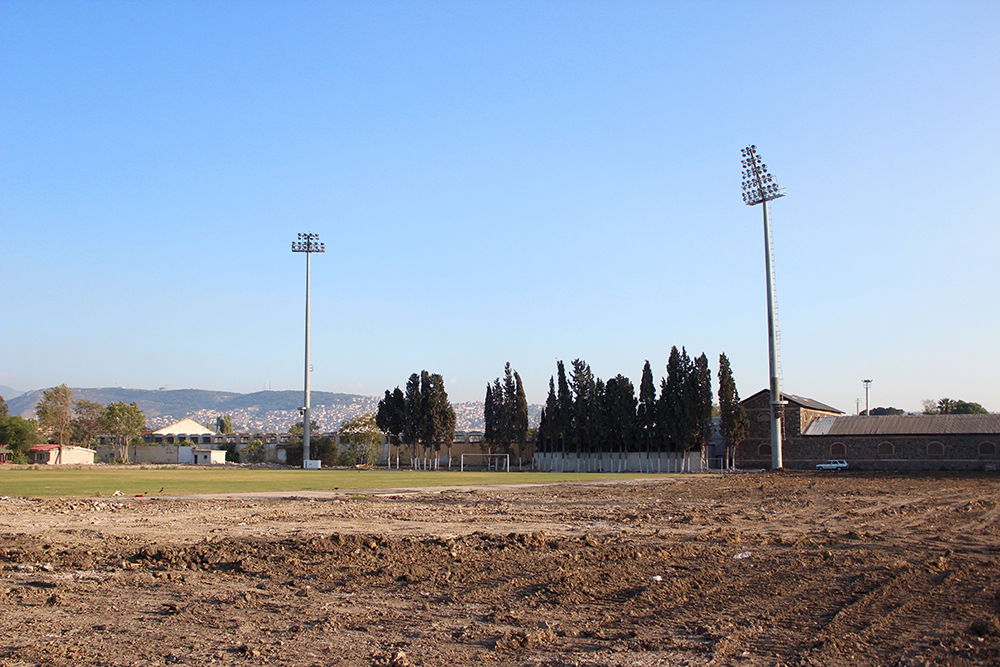 It is ironic that the conservative, Ottoman-feting AKP has perpetuated a Turkish nationalist tradition of erasing the cosmopolitan past, while football fans in Turkish nationalist, Kemalist İzmir are now eager to recognise it. Taraftar Hakları want to open a museum at the new stadium which would reflect the diverse history of football in İzmir. 'Every culture must be in the museum, not only Turkish,' stressed the group's president Burkal Efe Sakızlıoğlu. They are in contact with supporters of exiled Panionios, who are eager to be part of the project.
At the very least, the AKP's insatiable appetite for construction betrays an indifference to Turkey's cosmopolitan history. Sakızlıoğlu goes further and says it is clear that the authorities not only did not care for Alsancak's multicultural heritage, they actively took issue with it: 'They wanted to erase its history.'
Patrick Keddie is the author of The Passion: Football and the Story of Modern Turkey (I.B. Tauris, 2018).