Aboard the Armchair Voyage
In the late 1950s, Armchair Voyage was the BBC's first foray into televised historical documentary, taking its viewers on a tour of the classical world and establishing a format that is still popular today. Though it introduced classics to a mass audience, its origins lay in an elite members' club.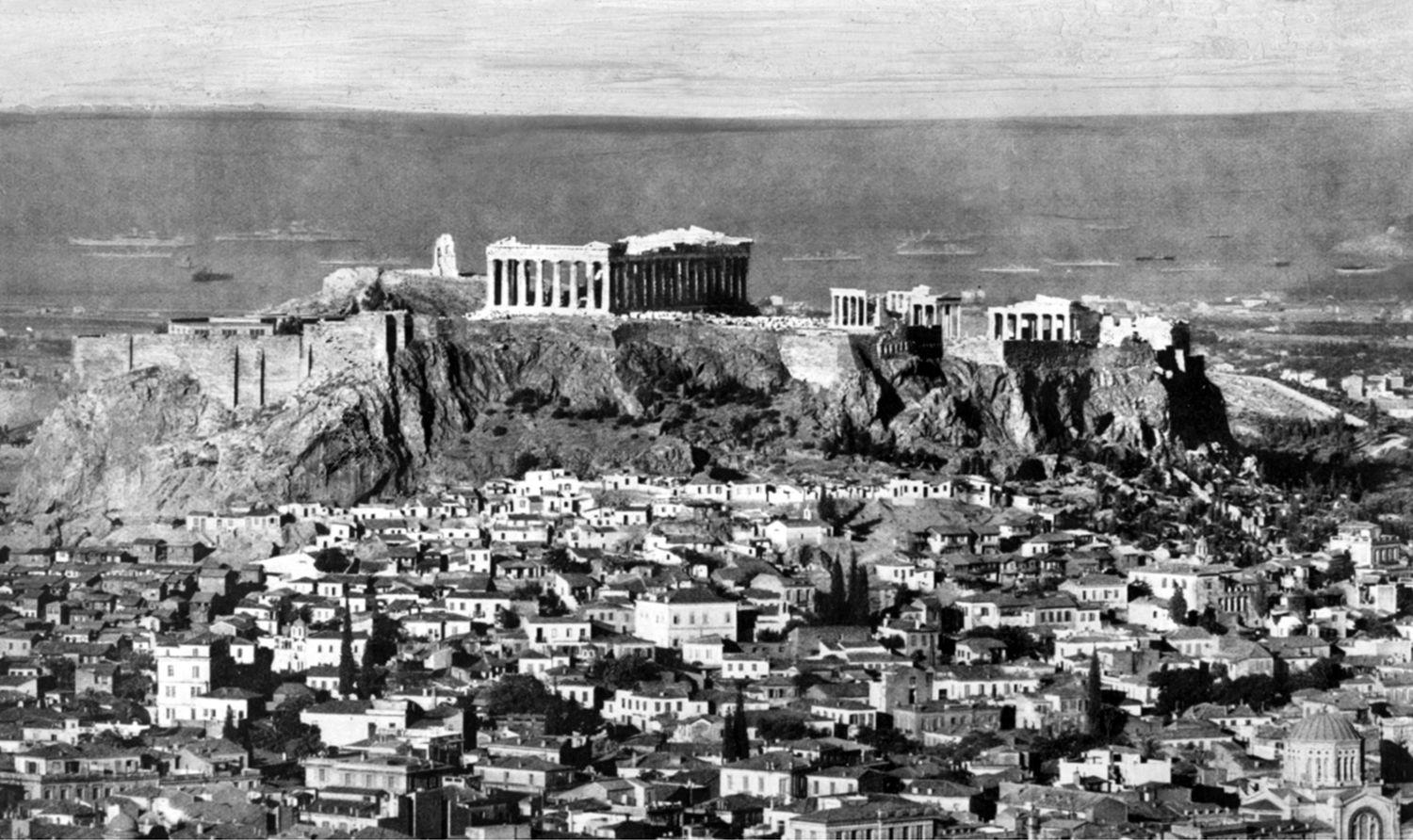 On 21 July 1958, the British public were presented with a new type of television programme. Armchair Voyage: Hellenic Cruise – Venice to Mycenae, the first in a three-part series premiered on the BBC, watched by a primetime audience. Presented by the archaeologist Sir Mortimer Wheeler, Armchair Voyage took its viewers on a journey around the classical world. Starting in Venice, the series travelled to the home of Agamemnon in Mycenae, moving to the ruins of the Pergamon Altar, then on to Istanbul, capital of the Byzantine Empire, before finishing at the Acropolis in Athens. It was a visual tour around major ancient Greek sites in the Mediterranean, interspersed by scholarly lectures discussing classical civilisation from literary, artistic and historical perspectives, all centered around the charismatic, authoritative personality of its presenter. Today, similar productions in which familiar faces embark on a journey of historical discovery still hold primetime slots on the BBC, attracting large audiences and making household names of their presenters. It all began with the Armchair Voyage.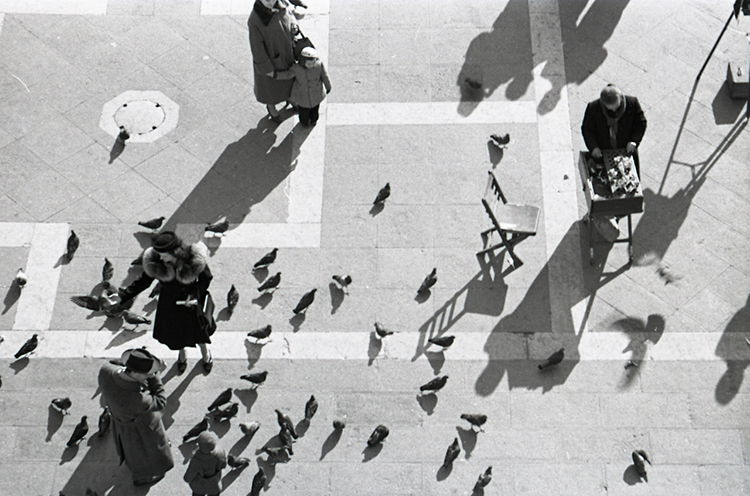 The programme's origins illuminate a tension between high and low culture that is ever present in the history of classical study. It was also the BBC's first foray into historical documentary on television and a seminal moment in the development of what is now known as the public historian. With Armchair Voyage, a subject matter that remains elite to this day found a mass audience. As is still the case, in 1958 Classics, Latin and Ancient Greek were not part of the national curriculum but rather a facet of a private education only accessible to a few. Its producer, Stephen Hearst, would be credited for developing this new style of 'televised' essay. He would go on to play a pivotal role in the production of Kenneth Clark's documentary series Civilisation (1969), the upcoming anniversary of which will be marked with a new ten-part series, Civilisations, at the BBC.
Before Armchair Voyage aired, Hearst had introduced it to its potential audience in the Radio Times. In an article titled 'Bringing the Past to Life', Hearst opined that a cruise holiday was 'the dream of nearly every potential "jackpot" winner. Sure, no worries, new sights – you know how it goes'. Hearst implied that while cruise travel was undeniably a luxurious pursuit, it was not a particularly worthy one. There was, however, a certain type of person who travelled 'prompted by a different motive'. These kindred spirits, wrote Hearst, were propelled by 'immense curiosity' and drawn by the 'lure of the Greek legends and history'. Though he didn't say it, members of this select group of curious minds were the stars of this new series.
Indeed, Armchair Voyage had its origins in an elite private organisation: the Hellenic Travellers' Club. Founded in London in 1906, this strictly members' only group organised tours to Greece and the Mediterranean, which featured a schedule of lectures by prominent British academics. Viewers of the Armchair Voyage would be accompanying – or watching – members of this club on their trip around the Mediterranean, led by one of its directors and chairman, Mortimer Wheeler.
Wheeler's presence was significant. A former director of the University of London Institute of Archaeology, his reputation gave Armchair Voyage academic credibility in line with the BBC's dedication to 'information, education and entertainment'. Indeed, though the BBC aimed to provide cultural and educational broadcasting for 'ordinary' people, the structure of the organisation in the 1940s and 50s reflected class disparity in Britain. As Tom Burns wrote in The BBC: Public Institution and Private World (1977):
BBC culture, like BBC standard English, was not peculiar to itself but an intellectual ambience composed out of the values, standards and beliefs of the professional middle-class, especially that part educated at Oxford and Cambridge.
Founded by Henry Lunn – who would later launch the successful travel agent Lunn Poly – the Hellenic Traveller's Club came into being as the practicalities of travelling to Greece were becoming easier for British tourists. The Grand Tour of the 18th century had focused primarily on France and Italy but, after the end of the Greek War of Independence in 1832, its itinerary expanded into Greece, Albania and Turkey in the 19th century. Yet while routes broadened as accessibility increased, the intentions of the Grand Tour remained the same. It gave a certain class of educated British men the chance to have a direct encounter with the classical world they had studied.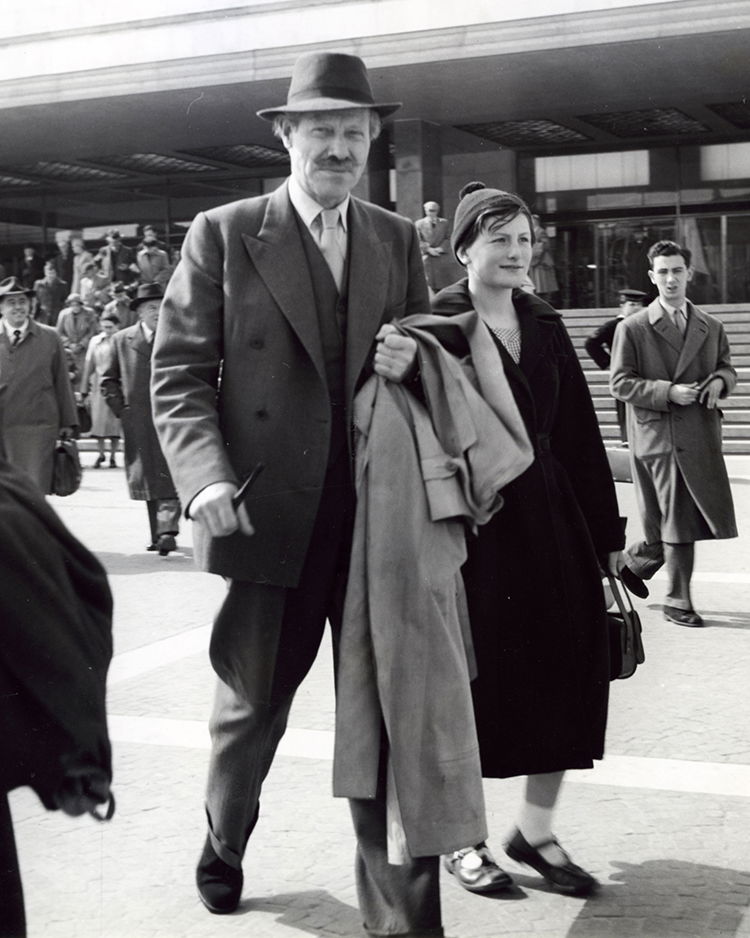 Though Lunn had travelled the Mediterranean extensively, he conceived the idea of the Hellenic Travellers' Club on a cruise for educators that he had arranged to Palestine and Egypt in 1899. On that trip, the headmaster of Dover College had suggested that Lunn organise 'a cruise to the isles of Greece which Canon Compton and other scholars on board planned'. Lunn obliged and the ensuing cruise – which became known as the 'schoolmasters' cruise' as it was comprised solely of male educators – took place in 1901, 1903 and 1905. Its success led to the formation of the Hellenic Travellers' Club, which was established in 1906, offering annual cruises on which a series of academic lectures took place. Details of each cruise were recorded in an annual yearbook known as The Proceedings; the excursions and itineraries were to provide the basis for the journey covered on the Armchair Voyage.
The Proceedings also dictated the necessary requirements for entry to the club. Potential members had to 'be a graduate or undergraduate of a university … be proposed by one member, and seconded by one or more members' before they could become a candidate. 'One "no" in every ten votes' would deny a potential member's inclusion and the majority of the club's senior members had either studied at Oxbridge or were privately educated. Although the club was over 50 years old, it was still a popular organisation when Armchair Voyage aired in 1958, having been bought by Swan's Tours. Television, however, would see the elite club open itself to a wealth of new 'members' in the form of a national televisual audience and the crew that would be filming its annual excursion.
*
Armchair Voyage opens with Wheeler explaining that, although in 1958 'you can now reach Greece and its people in a few hours by air', 'Greece was meant to be approached by sea'. Wheeler and club members travel to Venice – which, as the Proceedings reveal, was the usual starting point for the Hellenic Cruises – by steam train. Following a brief stop in Venice, a ship carries the group to the sites of antiquity. This, of course, fulfills the aforementioned requirement of approaching Greece by sea, but the ship is more than simply an object of authenticity. Throughout the Armchair Voyage it functions as a symbolically British space, a floating classroom from which club members and viewers observe and learn while maintaining a distance from modern Greece and modern Greeks. This is an experience common to both the 'curious' travellers who are part of the Hellenic Travellers' Club and the more typical cruise traveller, despite their previously avowed differences.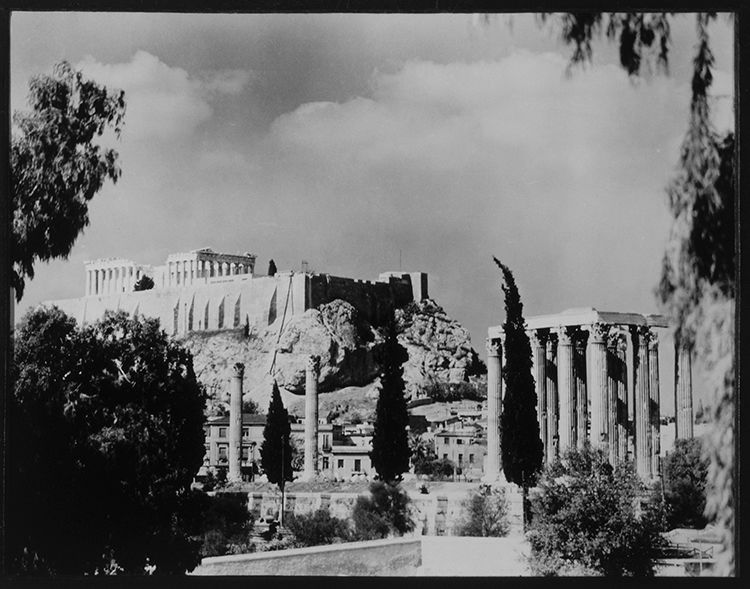 Most important, however, is the ship's place as a reminder of the expeditionary nature of the show. Rather than cutting from site to site, Armchair Voyage's panning sea shots made its audience feel part of the club – or at least as if they were travelling with it. This 'journeying' into history, or history as travelogue, accompanied by a presenter who functions as a guide, remains a common trope in popular history programmes today. Michael Wood 'following in Ovid's footsteps' in his most recent BBC 4 documentary is one example of how this combination of literal and theoretical 'journeying' has endured.
The association between seafaring and Greece has its roots in epic literature. Inviting comparisons with Homer's Odysseus has been common in travel literature since at least the 19th century. The Hellenic Traveller's Club enjoyed drawing parallels between the seafaring hero's long wanderings home and their own journeys, as their Proceedings reveal. First appearing in the 1925 Proceedings, an anonymously written diary of the trip's itinerary was entitled 'The Cruise Recorded by Homer'. This became a regular feature, later renamed 'The Diary of Odysseus'.
Perhaps inevitably, allusions to Odysseus and classical literature creep into Armchair Voyage, too: setting sail from Venice, Wheeler's description of life aboard ship is accompanied by shots of club members. Asleep on deck, a woman is seen with a copy of Göran Schildt's 1953 Mediterranean travelogue In the Wake of Odysseus. The book is subject to its own close up, coupled with narration describing the scholars and students aboard as representing 'people from all walks of life'. The woman could be dreaming about the splendid antiquity she is about to see first hand – or she might be in need of a rest due to the sheer effort required to keep up with her fellow academic travellers. Conversely, it could be seen as a condescending attempt at showing that people from 'all walks of life' – including women - can, indeed, engage with the classical world which had largely been the domain of a male dominated private education system. The Hellenic Travellers' Club was originally all male; here, a woman resting as a 'leisurely' tourist rather than active traveller is a forced and patronising attempt at inclusivity.
At the documentary's centre, however, is its presenter. Wheeler is at once a guide, a teacher and, when interviewing academics and experts, a fellow student. Wheeler would, within a year, go on to present a similar documentary for the BBC, The Grandeur That Was Rome (1959), but Armchair Voyage was not his first foray into television. When the BBC producers decided to create a British version of the popular US programme What in the World? in 1952, Wheeler was brought on board for a pilot and, despite believing 'no possible good can come of it', less than a month later Animal, Mineral, Vegetable? was commissioned. He won a Television Personality of the Year award in 1954 for his role in the show.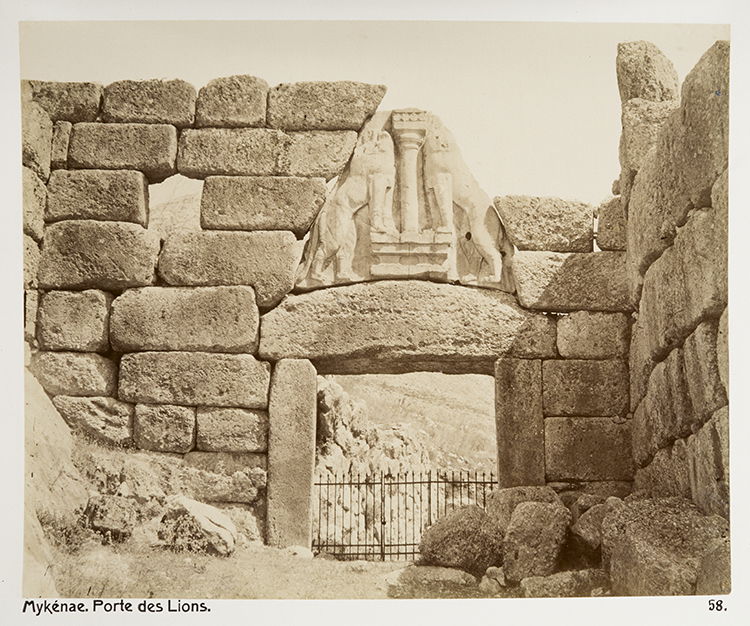 Yet as well as his familiarity as a television personality, it was Wheeler's academic credentials that ostensibly provided Armchair Voyage's viewers with access to a classical education that, by 1958, was no longer commonly taught in state schools. When Wheeler interviews the educationalist John Wolfenden, he queried what attracts people to Greece, asking whether anyone can really enjoy its sites and history even if 'they haven't really any Greek or Latin?' Wolfenden's response – that there is an inherent value to the ruined sites of the Classical World as almost every facet of western thought and society finds its roots there – is fitting with the ideology of the show: even if you have not received the sort of privileged education in which Greek and Latin are taught, you can still find a connection to antiquity. Armchair Voyage succeeded in making the educational strands of the programme accessible to the casual viewer as Wheeler's interviews with scholars confront antiquity in a casual, entertaining and unintimidating manner. It is worth noting, however, that only British academics who are members of the club were allowed to talk on screen; when a local archaeologist shows Wheeler around a site of interest, Wheeler explains his visit through a voice over.
*
The importance of revisiting historical documentaries such as Armchair Voyage lies not what in what such programmes can still teach us about the ancient history that they cover, but, instead, in what they can teach us about the time and society in which they were made. Later in his interview with Wolfenden, Wheeler asks whether the Greeks are given 'credit for rather too much', to which Wolfenden replies, 'I'm prepared to give them credit even today. You see, it's not very fashionable nowadays to be pro-Greek. Even in the pro-Ancient-Greek sense.'
Wolfenden's comment reveals that, even by the late 1950s, anti-Greek xenophobia was commonplace in Britain. Indeed, we see an example of this derogatory stereotyping when the voyagers visit Athens in the final episode. While ruminating on whether modern Athenians are different from their ancient counterparts – and questioning whether it requires 'any imagination to think that the interests and passions of Greeks have remained much the same over 2,000 years' – the camera pans voyeuristically over a woman's body. In case this was too subtle, a clearly staged shot shows local Athenian men ogle in an exaggerated manner as the woman leaves a café.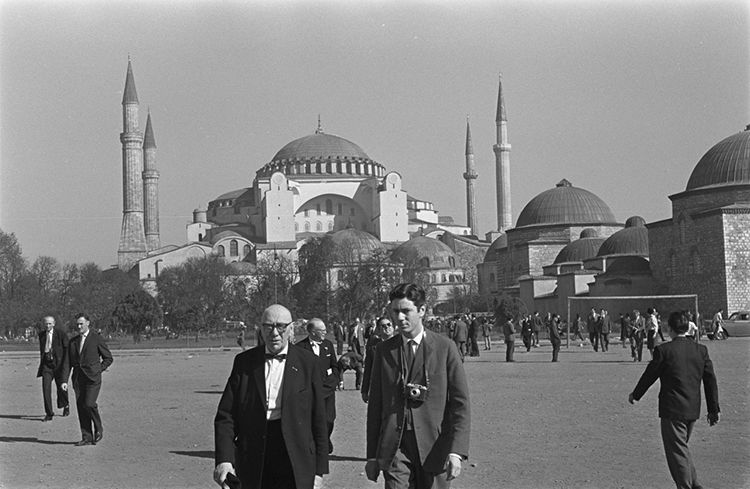 Paradoxically, these Athenians are presented as the citizens of the city in which western civilization was born, while simultaneously representing misogyny and base sexual urges. Ironically, Wheeler would have been a better fit for the ogling cafe scene. He was well known for his promiscuity, extra-marital affairs and inappropriate behaviour. As his friend and biographer Jaquetta Hawkes wrote: 'Rik's loves and sexual activities were well understood and newcomers were warned that they must always knock and wait before entering the Keeper's sanctum.'
*
Towards the end of Armchair Voyage, Wheeler opines that the Acropolis is 'a spot to which one ought to come every ten years of one's life'. We might say that his aphorism has been enthusiastically adopted by television commissioners: as historical documentary grew and developed as a genre it, too, would continually return to the Acropolis and the sites visited on Armchair Voyage. The subject matter, themes and even format established in the late 1950s remain popular: Alastair Sooke's Treasures of Ancient Greece (2015) is just one recent example.
Yet though the historical documentary has been a mainstay of BBC commissioning since the 1950s, today's documentaries still have to face the paradoxes apparent from the genre's inception. Ancient historical programming continues to attempt to occupy an ambiguous space, serving as a bridge between a traditionally elite subject matter and a mass audience, attempting to straddle the divide between education and entertainment and confronting the contradictions inherent in seeking to capture an authentic historical experience through a thoroughly modern medium.
Shula Subramaniam is a Production Coordinator and Researcher for historical documentaries with an MA in the Reception of the Classical World.