A study of English settlers in America raises profound questions of identity.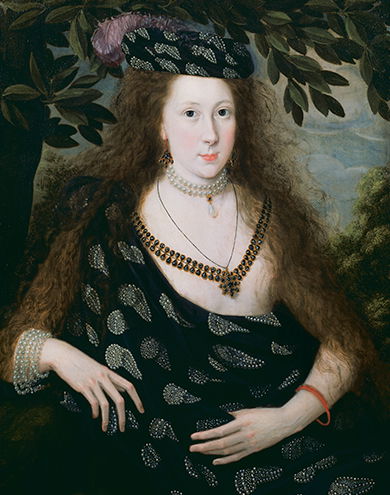 Elizabeth Watson, daughter of a major investor in the Virginia Company, wears pearls and ostrich-feather designs - both symbols of the Americas - in a portrait by Robert Peake, 1615
A few years ago I was researching the East Anglian witch-hunt when people kept disappearing – people like a couple from Maldon in Essex, persistent puritan absentees from church. In 1638 officials of the archdeacon of Colchester gave up chasing them, scribbling against their names: 'Gone to New England.' In hundreds of English communities divided by politics and religion, individuals either drifted into the Civil War or they left. 
It struck me that historians were restricting their definition of the English to those in England, whereas 350,000 people migrated to America in the 17th century, with no intention of ceasing to be English. Were they not also worthy of an English historian's attention? 
Many had written about these migrants: historians of colonial America, mostly Americans. A few treated displaced English folk like national ancestors: did not white America, in its language and culture, evolve from these settlers? Even though this belief is rarely expressed so crudely, 'exceptionalism' – the idea that America is special – lingers. Too many accounts offer only the reverse of the incurious English sign-off 'gone to New England', namely 'came from old England'. The motherland is backstory, not part of the main event.
I was interested in the limbo in which these people lived, 3,000 miles from where they called home. The complexity of their new identities seemed important for English as well as US history. I was now a historian of English people, following them wherever they went. 
I was not the first. In the 1980s, David Cressy, a British historian based in California, decided to explore communication between old and New England and was met with bemusement by colleagues. Why would he leave his camp for another – colonial history – where he didn't really belong? Cressy wrote a superb book, Coming Over (1987), then went home, intellectually (though not physically), to England. Since then, many others have seen American colonies as outliers of England. Yet something seems to be lacking: the sense of England at the centre of the story. It was, after all, 'top nation', back when the US did not even exist. Colonies struggled, most failed.  
My conviction hardened that early generations of American colonists were entirely English and strove to remain so, sounding off about their Englishness in a way that was unnecessary in the motherland. True, they often failed to preserve their identity; yet this failure consisted not only in surrender to the wilderness, but in the futile insistence that they remained English. Petitions protesting about royal indifference to colonists' customary rights as Englishmen illustrate this well.  
My latest book is a narrative history of 17th-century English America aimed at the general reader as well as the specialist. As such, it has a few historiographical detours. I would like to take this opportunity to pay homage to the scholars who have inspired me, specifically those of an earlier generation. Uninviting tomes – closely set, pictureless, stilted in prose – often still do the job well. History is not only revised but reinvented, often unwittingly, because older works have dropped off reading lists.
The early 20th-century 'imperial school' included US historians such as Herbert L. Osgood and George Louis Beer, who emphasised colonial America's enduring ties with the British Empire. America, it seemed, had not departed on a Sonderweg the minute the Pilgrim Fathers landed, but maintained a relationship with England that soured only because England failed to allow for the evolution of colonial societies, polities and economies. Like Osgood and Beer, Charles McLean Andrews believed that nations should discard patriotic motives, resist anachronism (especially about liberty and democracy) and be honest about their origins. The cure for exceptionalism was context: the Atlantic world in which colonies developed. 
In his four-volume The Colonial Period of American History (1934-37), Andrews observed that 'the 17th century shows us an English world in America with but little in it that can strictly be called American'. This was grist to my mill; the problem was that Andrews focused on evolving institutions and so failed to link social history to political change in order to explain the so-called 'silent revolution' in the century before 1776. And Andrews emphasised continuity, playing down the significance of war and rebellion in the 1670s. Postwar revisionists did not depart entirely from this paradigm. The intellectual historian Perry Miller agreed that what Andrews called 'witch-worryings' at Salem was a trivial interlude. Yet Miller, like Daniel Boorstin and Bernard Bailyn, stressed colonial uniqueness and the 'America' in 'English America'. Then the wheel turned again, first with a backlash against Miller's 'Puritan studies' and, more recently, with 'Atlantic history' – an approach that owes much to the 'imperial school'. 
What I admire most about Andrews is his insistence that history be studied from the archives, a method that fires time's arrow in the right direction: from the past, forwards. Puritans claimed to know where they were going but were invariably wrong; nor were colonies propelled to their destiny by providence, an appealing idea as a creation myth. Teleology dies hard. As the novelist J.G. Farrell remarked: 'We look on past ages with condescension, as a mere preparation for us … but what if we're only an afterglow of them?' 
Malcolm Gaskill's Between Two Worlds: How the English Became Americans is published by Oxford University Press.