The Changing Nature of Happiness
Revisiting one of the first historical studies in the developing 'science' of well-being. By Sandie McHugh and Jerome Carson.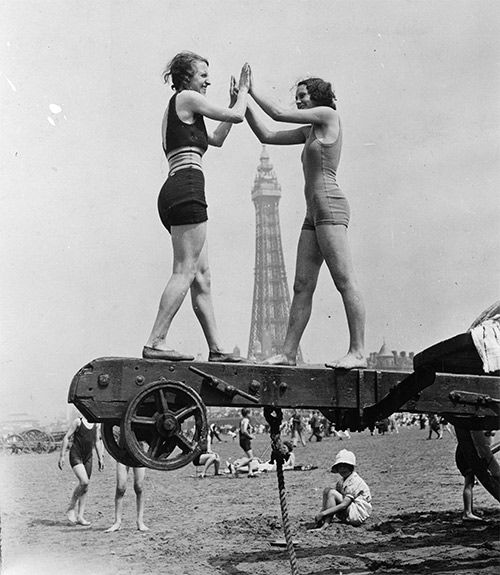 The current preoccupation with happiness, manifested, for example, in the Office of National Statistics now adding questions on happiness to their household surveys, is not as recent as many experts would have us believe. Indeed Darrin McMahon provides a scholarly historical overview of the field of happiness in his book, Happiness: A History (2006). McMahon traces the origins of the concept back to Herodotus, Plato, Aristotle and others and on through the centuries to the more recent involvement in the field of happiness of economists and psychologists, rather than philosophers and theologians. Our own interest in the topic was partly stimulated by our discovery of one of the first purportedly scientific studies of happiness, conducted as part of Mass Observation's Worktown, in the Lancashire town of Bolton in 1938. We describe the background to the 1938 study and then contrast the findings from this with our own replication of the original Worktown study. We end by making some general observations on the concept of happiness.
'An ugly place', said J.B. Priestley of Bolton and contemporary photographs show a smoggy industrial town, its skyline dominated by tall chimneys. Despite the depression of the 1930s, Bolton still had 200 cotton mills, engineering and mining industries and its unemployed rate of 15 per cent was lower than many other declining industrial centres. Public works, such as the construction of Le Mans Crescent, an extension to the town hall and the building of some new housing eased the effect of contracting industries. So, with beautiful countryside on the doorstep, it was not all industrial toil and gloom. The expansion of pleasure opportunities in the interwar period benefited those with a little cash to spare: the first Butlin's holiday camp opened in 1936. Bolton boasted six dance halls, 300 pubs, 47 cinemas and a freestyle wrestling stadium within a five-mile radius of the town centre. From 1933 special 'Dance Trains' transported Boltonians for a day trip or evening at Blackpool's Tower Ballroom to 'let their hair down'. Mills had staggered closures, enabling the workforce to decamp to Blackpool to enjoy its seaside attractions. Mass Observation had a team based there in 1937. Closer to home, the 200 churches and chapels in Bolton not only provided religious services, but also social activities and events.
Mass Observation ran a series of competitions to solicit the views and attitudes of ordinary people. On March 28th, 1938 people in Bolton were invited to 'give their opinion' on happiness and the 226 letter writers were sent a questionnaire. Ten 'qualities of life' were specified and correspondents ranked them in order of importance. They were asked if it was easier to be happier in Blackpool or Bolton, at weekends or midweek, how often they were happy and whether luck played a part.
In February 2014 the Bolton News invited readers to take part in a web survey, a re-run of this competition. The original questionnaire was adapted to be more representative of discourse in 2014, while retaining as much of the original meaning as possible. In 21st-century Bolton, service, hi-tech, electronics and data processing have largely replaced heavy industry. Warburton's bakers, founded in 1876, have their headquarters in the town, but textiles and paper manufacture remain very small scale. Today Boltonians enjoy a material standard of living, consumer products and leisure opportunities that residents in 1938 would find astonishing. Globalisation and technological advances have transformed personal communication. Higher standards of housing, a universal benefit system, the NHS and access to education from primary to university level are now available to ordinary people. These welcome improvements bring different challenges and some commentators claim people have become alienated 'consumer junkies', with the 'good life' bringing unsustainable debt burdens and stress for some. The debate continues about the essence of happiness and the effect of technological and economic change on well-being.
What did happiness mean to Bolton in 1938 and has its meaning changed in 76 years? The majority in 1938 were happiest in Bolton, whereas in 2014 63 per cent are happier away from the town. The growth in the popularity of weekends is reflected in the increase from around a quarter (1938) to 41 per cent of residents reporting weekends as a happier time for them. The majority at both dates (56 per cent in 2014) stated their happiness was the same at weekends or weekdays. As to the role of luck, in 1938 20 per cent believed that it did influence happiness, increasing to 42 per cent in 2014. Although economic security was ranked top in 1938, respondents were under no illusion that by itself material wealth would bring happiness. Many of the letters refer to 'enough to meet everyday needs'. In 2014 76 per cent of respondents said no when asked if happiness was linked to material possessions. The main differences in 2014 from 1938 were in the position of religion, leisure and good humour. Politics and leadership are ranked low in importance in both periods.
What do we know about these residents? Most were employed (70 per cent in 1938, 67 per cent in 2014) and there were more women (59 per cent in 1939, 65 per cent in 2014).
The Mass Observation happiness competition was completed against a background of what we now recognise as momentous world events, as Hitler drove into Vienna and Franco gained the upper hand in Spain. Elsewhere, Walt Disney released the first feature-length cartoon film and nearby Preston North End won the FA Cup. How much external matters affect happiness is difficult to ascertain. The overall impression from the correspondence in 1938 is that happiness factors were rooted in everyday lives at home and within the community. In 2014 many comments value family and friends, with good humour and leisure time also ranked highly.
The Mass Observation team did not appreciate the significance of its work. The Worktown Archive gives us insights into everyday life in the wonderful letters many people wrote at the time. Boltonians then rated security, knowledge and religion as the most important contributors to their happiness. Some 76 years later, good humour and more leisure were rated above security. The most striking difference was the decline in the perceived importance of religion, which dropped from third to last on our list. It is mirrored in declining church attendance. Happiness is, of course, more complex than the Mass Observation team realised. They neglected the importance of relationships, along with social and cultural factors. However, its early research was among the first in developing a science of happiness and for that we must be grateful.  
Sandie McHugh is Research Associate in psychology at the University of Bolton, where Jerome Carson is Professor of Psychology.