The historical figures who are buried in more than one place.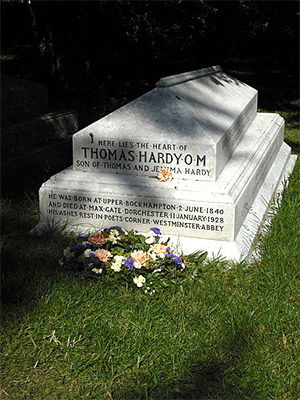 In January 1928 the novelist Thomas Hardy was buried twice – his body in Poet's Corner, Westminster Abbey, his heart in the same grave as his first wife, Emma, in the churchyard of Stinsford in Dorset. Here are some others who are buried in more than one place:
History tells us that Richard I (r.1189-99) is buried in three different places in France: his body at the feet of his father Henry II in Fontevraud Abbey in Anjou; his entrails in Chalus, where he died; and his heart in Rouen. According to Edward I, however, Richard's 'lion' heart is buried beneath the altar of the Lady Chapel (now gone) that Richard himself had built on to the church of All Hallows-by-the-Tower in London.
Robert the Bruce's body lies wrapped in gold cloth in Dunfermline Abbey in Fife, but his heart was entrusted to Sir James Douglas to take to the Holy Land in fulfilment of Bruce's wish to atone for the murder of his rival for the Scottish throne, John Comyn. On his way there in 1330 Douglas was mortally wounded fighting the Moors in Spain and, as he lay dying, he flung Bruce's heart in the air crying: 'Forward, brave heart!' The heart was recovered and buried beneath the altar of Melrose Abbey in Roxburghshire.
The body of Gilbert de Clare, Earl of Gloucester and one of Simon de Montfort's barons responsible for the Provisions of Oxford, lies in Tewkesbury Abbey. His heart is buried beneath the smallest sculpted effigy in England, in the church at Long Wittenham in Oxfordshire. It was laid there by his wife, Princess Joan, daughter of Edward I.
John Balliol, founder of Balliol College, Oxford and father of King John of Scotland, was the original 'sweetheart'. When he died in 1314 his wife Devorgilla had his heart embalmed in an ivory casket, which she carried around with her until her own death. Balliol's heart was then buried alongside Devorgilla in the New Abbey that she had raised in her husband's memory in Kirkcudbrightshire, known forever afterwards as Sweetheart Abbey.

Oliver Cromwell was originally buried in Westminster Abbey, but his body was dug up on the orders of Charles II, the head removed and stuck on a pike outside Westminster Hall. The head eventually ended up in Sidney Sussex College, Cambridge, but the body disappeared, although some believe that it was rescued by Cromwell's daughter, Mary, and laid to rest in the attic at Newburgh Priory, her husband's house in Yorkshire.