The Bittersweet Taste of British Sicily
Beyond a few ruins, there is very little to see from Britain's brief occupation of Sicily – but you can taste its legacy in marsala wine.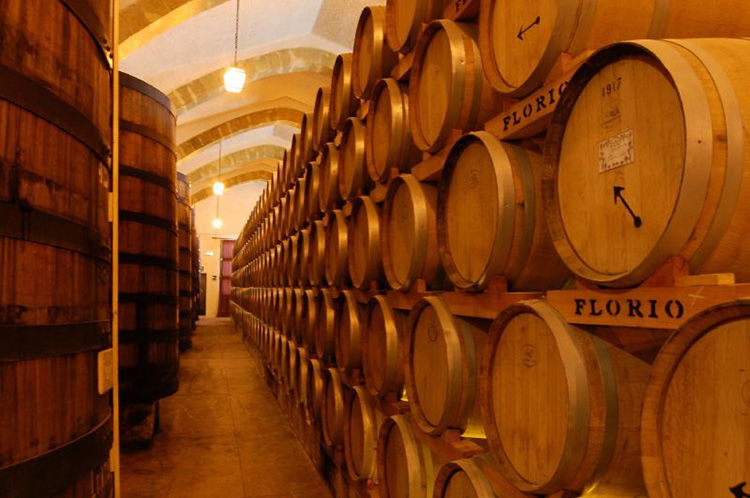 Dotted around the vineyards of Trapani province in western Sicily are ruins that look so Georgian they would not look out of place in Bath. These are the remains of baglios, or wineries, from the marsala industry. They are a reminder of an almost forgotten moment in history when the British occupied Sicily.
Sicily has had more than its fair share of invaders: Greeks, Romans, Arabs, Byzantines, Normans, Spaniards, Venetians and Neapolitans. The British were there briefly, in the late 18th and 19th centuries, but there was talk of the island becoming a British colony, like Malta or Cyprus. 'It would be the jewel in the Empire crown after Ireland,' one commentator remarked, which seems ironic considering how British rule in Ireland is remembered. Beyond a few ruins, there is very little to see from Sicily's British moment, but you can taste it in marsala wine.
The marsala story traditionally begins in 1773 with the arrival of a merchant from Liverpool called John Woodhouse. He tried the local wine, noticed a similarity with the then popular fortified wine, madeira, a speciality of the eponymous Portuguese island, and saw an opportunity. There was huge demand for madeira-style wines, especially from America. To ensure the marsala's safe journey back to England, Woodhouse fortified the wine with brandy.
The real story of marsala, of course, begins long before the arrival of Woodhouse. A unique style of wine known as vino perpetuo or 'everlasting wine' had been produced in Marsala, a port town on Sicily's western coast, since antiquity. It was made by topping up barrels of wine with the latest vintage so that the wine was continuously blended. A little space was left in the top of the barrel so the wine would gently oxidise. The resulting beverage would contain minute quantities of very old vintages. It may have also been sweetened with mosto cotto, cooked unfermented grape must. It certainly would not have been fortified until the British came along. The great ingredient, however, that the British brought to marsala was not brandy but capitalism. As Giacomo Ansaldi, a local winemaker, told me: 'The British were experts in the market, the Sicilians were sleeping.'
In 1787, Woodhouse's 21-year-old son, also called John, travelled to Sicily. Despite the family's entrepreneurial flair marsala might have remained a local specialty if events had not intervened. The Napoleonic wars brought Nelson to southern Italy. He records in his diary meeting the younger Woodhouse in Naples and ordering 200 'pipes' (each of which holds about 550 litres) of marsala wine. Nelson wrote to his superior, Lord Keith, extolling its virtues: 'The wine is so good that any gentleman's table might receive it, and it will be of real use for our seaman.' The Royal Navy would prove a lucrative customer. For his part in quashing a Jacobin uprising in Naples, Nelson was made Duke of Bronte, a small town in Sicily, by Ferdinand I of the Two Sicilies, aka 'Big Nose' on account of his impressive Bourbon nose.
Sicily never did join the British Empire. Following Napoleon's defeat, the island was handed back to Ferdinand but the British merchant community remained. Woodhouse was joined by a Yorkshireman called Benjamin Ingham in 1806. Unlike similar communities in Portugal, there was not enough of a colony for the British to remain aloof. Ingham married a local aristocrat, the Duchess of Rosalina, and spoke Italian with a strong Sicilian accent. He lent money to local farmers to plant grapes on land that had previously been used for wheat or lemons.
It is possible to see just how big the marsala business became by looking at the harbour front at Marsala, with its jetty built by the British. This is where Garibaldi landed with his Thousand in 1860, en route to uniting Italy. Opposite the jetty, is the Florio winery, which is still in operation. To its left is an enormous, ornate, dilapidated yellow stone building. This was the Baglio Woodhouse. On the other side of Florio, the building with the tall chimney was the Baglio Ingham. In its heyday, the entire harbour front – about two miles in length – was devoted to warehouses of marsala wine. There is something of Ozymandias about the scene now: 'Look on my works yea mighty and despair.'
The Marsala industry began to decline in the early 20th century. Producers reacted to fluctuations in the market by creating a cheaper product through planting inferior grape varieties, over-cropping, irrigating and then sweetening heavily to mask deficiencies in the base wine and its lack of ageing. Cooked grape must with its caramel colour and flavour is a poor substitute for slow ageing with oxygen. Marsala went from being a wine created in the vineyard to a product made according to a recipe. The Whitakers (heirs to Ingham) and the Woodhouses both sold out to the giant Cinzano consortium in 1927.
The British influence in Sicily proved ephemeral and once those ruined Baglios crumble it will be impossible to discern. The future of marsala wine looks shaky, too. Most sold nowadays is cheap sweetened wine used for cooking. Even in Italy, good marsala is rare. There are still a few producers, however, making something like the real thing. One is Florio, which makes a vergine (unsweetened) wine called Terre Arse (one can see why it is not better known in Britain.) The true keeper of the marsala flame though is Marco de Bartoli. It is now the only producer making marsala in the traditional manner: hand-harvested grapes from their own estate, solera ageing and no cooked grape must. The late Marco de Bartoli had a grudge against the British for ruining his native wine by fortifying it. He is not alone: writing in 1833 the Duke of Buckingham stated that marsala wine 'is very much injured by the quantities of brandy which they put in it both for the British and American markets'. So De Bartoli produce a special pre-British unfortified wine called Vecchio Samperi. With its heady smell of almonds, oranges and cinnamon, it is bottled Sicilian history…  minus the boozy British influence.  
Henry Jeffreys is the author of Empire of Booze: British History Through the Bottom of A Glass (Unbound, 2016).