Our pick of the finest history-related apps for your smartphone or tablet.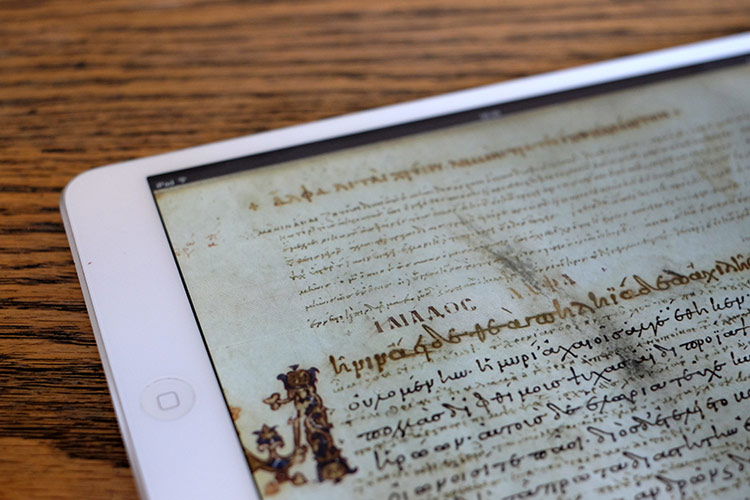 Some of the most exciting research being done today makes full use of modern technological advances which open up new avenues of enquiry. An added bonus of this is that the tools and materials researchers produce and use are perfectly suited to making apps, and now anyone can have direct access to some amazing historical resources.
We've compiled a list of our favourite history apps, suitable both for general interest and to help you conduct your own research. 
Digital Libraries
Many apps now allow you to have whole libraries of manuscripts and early books in the palm of your hand. Libraries and archives have realised the benefits of producing their images for online use and are now starting to produce apps which enable you to view their manuscripts in amazing quality, and nearly all for free.
e-codices – Virtual Manuscript Library of Switzerland (text and bytes LLC) 
The libraries of Switzerland have provided over 1000 manuscripts from their collection here, and is the most extensive of any of these apps. Each is scanned in high quality and available offline, sortable by date, language, place of origin and more. The app also includes official catalogue descriptions for each manuscript.
Available for iPad and iPhone (free).
The Book of Kells (Kells Technologies Ltd)
The Book of Kells is one of the most famous and certainly one of the most beautiful manuscripts produced in medieval Britain and Ireland. This app gives you the complete Book of Kells in high resolution (up to six times original size on featured pages). With over 600 examples of animals, initial letters and other decorative themes, it is well worth the price.
Available for iPad (£8.99/$11.99).
While Kells is not available on iPhone, Colm Cille (free, by CCEA) is. This app is a virtual museum of manuscripts, stone crosses and other treasures associated with Saint Columba.
Imaging the Iliad (Vis Center)
The manuscript known as Venetus A contains the oldest complete copy of Homer's Iliad. It was produced at the end of the 10th century but was added to later including, in the 12th century, the addition of illuminations of mythological scenes in the margins around the text. This app gives you a complete digital scan of the manuscript complete with an English translation of the text.
Available for iPad, free.
Codex Voynich (Giuseppe Castrovilli)
Written in the 15th century in an unknown language and filled with illustrations of the natural world, the Voynich Manuscript is one of the greatest mysteries in book history. This app contains complete digital scan of the 240 pages still surviving. 
Available for iPad and iPhone (£0.79/$0.99). Also available for Android as Voynich Manuscript by Richard Kopyl.
Turning the Pages (TTP)  (National Library of Medicine)
High-quality scans of medical books from the library's collection, including al-Qazwini's Wonders of Creation, Andrew Snape's Anatomy of a Horse and the Mongolian Book of Astrology. The books in this app are fully interactive, with notes, sound clips and translations provided.
Available for iPad (free)
Oriental Books (Bayerische Staatsbibliothek)
Digital facsimiles of 20 notable books from the Bavarian State Library's impressive collection of Oriental and Asian books. The selection in this app includes some important Quran manuscripts and examples of particularly impressive illumination.
Available for iPad and iPhone (free)
Braginsky Collection Berlin (Emile Schrijver)
The Braginsky Collection contains eight centuries of Jewish manuscripts and books. The manuscripts included in this app include marriage contracts and Esther scrolls.
Available for iPad (free)
Tools and Learning
Latin Parser – (Paul Hudson)
Never get stuck on a tricky passage again. The Latin Parser translates Latin to English and provides root Latin words with full meanings as well as person, gender, number etc.
Available for iPad and iPhone (£1.49 / $1.99) and Android (£3.49 / $4.99)
LP Old English/Old Norse/Ancient Greek/Sanskrit/Old Occitan/Latin/Gothic (David Arthur)
The Liberation Philology series of language learning apps includes both ancient and modern languages. They drill you in grammar and vocabulary with multiple-choice tests.
Available for iPad, iPhone and Android (£2.99 / $3.99).
Readings in Early English (University of Glasgow)
Readings of a selection of Old English, Middle English and Early Modern English texts, so you can hear these languages brought to life.
Available for iPad and iPhone (free).
Medieval Handwriting and English Renaissance Handwriting (agbooth.com)
Now you've downloaded all of the manuscript apps above, it's time to teach yourself to read them. Based on software designed to teach postgraduate students to read early handwriting, these apps use manuscripts written in different hands from the medieval and renaissance periods, held by the University of Leeds. Users can start transcribing anywhere on a page and check their success word-by-word.
Available for iPad, iPhone and Android (free).
Interactive
Cdli Tablet (University of California, Los Angeles)
Explore ancient Mesopotamia through texts and images, with explanations by experts. This app covers 3,500 years of human activity, including the development of trade, mathematics and astronomy.
Available for iPad (free).
MFA Coins (Museum of Fine Arts, Boston)
High quality images of more than 250 Greek and Roman coins from the MFA's collection, with full descriptions and background info.
Available for iPad (free).
Byzantium at the Getty and Florence at the Dawn of the Renaissance (J. Paul Getty Trust)
Created to work alongside exhibitions these apps present the objects, paintings and manuscript illuminations from them, along with slide-shows, animations, and X-ray and ultraviolet options on some images.
Byzantium: iPad, iPhone and Android (free)
Florence: iPad (free)
***
We have previously reviewed some excellent history apps which are not included in this list: Timeline WW2 with Dan Snow, part of the Timeline series of apps; Pevsner's Architectural Glossary and Streetmuseum: Londinium, the sequel to Museum of London's Streetmuseum.
If you love a history app which we haven't listed here, let us know in the comments below.