Signposts: Italy in the 19th and 20th Centuries
With Italy on the brink of financial collapse and in deep political crisis, the country's 150th anniversary has been a dramatic one. It is especially timely, then, to take stock of new research into this most contradictory and enigmatic of countries.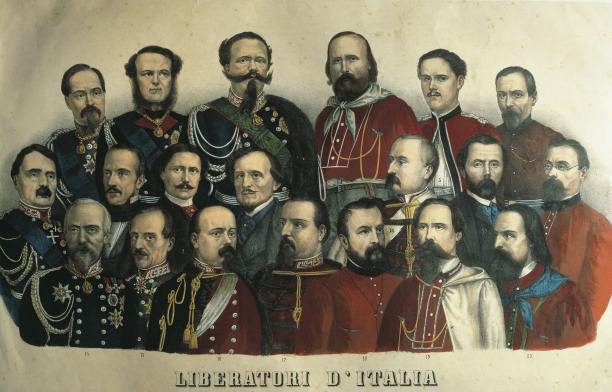 For many years the history of 19th-century Italy was in the doldrums. Dominated by dreary official institutes and publicly funded and very dusty museums, accounts of the unification of Italy and its heroes and heroines tended very much towards hagiography. Apart from a brief and interesting phase in the 1970s, when social historians looked back at the unification of Italy, nothing had really changed in decades. Anniversaries came and went with alarming regularity. Students steered clear of the entire period. Nothing new was produced.
But the last ten years or so have seen a revolution in the historiography of what was known as the Risorgimento, the 'rebirth of Italy', a broad movement for the unification of various territories that were either occupied by foreign powers or run as regional states. The movement occupied the period that ran from the late 18th century up to 1870, when Rome became the capital of the new nation. Cultural historians have begun to unpick and revisit the whole period. It is no exaggeration to say that a new school of historical work has emerged, creating a series of texts which have overturned previous orthodoxies and opened up new lines of enquiry.
The work of Alberto Maria Banti has been crucial to this new trend. From his base in the fertile history department at the University of Pisa, Banti has examined the texts, emotions, music and language that lay at the heart of the Risorgimento (starting with his La nazione del Risorgimento, published in 2000). Through a careful and fascinating study of gender, lyrics and the words of that period, Banti has revitalised a whole field of study, inspiring dozens of eclectic studies, which were collected in a volume edited with Paul Ginsborg and published by Einaudi in 2007 (Il Risorgimento). The other key work in terms of new Risorgimento studies has been that of the British historian Lucy Riall on Giuseppe Garibaldi (Garibaldi: Invention of a Hero, Yale University Press, 2007). Riall takes on and explains the myth of Garibaldi in a study which is readable, scholarly and thought-provoking and has created a storm in Italy where the great Risorgimento hero was seen as someone who was to be celebrated, but not studied. Above all, Riall shows how Garibaldi's heroic myth was manufactured, created and spread through the press, political activists, photographs and artworks both at the time, and afterwards, by Garibaldi himself and his followers. Indeed, a new lease of life has been given to Garibaldi studies in recent years, a taste of which can be seen in the special issue of the journal Modern Italy dedicated to the Italian nationalist hero, published in 2010.
Another burgeoning area of research in Italy has been that linked to the field of memory studies. Historians studying memory in contemporary Italy have an incredible range of material to work on. After all, Italy has gone through a series of civil wars in its short history and once in power each victorious regime has attempted to impose its version of the past. Moreover Italy has been prone to political violence and natural disaster, both of which have produced problematic legacies in terms of memory and history. These divided memories have been widely studied in recent years. The pioneering work of Mario Isnenghi has been followed by many other local and specific studies. Anna Lisa Tota's groundbreaking research on the role of memory in the years following the 1980 Bologna bomb outrage focuses on one event (La città ferita ('The Wounded City', 2003), while other studies, such as Guri Schwarz's, Tu mi devi seppellir ('You Will Have to Bury Me', 2010), concentrate on the form and content of public memory and public memorials across Italy. And any country which can boast an oral historian of the calibre of Alessandro Portelli can count itself to be very fortunate. Portelli's work on the Nazi Fosse Ardeatine massacre of 335 civilians, carried out in March 1944 as a reprisal for the killing by partisans of 33 German police troops in Rome, is exemplary (The Order Has Been Carried Out, Palgrave Macmillan, 2003). A further rich area for new work has been linked to the memories and various accounts which have emerged since the murder of the Christian Democrat politician Aldo Moro, killed by the left-wing terrorist group the Red Brigades in 1978. A medieval historian by trade, Miguel Gotor has carried out two fascinating studies of Moro's letters and writings from his 55 days as prisoner of the Red Brigades (Lettere della prigionia, 2008, Il memoriale della repubblica, 2011). The detail and insight here are a perfect example of how careful research can illuminate subjects that had seemed beyond further research. The 'years of lead' in the 1970s, when political violence plagued the country, has also proved fertile ground for historians and others, such as in Alan O'Leary's study of films dedicated to that period (Tragedia all'italiana, 2011), or Benedetta Tobagi's best-selling Come mi batte forte il tuo cuore ('Your Heart Beats so Strongly Inside Me', 2009), a powerful account of the case of her father, the journalist Walter Tobagi, who was shot dead in the street in Milan by young radicals when she was just three years old.
Despite its importance and power in the history of Italy the Catholic Church has been relatively understudied in comparison with other aspects of public and private life. Nonetheless some important texts have come out in recent years, of which we can cite the thorough work of John Pollard (Catholicism in Modern Italy: Religion, Society and Politics, 1861 to the Present, Routledge, 2008). And the Church in Italy is much more than the Vatican. Millions of Italians each year visit a tiny town in the south of Italy to pay their respects to Padre Pio, a priest who claimed to have stigmata and whose cult has become extremely big business in recent times. Sergio Luzzatto, who is known above all for his brilliant study of Benito Mussolini's death (The Body of Il Duce: Mussolini's Corpse and the Fortunes of Italy, Metropolitan Books, 2006), has also taken on the myth of Padre Pio. The result is a stunningly original cultural history, which is hard to put down and is also packed with sensational revelations. Luzzatto shows us precisely why it is when historians take on new and dangerous topics that they can do their best work (Padre Pio, Miracles and Politics in a Secular Age (co-authored with Frederika Randall for the US edition, Picador, 2011).
Finally we come to Silvio Berlusconi. In recent times this media magnate turned politician (while still remaining a media mogul) has become part of a historical debate. Can we now talk of a Berlusconi age, or a Berlusconian ideology? The first steps in terms of research into the meaning of 'Berlusconismo' were taken by Paul Ginsborg, a British historian, based in Florence. His book: Berlusconi: Television,
Power and Patrimony (Verso) came out to critical acclaim in Italy and the UK in 2003-4. Now things are moving further, with a multi-authored study of Berlusconism and other publications (Berlusconism, edited by Paul Ginsborg and Esther Asquer, Laterza, 2011). As Berlusconi himself departs from the political scene, he is now taking his place in the history books of Italy.
If you enjoyed this article, you might like these: