Owzat! Three Centuries of Cricket
Since at least the 18th century, the traditional English summer sport has inspired cartoonists, as Mark Bryant demonstrates.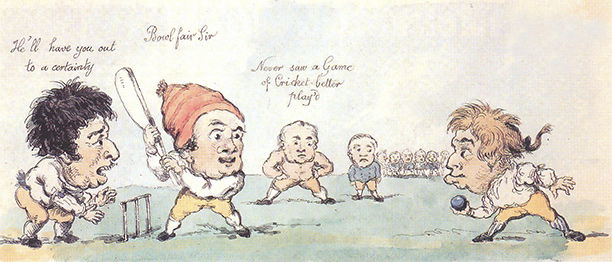 The year 2009, with its Ashes summer, marks a number of significant anniversaries in the cricketing calendar: the tercentenary of the first ever county match (1709), the first batsman to score a century (1769) and the first Test match between England and New Zealand (1929). Less well known is that this year also marks the anniversaries of the deaths of two cricket cartoonists: George Woodward in 1809 (credited with drawing one of the first cricket caricatures) and 'Rip' in 1949 (the first daily newspaper cartoonist to specialise in the sport
'The Cricket Players of Europe' (June 1757) is believed to be the first ever cartoon to feature a cricket field. Drawn during the Seven Years' War (1756-63) by an anonymous artist and produced as a print, it is strictly speaking a political caricature (the word 'cartoon' did not gain its modern sense until 1843). It features Frederick the Great of Prussia as a batsman facing Empress Maria Theresa of Austria-Hungary (bowling underarm). Frederick defends a two-stump wicket (the third stump was added in 1775), with his crown forming the bails.
Another early print is 'Miss Wicket and Miss Trigger' (1778) by John Collet (c. 1725-80), in which a female cricketer is shown leaning on a bat in front of a two-stump wicket (behind which another female player catches a ball). Next to her, accompanied by three hunting dogs, Miss Trigger has just arrived, carrying a fowling piece and brandishing a brace of pheasant she has shot.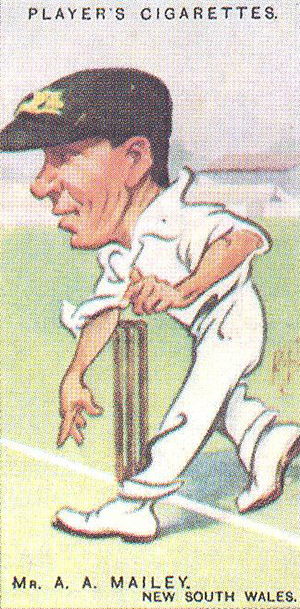 George Woodward (1760-1809) was a contemporary of Isaac Cruikshank (1764-1811) and Thomas Rowlandson (1756-1827), both of whom engraved some of his drawings, and was a pioneer of the strip cartoon. An untitled drawing from around 1796 which has been credited to him shows a game of cricket. As the over begins the batsman says 'Bowl fair, Sir' while the wicket-keeper comments 'He'll have you out to a certainty' and a fielder adds 'Never saw a Game of Cricket better play'd.'
Rowlandson himself drew 'Rural Sports, or a Cricket Match Extraordinary' (October 1811) which is one of the earliest prints to feature a women's cricket match. It illustrates a real game between Hampshire and Surrey which was played for 500 guineas near Balls Pond on Newington Green, north London, on October 3rd that year and won by Hampshire. According to another print about the match ('The Grand Female Cricket Match' published on October 30th, 1811 by J. Pitts of Great St Andrew Street) the Hampshire team wore 'true blue' ribbons while Surrey wore orange and blue ones. It also shows three-stump wickets (more likely to be correct at this date) whereas in Rowlandson's version they have two stumps.
Cricket as a political symbol appears again in  'State Cricket Match' (1834) by 'HB' (John Doyle, 1797-1868). Here the Duke of Wellington uses a ball marked with a royal crown to clean bowl the Whig Lord Chancellor, Lord Brougham, who wields the Parliamentary mace as a bat as fielders William IV and John Bull (who cries 'Regularly bowled out, by George') look on. (Brougham had angered William IV and was dropped from the government later that year.)  
Another cricket cartoon featuring Wellington is 'A Cricket Match for a Sovereign' (1839) by Henry Heath (fl.1822-51). In this the sovereign is the young Queen Victoria who watches as a ball bowled by the duke (supported again by John Bull), hits Robert Peel in the eye (Peel had refused Victoria's invitation to become prime minister).
Victoria herself is the batsman in the Australian cartoon, 'A Long Stand' (Melbourne Punch, June 24th, 1897), published to celebrate the queen's Diamond Jubilee. Here Victoria is shown holding the royal sceptre as a bat while her crown forms the bails on top of wickets labelled 'Scotland', 'England' and 'Ireland'. The scoreboard reads 'Victoria 60 Not Out' and facing her are two fielders labelled 'Disease' and 'Accident' while the bowler, 'Time' says: 'She's defended her wickets well. I believe I'll have to try one of these other bowlers if I want to shift her. I'll never bowl her myself.'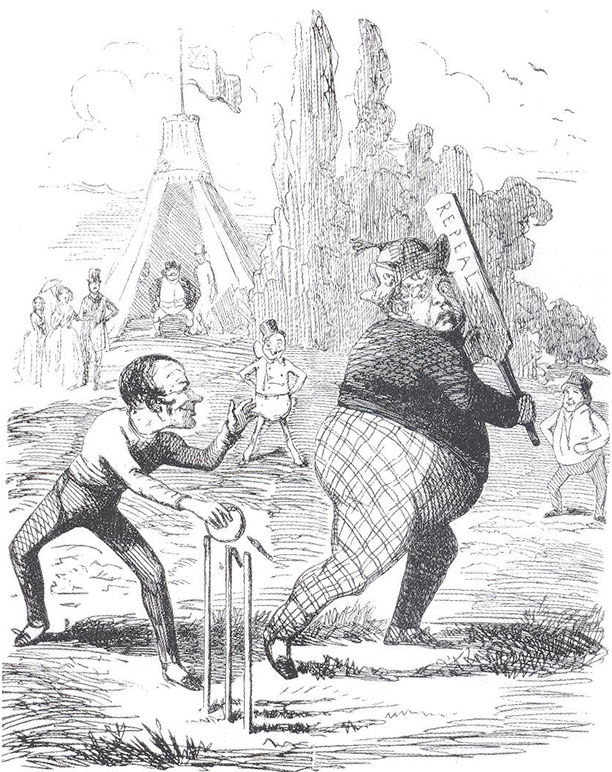 The first cricket drawing to appear in
Punch
was the initial capital 'K' (beginning the word 'knowing') in 'Punch's Mirror of Parliament' (Punch, February 24th, 1844) which showed a batsman being hit on the nose by a ball, but the first ever full-page political cartoon on cricket published in the magazine was 'O'Connell Stumped Out' (February 13th, 1847). Itself a pastiche of 'Out! so don't fatigue yourself, I beg, sir' from Sketches by Seymour (1834-36) by the cartoonist and Dickens illustrator Robert Seymour (1789-1836), it was drawn by John Leech (1817-64). The cartoon features Prime Minister Lord John Russell knocking off the bails as Irish Catholic MP Daniel O'Connell (founder of the Repeal Association to end the union with Britain), wielding a bat marked 'Repeal', looks around aghast. 
Also on an Irish theme was 'Not Out Yet' published in the St Stephen's Review on July 6th, 1889. This drawing by 'Tom Merry' (William Mecham, 1853-1902) featured Conservative Prime Minister Lord Salisbury (wearing a Union Flag cap) at the crease. Behind him (as wicket-keeper) is Opposition leader William Gladstone wearing a green cap with a shamrock badge (indicating his support for Irish Home Rule which Salisbury opposed).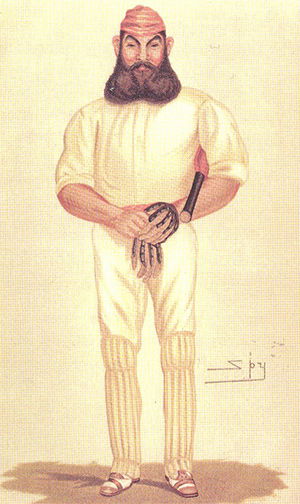 W.G. Grace was the first cricketer to be caricatured in
Vanity Fair
(June 9th, 1877). The drawing by Leslie Ward (1851-1922), captioned simply 'Cricket', was published almost exactly 120 years after the first cricket field cartoon. Grace evidently took a keen interest in cartoons. In 1895 he sent a telegram to Phil May (1864-1903) complaining about a drawing by him published in
Punch
's Almanack for 1896 which showed square leg incorrectly wearing wicket-keeping gloves. Asked why this was so, May replied 'To keep his hands warm.' Such a mistake would have been unlikely to have occurred 60 years later under the editorship (1957-68) of Bernard Hollowood (1910-81), who was not only a cartoonist himself but also played cricket for Staffordshire from 1930 to 1946. 
In June 1887, ten years after Vanity Fair's portrait of Grace, the first published drawings of Aubrey Beardsley (1872-98) appeared in his school magazine Past and Present to celebrate Queen Victoria's Golden Jubilee. Entitled 'The Jubilee Cricket Analysis' they were, by coincidence, 11 cartoons based on puns of cricketing terms. However, the first professional cartoonist to specialise in cricket drawings for a daily newspaper was 'Rip' (Rowland Pretty Hill, 1866-1949) who drew a series called 'Kricket Karicatures' for the London Evening News (published as books in 1896 and 1899), then the largest-selling daily evening newspaper in Britain with a circulation of 800,000 copies. He later produced a similar series for the Weekly Dispatch (1907) as well as a set of 50 cigarette cards featuring colour caricatures of cricket personalities for John Player & Sons (1926).