Horace Walpole, 'Gothick' Man of Letters
Richard Cavendish on the life of the writer and connoisseur.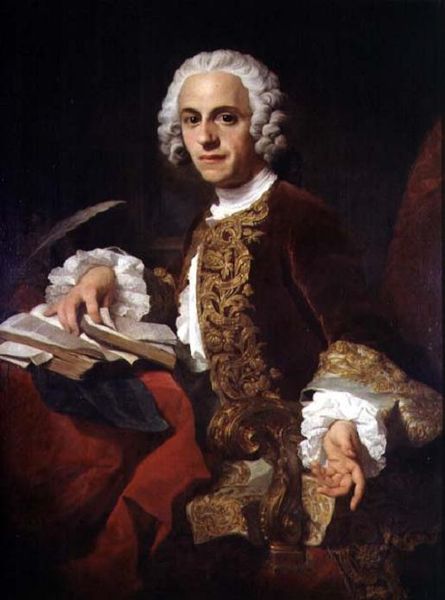 Being the younger son of a 'great man' is never an easy inheritance to carry when carving a way through life; in the case of Horace Walpole, fourth son of Sir Robert Walpole (who for 21 years dominated 18th-century English politics as 'prime minister' to George I and George II), he carried it off triumphantly by achieving renown in an exotically different area. Horace Walpole died lauded as a brilliant man of English letters and arbiter of taste to Georgian England, whose artistic activities in the last 30 years of his life struck out on a new path, foreshadowing the Victorian obsession with recreating a medieval 'Gothick' world.
Horace Walpole's fame may lie in the literary and cultural history of 18th-century England, but his fortune and early prominence drew heavily on the achievements and patronage powers of his politician father. He entered Parliament at the age of 24 as an MP and sat in the Commons for 25 years representing various boroughs in the gift of the Walpole dynasty. His father had made provision, in the best traditions of the venal and unreformed politics of the Georgian era, for Horace to receive income from various sinecure appointments – including a share in a ' Collectorship of Customs – and this provided him with the financial independence to be a man of leisure and letters.
Horace Walpole's connections by birth and breeding with the inner-circle of aristocratic society – while never himself being at the centre of power as his father had been – placed him in an ideal position to chronicle its interests, obsessions and follies, while his natural wit and ability to hone a phrase preserved them brilliantly like flies in amber in the nearly 3,000 extant letters he wrote in a 60 year period to a wide range of correspondents.
The coronation of George lll, the hanging of the aristocratic murderer Earl Ferrers, a social gathering at fashionable London clubs such as Brook's or the Maccaroni's – Horace Walpole brought a sardonic eye to them all He was an acute observer of new social trends, remarking of the new craze for spa and sea bathing that gripped Georgian society after 1750 'one would think that the English were ducks, they are for ever waddling to the waters'.
In his Memoirs of the Reign of George lll, written and revised over a twenty-year period, we see him offering a forceful, if partisan, Whig view of history on the Earl of Bute, George lll's unpopular minister, and on causes célèbres such as the prosecution of John Wilkes and the conduct of the war against the American colonists. Horace Walpole was prepared to provoke in his antiquarian studies too, such as his 1768 Historie Doubts on Richard III.
But perhaps his most tangible and best known monument today is Strawberry Hill, the small villa outside Twickenham which he bought in 1757 and gradually transformed into a mock castle. Here his collection of art and cures were installed and even a private printing-press on which many of his later works were printed, as well as an edition of the poetry of his friend, Thomas Gray.
At Strawberry Hill Horace Walpole was able to create his own fantasy' kingdom, a counterpart in stone to the 'Gothick' spirit he conjured up e his mysterious fiction The Castle of Otranto. It was the private man's counterpart to the princely indulgence that was later to transform a Brighton farmhouse into the Prince Regent's pleasure palace, the Royal Pavilion – and to this, as in the ban riots and almost Wildean aphorisms that flowed from his pen, Horace Walpole captured the spirit of his age.