On May 31st, 1902, the Peace of Vereeniging was signed, ending the Second Boer War between Britain and the two Afrikaner republics of Transvaal and the Orange Free State.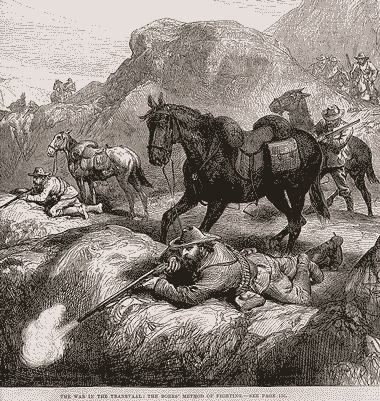 The Second Boer War between Britain and the two Afrikaner republics of Transvaal and the Orange Free State lasted a little over two-and-a-half years from October 1899. The Boers were inevitably outmatched, but even in the last phase, from September 1900, the brilliant Boer guerrilla commanders Christiaan de Wet, Koos de la Rey and Jan Smuts harried British bases and disrupted British communications. The war was being lost all the same as the British commander-in-chief, Lord Kitchener, systematically destroyed Boer farms and packed their inhabitants – mainly the women and children – into concentration camps where epidemics of fever and measles carried off more than 20,000 of them.
Attempts to make peace failed in 1901, but the Boer position was growing desperate and in April 1902, under safe conduct from Kitchener, six Boer leaders conferred at Klerksdorp in Transvaal – President Schalk Burger, Louis Botha and de la Rey from Transvaal and President M.T. Steyn of the Orange Free State with de Wet and J.B.Hertzog. Though Steyn, de Wet and de la Rey wanted to fight to the bitter end, it was decided to seek a meeting with Kitchener and the British in Pretoria on April 12th. The Afrikaners were still insisting on their independence, which the British were not prepared to concede. Indeed, the hard-line British High Commissioner, Lord Milner, was demanding unconditional surrender.
Kitchener, however, struck up an amicable relationship with Botha and most of the other Boer leaders and at his suggestion on April 18th they left to consult their commandos. On May 15th sixty delegates, thirty each from Transvaal and the Free State, met in a capacious marquee at Vereeniging, forty miles south-east of Johannesburg, to consider the situation. They all agreed they were suffering severely from shortage of horses, shortage of food and the state of their women and children – not the ones in the concentration camps, but the ones who had stayed with their men in the field. There was also an alarming flow of Boers joining the British and the threat of the black African chiefs taking a hand against the Afrikaners.
Burger, Botha and Smuts urged peace. Burger maintained that they all knew there was no realistic possibility of continuing the struggle successfully. Botha said, 'Terms might now be secured which would save the language, our ancient customs and national ideals. The fatal thing would be to secure no terms at all and yet be forced to surrender.' Even de la Rey, an arch bitter-ender, said that everything had been sacrificed – cattle, goods, money, wives and children – and asked, 'Isn't this the bitter end?' Steyn and de Wet were still digging their heels in, but they were in a minority and on the 17th a delegation of five – Botha, de Wet, de la Rey, Smuts and Hertzog – was sent to Pretoria to negotiate peace with Kitchener and Milner.
Milner's dictatorial attitude infuriated de Wet, but Kitchener diplomatically smoothed things over and a sub-committee was appointed to draw up peace terms in proper legal form. Kitchener meanwhile quietly dropped the word in Smuts's ear that he expected the government in London to fall within two years and a new administration might well agree to alter the settlement to the Afrikaners' advantage. The terms were presented to the Boers at Vereeniging on the 21st and, against Milner's advice, the British government cabled acceptance on the 27th. An agonised final debate followed at Vereeniging, but Steyn, who was ill, withdrew on health grounds and de Wet was eventually won over. Soon after 2pm on the 31st the terms were accepted by a vote of fifty-four to six. There were tears in many eyes.
Burger and de Wet hurried to Pretoria by train and signed the treaty with Kitchener and Milner shortly before midnight. Boer independence was lost as the two republics accepted British sovereignty, but the treaty promised eventual self-government and the British conceded a general amnesty and a grant of £3 million (perhaps £175 million today) for restoring and restocking Boer farms, in addition to generous loans.
The Vereeniging delegates returned to their commandos to break the news. The men were assembled to hand over their rifles and take an oath of allegiance to Edward VII. A British officer saw de la Rey's tough fighting men fire off their ammunition in the air and smash the butts of their rifles before handing them over to British troops. After which they fell to fraternising cheerfully with the British soldiers 'in a most sociable way'.