Marilyn Monroe Marries Arthur Miller
Marilyn Monroe married Arthur Miller on June 29th, 1956. The marriage lasted five years.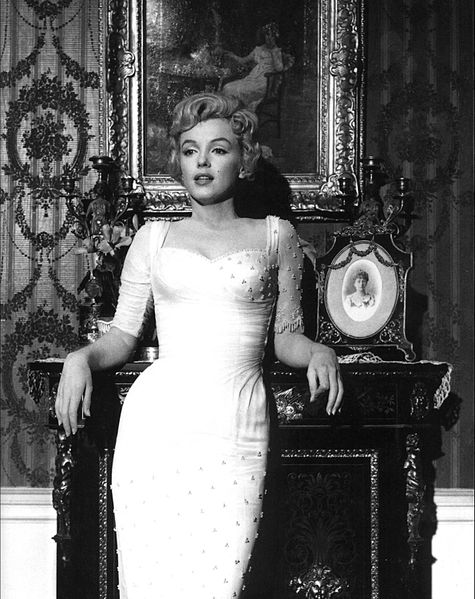 In the early months of 1956 Marilyn Monroe was preparing to star in Bus Stop, discussing with Laurence Olivier a role in The Prince and the Showgirl and romancing Arthur Miller, who was divorcing his wife, Mary. She was also formally changing her name from Norma Jeane Mortenson to Marilyn Monroe and being attacked by red-baiters for associating with the playwright, an alleged Communist sympathizer. In February Walter Winchell broadcast an item about 'America's best-known blonde moving picture star'. Said to have been directly inspired by J. Edgar Hoover himself, it described her as 'now the darling of the left wing intelligentsia, several of whom are listed as Red fronters'.
The filming of Bus Stop was completed by the end of May. Miller's Reno divorce came through in June and Marilyn joined him in New York, besieged by swarms of pressmen. On June 29th they held a press conference at Miller's house in Roxbury, Connecticut, whose local newspaper had dryly announced the day before, 'Local Resident Will Marry Miss Monroe of Hollywood', adding, 'Roxbury Only Spot in World to Greet News Calmly'.
Once the 400 pressmen had gone away, the couple sneaked off to the Westchester County Court House in nearby White Plains, where they were married by Judge Seymour Rabinowitz shortly before 7.30 pm in a ceremony that lasted all of four minutes. The bride was thirty years old to the groom's forty. Miller's cousin, Morty Miller and his wife, were the witnesses and there was not a solitary pressman or flash camera in sight.
This was the civil ceremony out of the way. A traditional Jewish rite was planned for July 1st at the home of Miller's agent, Kay Brown, near Katonah, which went ahead although Marilyn was now having severe misgivings and almost refused to go through with it. The wedding rings were inscribed 'Now is forever' and the bride was given away by her acting teacher and guru Lee Strasberg. There were twenty-five guests and the ceremony was performed by Rabbi Robert Goldberg. The writer George Axelrod made a witty speech congratulating the happy couple and adapting George Bernard Shaw to wish that their children would have Arthur's looks and Marilyn's brains: which was uncomfortably near the knuckle. The newlyweds soon went off to London for the filming of The Prince and the Showgirl.
Some days later, Marilyn happened to come across Miller's notebook lying open on a table, looked at it and discovered that he was disappointed in her, feared that his own creativity would be threatened by this pitiable, dependent, unpredictable waif he had married and was seriously regretting the union. Marilyn told friends that he also wrote, 'The only one I will ever love is my daughter', though Miller could not recall having written that. It was a blow from which the marriage would never recover. Things went steadily from bad to worse and although Miller wrote the script of The Misfits for Marilyn, the pair separated in 1960 and divorced the following year.