Ottawa chosen as Canadian Capital
The small logging town was chosen as the country's new capital on December 31st, 1857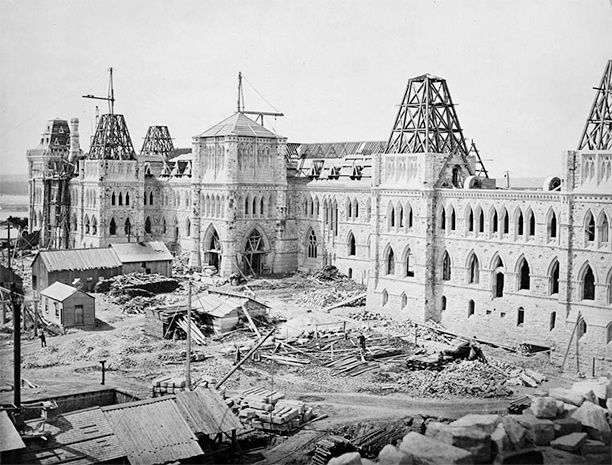 Queen Victoria herself was asked to choose a capital for the province of Canada, which at that time consisted of the two colonies of Quebec and Ontario, and there's a story that she simply stuck a hatpin into a map, between Toronto and Montreal. Another story has her choosing Ottawa because she had liked landscape paintings of the area. At the time Ottawa was no more than a small logging town in the backwoods and certainly the choice seemed arbitrary to many Canadians at the time, as Toronto, Montreal and Quebec had all been vying to be chosen, but there were sound reasons for it. The strongest one was precisely that Ottawa was not Toronto or Montreal or Quebec.
On the contrary, it was the only settlement of any size on the border between the two colonies and their respective mainly French and British populations, which made it a useful compromise that did not obviously favour either of them. Ottawa was also well away from the border with the United States of America, and the War of 1812 had shown how vulnerable the principal Canadian cities were to American attack. An American newspaper of the time sarcastically remarked that Ottawa was safe from attack because any invader would get lost in the woods trying to find it.
Originally in the territory of the Ottawa Indians, who were part of the Algonquin language group, the future capital's story began when Colonel John By arrived in 1826 in command of a detachment of the Royal Engineers to construct the Rideau Canal to Lake Ontario. He built himself a house and headquarters near the north end of the canal, where there were already two or three log cabins, and a settlement grew up, which was named Bytown after him. It flourished on the timber trade and the area on the canal's east side, Lower Town, was a lively, violent shanty town amply supplied with brothels, taverns and gambling joints, and inhabited largely by Irish and French labourers, who were Roman Catholics. The more salubrious Upper Town on the other side of the canal mainly attracted English and Scottish Protestants.
The town was renamed Ottawa in 1855, the population had reached 14,000 by 1863 and the handsome parliament buildings on the west side of the canal were opened in 1865. When the Dominion of Canada was established in 1867, Ottawa became the capital of all Canada, and it is now the country's fourth largest city.