Birth of Thomas Babington Macaulay
Thomas Babington Macaulay, the most famous historian of his time, was born on St Crispin's Day, October 25th, 1800.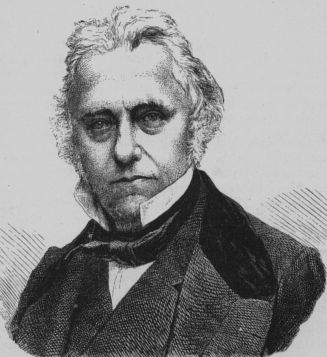 The most famous English historian of his time was born, to his lasting satisfaction, on St Crispin's Day - the anniversary of Henry V's victory at Agincourt - at Rothley Temple, the country mansion of Thomas Babington, his Aunt Jean's husband and a friend of William Wilberforce. A sixteenth-century Babington had conspired against Elizabeth I and paid for it with his life, and the house boasts a memorial to Macaulay, as well as a thirteenth-century chapel of the Knights Templar.
The Macaulays were Scottish, high-minded and exceedingly numerous. The boy's grandfather John Macaulay, a minister in the Western Isles and the Highlands, was himself one of a brood of fourteen and had twelve children by his Campbell wife. His third son, Zachary Macaulay, would have nine surviving children of his own. Sent to Jamaica as a teenager, Zachary was horrified by slavery and would spend his life working for its suppression and causes which included missionary work, the creation of London University and the Society for the Suppression of Vice.
In his early thirties, at the time of his eldest son's birth, Zachary was secretary to the Sierra Leone Company, founded by Wilberforce to create a West African colony for freed slaves. He had been married for a little over a year to Selina Mills, the pretty daughter of a Quaker bookseller in Bristol. Characteristically, when he complimented Selina on how attractively she dressed, he hastened to assure her that he admired her outfits only as evidence of her thoroughly well-ordered mind. Selina Macaulay was almost as devout and earnest as her husband and when her new-born child was put in her arms, she immediately recited an improving hymn by Isaac Watts. Lord Macaulay used to say that he got his sense of humour from her side of the family.
The baby, Tom, proved to be a prodigious infant, whose precocity and soft-heartedness convinced his mother that he must be destined for an early death. Uninterested in toys, he was reading avidly by the age of three, and he already talked like a book. When hot coffee was accidentally spilled on his legs and a kindly woman asked if he was all right, he replied, 'Thank you, madam, the agony is abated.' He grew up in comfortable circumstances in the family's South London home at 5, The Pavement (the house has a blue plaque today and there is a Macaulay Road nearby) on the edge of Clapham Common, where the little boy went roaming with his nurse and imagined himself in the Alps or beholding Mount Sinai. Sent to a local day-school, at seven he wrote a complete history of the world. At eight he penned an essay intended to convert the people of far-off Malabar to Christianity and he was soon turning out quantities of hymns and poems - the forerunners of his Lays of Ancient Rome.
Packed off to a boarding school of impeccable Evangelical correctness near Cambridge in 1812, Tom suffered badly from home-sickness. His loud voice and over-confident manner attracted criticism and his total inability to play any species of game was against him, but the other boys seem to have taken a certain amused pride in him as a peculiar specimen. In 1818 he went up to Trinity College, Cambridge, where he covered himself in glory. In the future lay a seat in the House of Commons, heavyweight book reviewing, important work in India and a place in the Cabinet before he was forty. It was not until his late thirties, when his father died, that he would settle down to work on his History of England, which would make his name known in every literate household in the English-speaking world and bring him the country's first literary peerage.