Life for the poor in 18th- and 19th-century Ireland was hard and, for many women, prostitution was the only option. But the bawdy houses were rife with disease and police did little to protect women from violent customers.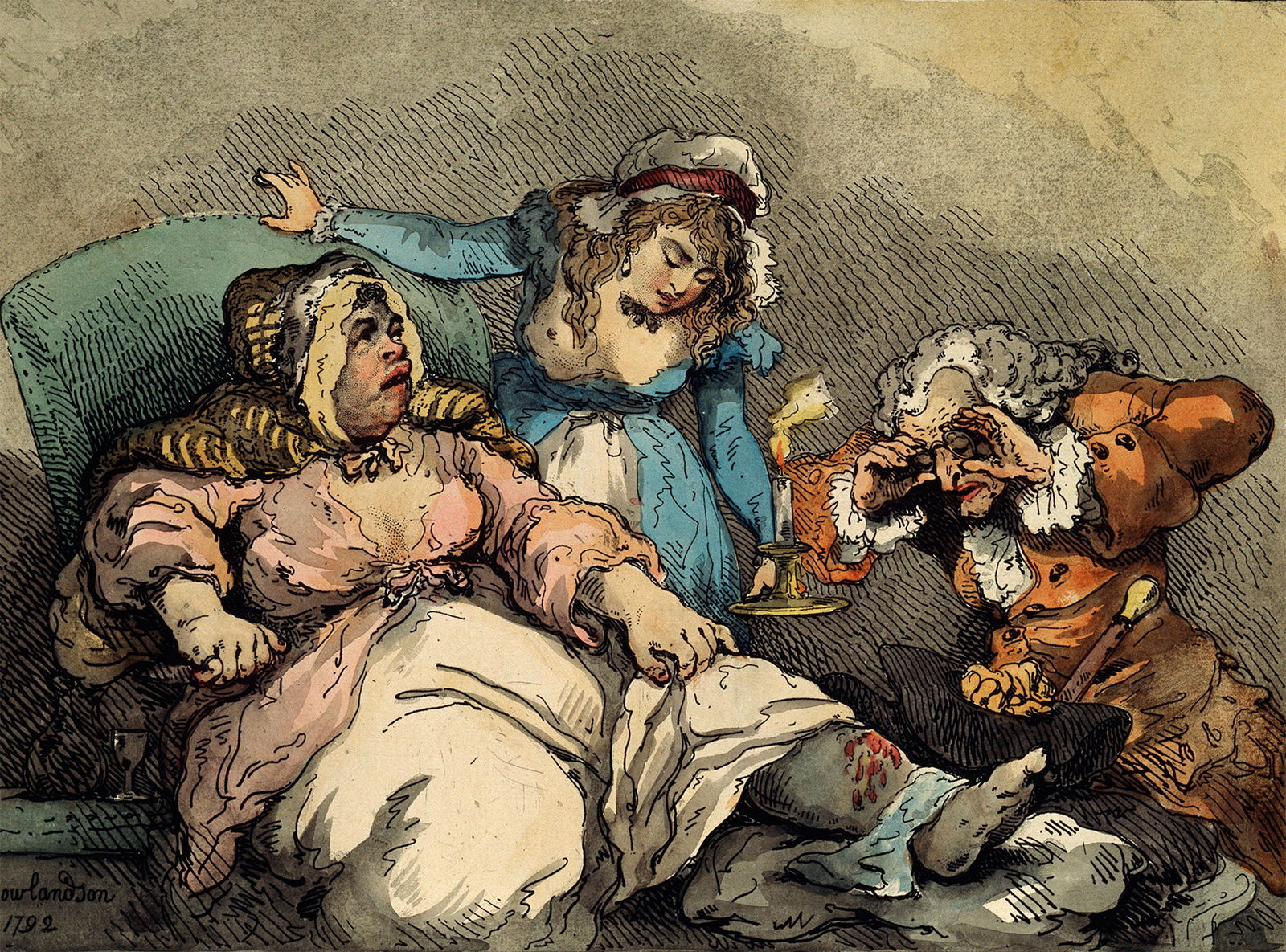 Philip Reilley, a constable, and his wife Catherine were tried and convicted on October 12th, 1736 for keeping a bawdy house in White Lion Court in Strand Street, Dublin. Reilly was sentenced to three months in jail and on the following day his wife was to be whipped from Newgate Prison to Trinity College. The Daily Gazetteer for October 1736 reported that Reilly was so loving a husband that he earnestly begged the court that he should be punished in place of his wife, but his request was denied. The case was unusual in that most of the brothels in Dublin were run by women, although there is evidence of other couples running similar bawdy houses. 
Many of the brothels were situated close to the centre of Dublin, located along alleyways near Christ Church Cathedral from Cork Hill, Copper Alley, Fishamble Street and Wine Tavern Street (so-called because of the large number of brothels, taverns and gambling houses in the area) to Cook Street. The quaysides were particularly notorious for brothels serving the seamen coming off the boats on the River Liffey. Mary Browne operated in Prince's Street, near Sir John Rogerson's Quay in 1751. She was convicted of brothel-keeping and sentenced to be carried in a cart through the street but, because she was so popular and the police were so corrupt, she was allowed to hide in the floor of the cart to hide her from public view.  
Most of what we know about prostitution in Dublin in the 18th century comes from newspaper accounts, which tell us that life could be dangerous: Catherine Halfpenny of Marshall Alley, Fishamble Street was targeted by rioters in 1768; Miss Keenan in Frederick Street North in 1791 had all of her furniture removed from her house and burned in street by a mob. While such reports are useful and provide an idea of the public reaction to, and problems inherent in, prostitution, relatively little is known about the real extent of prostitution in Ireland, as few other records survive. Further information can be gleaned from court descriptions, the Magdalene Asylum records and from later police accounts. 
***
Dublin prostitutes were brought before the city's courthouse. Those involved in the legal process – judge, barristers, court officials, jurors and staff of the court (apart from the cleaner) – were all men. This brought with it all the implication of gender bias, of men's views on the desire for modesty and chastity in women coming into conflict with the perceived necessity for prostitution. Brothel-keepers could be charged under the Disorderly House Act of 1751, which recognised that: 
The multitude of places of entertainment for the lower sort of people is another great cause of thefts and robberies, as they are thereby tempted to spend their small substance in riotous pleasures, and in consequence are put on unlawful methods of supplying their wants and renewing their pleasures. 
In order to prevent idleness and subsequent mischief, it was deemed that  'any house, room, garden, or other place kept for publick dancing, music, or other publick entertainment of the like kind' needed a licence; those without were deemed disorderly houses. It was therefore prudent for some brothel-keepers to hide their business. In Ashton's Quay in 1793, Mrs Brazen hid her business behind the façade of a haberdasher's shop. Such concealment, however, did not necessarily make a place safe; Mrs Davis, who ran a brothel behind the façade of a China shop in Fishamble Street, incurred damage to her shop in 1792 when four bucks pushed a blind horse into it.
Suppression of individual prostitutes was mainly reliant on vagrancy and curfew laws. Prostitutes who came before the local courts had often been arrested for crimes other than soliciting, such as stealing, pickpocketing, indecency, vagrancy or public disturbance.
Statistics on prostitution in Dublin become more plentiful from 1838 onwards, when the Dublin Metropolitan Police kept records, which show 2,849 arrests in 1838 in Dublin alone. As late as 1889, the manual for the Dublin Metropolitan Police showed the continued difficulties in bringing women to court, noting that, 'prostitutes cannot legally be taken into custody for being prostitutes; to justify that apprehension they must commit some specific act that which is an offence against the law'. Other difficulties were that the public showed little interest in attempting to eradicate prostitution; this was particularly true of the soldiers who made up a large proportion of the population of Dublin.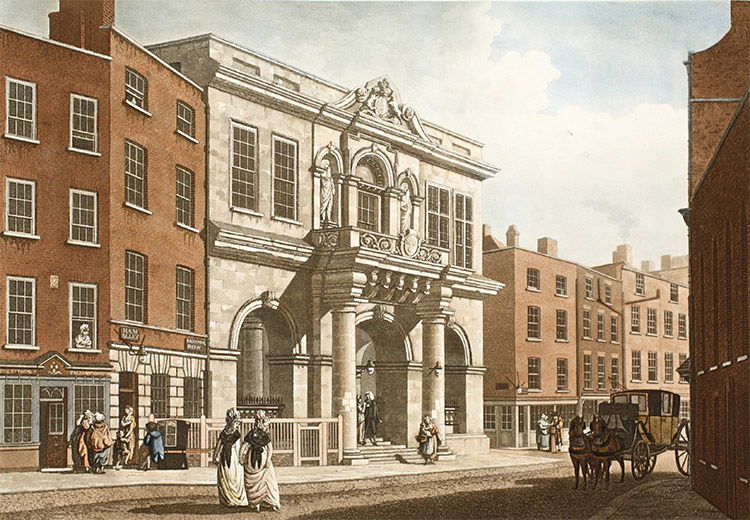 Prostitution was to be found in almost every town in Ireland but was most prevalent in garrison towns. The Dublin Barracks dominated Dublin City, an ever-present reminder of British rule; other army camps were scattered around the coast acting as defence. One contemporary observer remarked that the large number of troops and sailors 'in every town, nay small village' had led to an 'increased profligacy of manners amongst the lower orders of females'. With thousands of soldiers in Ireland to protect British interests, the army brought with it a ready made clientele for the prostitution business. Isaac Weld commented, about Roscommon, in 1832:
The evil was of far greater magnitude than it appeared in view. In Castle Street, on the skirts of the town, there was actually a range of brothels, at the doors of which females stood noonday, to entice passengers, with gestures too plain to be misunderstood. 
He put this down to the huge military complex at Athlone in the Irish Midlands. Prostitutes followed the barracks while they were young and pretty and were obliged to beg when they had lost their good looks. 
***
The reasons women took up prostitution were numerous and varied. 'The First Report From his Majesty's Commissioner for Inquiry into the Condition of the Poor in Ireland' in 1835 remarked that any 'failure in chastity' on the part of a woman meant that she 'forfeited for life her character and caste'. For seduced women, this meant ostracism from family and friends. The word 'seduced', though, is a broad term, which might include intimidation or even rape, as can be seen in one newspaper report, in which one 'little rosy cheeked milk girl' attracted the attentions of a gentlemen who served in the Liberty; he 'frequently plied her with cake and wine and promised to make a Queen of her, or anything she could mention', if she consented to become his mistress. She refused, but he eventually whisked her into his parlour and 'easily prevailed on her to suck in as much of the juice of the grape as threw her off her centre of gravity, and entirely over powered her senses', thereby ensuring his conquest. Drink was to play its part in the loss of many women's virginity. 
Poverty was also recognised as playing an important part in women turning to prostitution, an illegitimate child adding to a woman's hardship. Work in agriculture and domestic service were possibilities for poorer women, but the latter was seen as a route into prostitution. With poor pay, lack of skills and without family to support them, survival for such women was bleak. Many women working on the streets were often addicted to alcohol, homeless and destitute. One witness claimed, 'most of the females who infest the streets of cities are such persons [unmarried mothers and poor]'. 
Intimidation and procuring were seen on a daily basis. Unscrupulous female brothel-keepers organised children and young women into the ever-expanding sex trade in Dublin and young girls were often impelled to work in bawdy houses for fear of recrimination. The Hibernian Journal for February 1781 reported that the police watch had interviewed a local brothel-keeper and her cronies about a prostitute who had been murdered in Temple Bar. Although nothing was done at the time, eight months later, after a 17-year-old Belfast girl was murdered in her lodgings in Stephen Street, having refused to go with Ann McDonagh, a brothel-keeper in Little Booter Lane, the public reacted by ransacking her brothel. This was not enough to prevent her continuing her brutal reign; in July the following year, she beat up a prostitute so badly that she lost an eye.
The public saw the police as too ineffectual to deal with the problem of procurement or ill-treatment of prostitutes and often tackled the perpetrators themselves; after a dead prostitute was discovered on the premises of Ms Truly of Kennedy's Lane a riot erupted in December 1795; her building was again damaged the following year after allegations that a female passer-by had been forced into prostitution there. When another procuress, Mother Beatty of Ross Lane, had lured a girl into her brothel, the mob pelted the police with stones, believing they were failing to take proper action.
***
The women who worked in the profession, as elsewhere in the world, ranged from ill-dressed, half-starved street-walkers to women from wealthier backgrounds who serviced elite clients. Those who came from wealthier backgrounds would be more likely to look for a rich man to keep them. Women in this position could expect expensive houses, credit at the merchants and a coach and four. They would have the education and the know-how to attract richer clients. Such clients included aristocratic men from Dublin Castle, the hub of British administrative rule, including the governor
of the Bank of Ireland, David LaTouche, and the Lord Lieutenant of Ireland, the Duke of Rutland. When the Irish courtesan Peg Plunkett opened her elite establishment to gentlemen, these men were among her lovers. Along with her friend, Sally Hayes, she ran a luxurious brothel with lascivious prints on the walls and new 'elastic' beds, in order to pull in the most elite of punters. The attraction to this kind of life was that they no longer had to rely on their keepers and could forge an independent life of considerable luxury and extravagance, answering to no-one but themselves.
Nonetheless, even in higher-class establishments life was tough and their inhabitants were an easy target for the gangs of ruffians who prowled the streets, ransacking houses, beating up men and assaulting women as they went. One of the most notorious gangs was known as the Pinking Dandies. They dressed in fine regalia and strolled around the town pricking passers-by with their swords. One commentator wrote of them, 
Some were sons of respectable parents, who permitted them to get up to man's estates in idle habits, without adequate means of support; others were professional students, who having tasted the alluring fruits of dissipation, abandoned their studies and took a shorter road to gain supplies, by means no matter how fraudulent. 
Often drunk and in bad humour having lost at gambling, they would 'assail passengers in the street, to levy contributions, or perhaps, take a lady from her protector, and many females were destroyed by that lawless banditti'.
***
Peg Plunkett WAS the victim of an attack one night in 1779, when the Pinking Dandies broke into her well-known 'flash-house' in Wood Street near Dublin Castle. She described in her memoirs how the gang assaulted her and wrecked the house, resulting in the death of her two-year-old daughter and her unborn baby. The gang was led by Richard Crosbie, who was later to become a famous figure when he made an attempt to cross the Irish Sea in a balloon in 1785. Although Peg successfully sued him and some of the gang members, his earlier criminal activities do not appear to have been a barrier to his future achievements.
The police had difficulty controlling crime, whether gangs of marauding youths, riotous mobs or women involved in prostitution. In part this was because policing itself was problematic and half-hearted during the early 18th century. At that time it was provided by the local watch; the official Dublin police force was not established until the Dublin Police Act of 1786. Before this, each parish had a permanent 'watch' of 15, selected and overseen by the minister and church wardens and presided over by a constable. The watch was only employed to police crime between the hours of 11pm and 5am from April to Michaelmas and 10pm to 6am for the rest of the year. Trouble outside these hours went unmonitored. Some 900 watchmen were supposed to cover 450 stands, some with two watchmen, some with just one, the rest acting as 'flying patrols' to come at a moment's notice. Even then they were hardly diligent in their duties, as one statutory report noted in the first half of the 18th century: 'The watches of the city of Dublin have of late been found to be very weak and of little use, by reason of many ill affected persons … but refuse to watch, when they are thereto required'. In other words, they were simply not fulfilling their duties. Another commentator described the reliance on the watch as a 'woeful experience', thanks to the watch being unfit, feeble and unforthcoming.  
Although prostitutes were regularly brought before the courts, they were just as regularly dismissed. Brothel-keepers often made bribes to judges and many of the local watchmen were in the wine trade, supplying the alcohol sold in the brothel houses. Magistrates frequently rented houses to prostitutes, either the more elite women near Dublin Castle or the lower end of the market housed in Barrack Street close, as the name suggests, to the soldiers. Two years after the new police force was introduced, the situation changed and prostitutes were routinely arrested; in 1788, 17 street-walkers were arrested in Copper Alley, within the vicinity of St Stephens Green, and a further 32 were caught a few nights after; in July 1799, in the same area and around the Rotunda, 150 women were rounded up. 
***
Venereal diseases were another inevitable consequence of prostitution. These ranged from pubic lice to unpleasant symptoms of inflammation and discharge ('gleets', 'whites' and sores) from gonorrhoea and syphilis. The two diseases were thought to be different stages of the same disease called the 'pox'. Mercury was considered to be the only effective treatment and could be administered in the form of an ointment, a steam bath or a pill but, although it appeared to alleviate symptoms, it was by no means a cure. Brothel-keepers had particular doctors or surgeons on whom they would call for gynaecological problems, sexual diseases, pregnancy and abortions. The less fortunate could seek treatment at the Westmoreland Lock Hospital, which had opened at Donnybrook in 1755, although its location outside of the city made this more difficult for Dublin city prostitutes. A new site opened in 1792, in the centre of Dublin. From the start, the hospital had treated both men and women, but from 1820 onwards treated only women and, in doing so, increased the visible association of women with the infection. As Westmoreland Lock Hospital took on an increasingly moral and reformatory role, one satirist commented in 1826 that a female patient would be 'put on a course of mercury and the Bible, and having spat out her pint a day ['salivation' from mercury was a popular treatment for syphilis] and perused her diurnal portion of chapters, she has a choice of stitching "plain or fancy work" in the Dorset Asylum, or go out to "catch cold"', a known euphemism for catching venereal disease, 'once more in Sackville Street'.
A common route out of prostitution was for a woman to enter one of the established Magdalene Asylums, such as the one on Leeson Street in Dublin, opened by Lady Arabella Denny in 1767. The charity was intended to rescue young women from the fate of prostitution and was focused on 'seduced' Protestant girls, those under 20 and expectant unmarried mothers. The aim was to offer a refuge to 'penitents' and shelter from 'Shame, from Reproach, from Disease, from Want, from the base Society that had either drawn you into vice, or prevailed upon you to continue in it, to the utmost hazard of our eternal happiness'. One observer wrote in 1794 that such an institution 'was greatly wanted for Dublin, where our sight was constantly struck by objects disgraceful to human nature, with wretched strumpets, tricked out in tawdry apparel, or converted with tattered weeds; where our ears are constantly assaulted with vociferations that would startle deafness, and appal blasphemy'. However, as the 'Report of the Committee of the Dublin Female Penitentiary to the General Meeting' reported in 1815, it was unlikely these institutions would allow hardened prostitutes to be admitted. Only those who were at their first 'fall' were accepted, if they were 'young unskilled … and not hardened in the ways of vice'. 
By July 1803, though, little had changed regarding the number of women working in prostitution, despite the new police force being introduced. One commentator complained that Parliament Street, Essex Street and the immediate vicinity 'are much annoyed by a number of prostitutes at all hours of the day and night, continually drunk and insulting the passengers. The Police are usually afraid to interfere as the prostitutes are protected by the Military'. As late as 1854 one witness to a committee on Dublin hospitals confessed he thought 'prostitution is absolutely necessary; if it is discouraged among the soldiers, you would reduce the moral character of the men. It is much better that soldiers have free access to women, or they will have worse'. Given the number of single army men in the area, it was unlikely the situation would change dramatically, although the area of Monto (nicknamed after Montgomery Street, now Foley Street) would take over as an area of known prostitution after the demolition of the smaller alleyways.
The story of prostitution in 18th-century Dublin is one of warring needs. For many women, prostitution was a much-needed solution for their troubles and prostitutes were seen as a necessary social evil. But they suffered, in numerous ways, in their struggle for survival.
Julie Peakman's latest book is Peg Plunkett, Memoirs of A Whore (Quercus, 2015).