'Bloody Mary' born at Greenwich Palace
The future queen of England and Ireland was born on February 18th, 1516.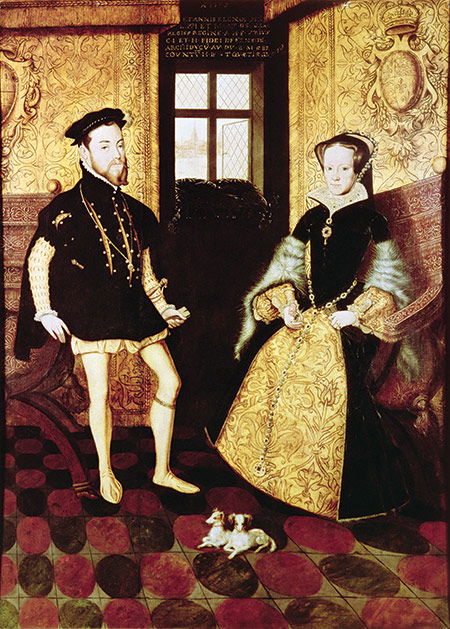 Born at about four o'clock that Monday morning, Mary Tudor was the first surviving child of Henry VIII and his Spanish wife, Catherine of Aragon. He was 24 years old, she was 30, they had been married for six years and she had suffered a succession of miscarriages and stillbirths. Although Henry had hoped for a son and heir, Mary's safe arrival was a relief. As Henry said: 'By the grace of God the sons will follow.' 
The relief was not only his. The christening in the nearby friary church two days later to the sound of trumpets and the proclamations of heralds drew an impressive turn-out of supportive English nobility. Accompanied by the Dukes of Norfolk and Suffolk, the Countess of Surrey carried the baby to the font beneath a canopy borne by four knights. Cardinal Wolsey, the Duchess of Norfolk and the Countesses of Salisbury and Devon were waiting as godparents and the Marquess of Dorset and his wife bore the salt and the oil. The child was named Mary after her father's younger sister and the baptism was immediately followed by confirmation, with the Countess of Salisbury, herself of royal Plantagenet blood, as sponsor. 
Little Mary did not see much of her parents in her early years. She was suckled by a wet-nurse and, once weaned, she was given a household 50 or more strong. Run by the highly competent Margaret, Lady Brian, it included  a chamberlain, a treasurer, ladies- and gentlemen-in-waiting, stewards, cooks, grooms and maids and cost more than £1,000 a year (perhaps equivalent to £375 million or more today). It moved from palace to palace frequently, but not often to the same palace as the royal household.
Catherine of Aragon, however, certainly took a keen interest in her daughter's education. The Countess of Salisbury was Mary's 'lady governess'. A distinguished Spanish scholar called Juan Luis Vives, who wrote books on the education of Christian women, was living in England and Catherine put him in overall charge. A bright girl, Mary was soon fluent in Latin and later learned French, Spanish and some Greek. She also especially loved music, singing and dancing. 
From very early on Mary was a puppet in English foreign policy. At the age of two she was formally betrothed to the baby dauphin of France, but when she was four her father dropped that and organised her betrothal to the Holy Roman Emperor, Charles V. That did not work out either, nor did a later suggestion of another French royal marriage. In 1525, aged nine, Mary was sent to Ludlow Castle in the Welsh borders, with a strong team of advisers and a household now more than 300 strong, to be in effect Princess of Wales. The title was not officially given to her, but she was often called that.       
Disaster struck in the 1530s. No more royal children had arrived and Henry desperately needed a son and heir. He had also fallen in love with Anne Boleyn, who refused to bed him unless he married her. In what his subjects called the king's 'Great Matter', he decided to have his marriage to Catherine of Aragon annulled. She resisted as best she could, with the support of the pope, who refused to invalidate the marriage, but Henry broke with Rome and declared the English church a separate entity, with himself as its Supreme Head. In 1533 the Archbishop of Canterbury, Thomas Cranmer, formally proclaimed the marriage to Catherine of Aragon null and void and Henry proceeded to marry Anne Boleyn.
Mary, who was now 17, was considered illegitimate. No longer a princess, she was henceforth the Lady Mary. She was a devout Roman Catholic and strongly disapproved of the Protestant regime headed by her young half-brother Edward VI from 1547 to his death in 1553. With the armed support of prominent Catholics she succeeded to the throne, determined to restore Catholicism and obedience to the pope.
It was now Mary's turn to need an heir and, aged 37, in 1554 she married a Catholic prince, Philip of Spain, which incidentally made her officially Queen of Naples and Jerusalem. Philip was 26 and not a popular figure in England. Protestants were being ruthlessly persecuted for heresy and over 250 were burned at the stake during Mary's five-year reign, which would earn her the nickname 'Bloody Mary'. She more than once fancied herself pregnant by Philip, but turned out not to be, which made her miserably unhappy. Ill with dropsy and fever, she died in St James's Palace in London in 1558, aged 42, and was buried in Westminster Abbey. Her successor was her Protestant half-sister Elizabeth, an incomparably greater monarch than poor Mary could ever have been.