Historians gathered at Warwick this summer to celebrate the contribution of Christopher Andrew.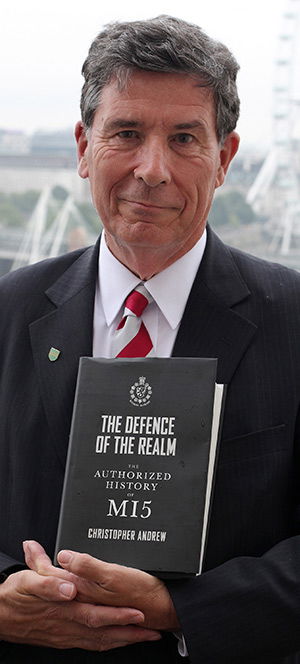 When did the study of secret intelligence become a recognised field for historians? The consensus at a conference held at Warwick University in July was 1984, with the publication of The Missing Dimension: Governments and Intelligence Communities in the Twentieth Century by Professor Christopher Andrew and his colleague David Dilks.
The occasion was a festschrift and cohors amicorum for Andrew, the doyen of espionage historians. It brought together former students and intelligence officers to mull over the pros and cons of throwing light on secret operations.
Arguably the wall of secrecy surrounding intelligence had been breached a decade earlier – in 1974 – when a former RAF officer, F.W. Winterbotham, published The Ultra Secret, the first book to provide a detailed, if flawed, account of the breaking of German Enigma codes at Bletchley Park during the Second World War. Its appearance soon led to a reappraisal of many aspects of that conflict, such as the Battle of the Atlantic. 
However Andrew's and Dilks' book suggested that history could be fleshed out by hunting down details of intelligence operations in existing archives. Since then Andrew has made it his life's work to fill in that 'missing dimension'. Over the subsequent three decades he has produced a series of best-selling histories, from Her Majesty's Secret Service: The Making of the British Intelligence Community (1985) to The Defence of the Realm: The Authorised History of MI5 (2008). Under his guidance, intelligence studies became one of the most popular undergraduate modules at Cambridge.
One former student of Andrew who has used secret intelligence to open up new areas of history is Calder Walton. His Empire of Secrets, winner of the 2013 Longman-History Today book prize, presented a new take on Britain's retreat from Empire. Walton noted that in 1984 the secret services did not officially exist, so records were clearly unavailable!
Another former student, Dr Ronen Bergman, now a journalist for Yedioth Ahronoth, Israel's largest-circulation daily, talked about the problems of writing his forthcoming history of Mossad in a country where it is treasonous to hold classified documents. 
With the help of 750 interviews, he managed to tease out the story. But the evidence was often conflicting. At least three ex-Mossad agents swore that they had been involved in killing a former Nazi rocket scientist, who had been recruited by the Egyptian leader Gamal Abdul Nasser to build Arab missiles. But Israeli documents confirmed that he had actually been turned and sent back to Germany as a Mossad agent.
Victor Madeira of the Institute of Statecraft has used secret intelligence to illuminate the relationship between Britain and the former Soviet Union, notably in his new book Britannia and the Bear: The Anglo-Russian Intelligence Wars 1917-1929. He noted how closely the strategy of the FSB, the modern Russian secret service, followed that of its predecessor, the KGB. In the Ukraine, General Sergei Beseda, head of the Fifth Directorate of the FSB, was determined to douse out any spark of an Orange revolution, creating a sense of collective amnesia through tactics such as posting conflicting messages on Twitter. 
Such papers led to discussion on the practicalities of accessing intelligence material. It was argued that at least some of MI6's history could be gathered from Foreign Office and Cabinet Office files, as well as through private papers. Then there was oral testimony, which, though suspect, often helped interpret written evidence and give it colour.
Not everyone at Warwick was appreciative of what one former spook called 'the post-secrecy environment'. However, the consensus was that history was being served. Nigel West scoffed at the idea that the treachery of Americans such as Alger Hiss and Harry Dexter White should have remained secret. A former member of the RUC special branch said that a historical perspective helped with the training of officers. However, Bergman struck a cautionary note when he revealed that the Mossad history department was called 'Heritage'. 
Sir David Ormand, former head of GCHQ, agreed that 20 years' experience of dealing with openness had helped the security services' response to Edward Snowden's disclosures, but he felt it was 'not a good idea' to release details of which countries' codes had been read in the latter years of the Cold War; this could have ongoing operational significance.