Publication of the Guinness Book of World Records
The Guinness Book of Records was first published on August 27th, 1955.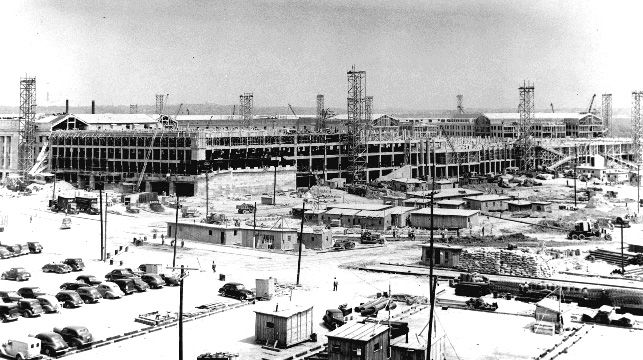 In its fifty years the book has sold more than a hundred million copies, which makes it the biggest selling copyright book in history, said to have been outsold only by the Bible, the Koran and Chairman Mao. Now called Guinness World Records, it sells about 3.5 million copies a year in twenty-three languages in a hundred countries. Meanwhile the world's population has swelled from a mere 2.56 billion to 6.31 billion, but the latest edition points out that there are some records which still stand, even after fifty years. Irving Berlin's White Christmas is still the world's best-selling song. The tallest man who ever lived is still an American named Robert Pershing Wadlow, who in 1940 was measured at 8ft 11.1 in. The world's largest office building is still the Pentagon, completed in 1943 with a total of 17.5 miles of corridors and 7,754 windows.
The book's story began at a shooting party in Ireland in 1951, when the managing director of Guinness Brewery, Sir Hugh Beaver, found himself in an argument about whether or not the golden plover was Europe's fastest game bird. He looked for a book that would give him an authoritative answer, could not find one and thought it might be a good idea if one existed. The athlete Chris Chataway was working for Guinness at the time. He recommended the twin brothers Norris and Ross McWhirter, who had both won blues as sprinters at Oxford and were running a publishing company and fact-finding agency in London. Norris McWhirter was the announcer at the track in Oxford in 1954 when Roger Bannister broke four minutes for the mile, which gave a fresh boost to the whole subject of records, and Guinness duly commissioned the book. It is said that what clinched it for the McWhirters was their instant correct response when asked which language has the fewest irregular verbs, the answer being Turkish.
Combining an obsessive interest in recondite details with prodigious memories, the two McWhirters were the editors, compilers and moving spirits of the enterprise. From 1972 they were familiar figures in Roy Castle's Record Breakers TV programme for children, in which they were regularly put on the spot to show instant recall of obscure facts and figures, and were almost never caught out. Ross McWhirter was shot dead by the IRA on his London doorstep in 1975 after offering a reward of £50,000 for the capture of terrorist bombers. Norris McWhirter continued as the book's editor until 1986, and afterwards as assistant editor. He also busied himself with the Freedom Association and with attempts to rein back what he saw as the overweening power of governments and trade unions. He finally retired in 1996 and was seventy-eight when he died while playing a game of tennis in 2004.
The book combined meticulous accuracy with an enormously broad reach. It spread beyond sport, engineering, science and technology, the arts and entertainment to include wonderfully bizarre information, such as the largest kidney known to medical science, which weighed 13lb 4oz, or the name of the acrobat who performed a quadruple back somersault on to a chair at the New York Hippodrome in 1915. Readers were encouraged to set new records of their own, however ridiculous, like the largest ever simultaneous yodel (by 937 people in Germany in 2002)or the most spoons balanced at once on a human face (13 in 2004). All claims are solemnly checked and authenticated.