The heiress to the crowns of England and Ireland died on June 8th, 1714.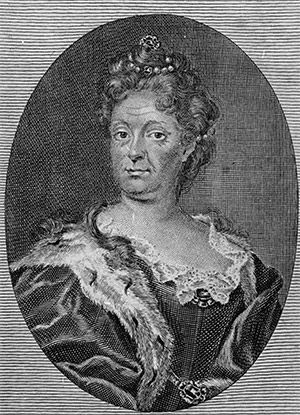 If she had lived only a few weeks longer Sophia would have been Queen of Great Britain. Two factors gave her a crucial position in the country's history. She was a direct descendant of James I and she was a Protestant. Born in 1630 at The Hague, Sophia was James I's granddaughter by his daughter Elizabeth, the 'Winter Queen' of Bohemia, wife of Frederick, Count Palatine of the Rhine and a leading Protestant figure of her time.
Sophia was the 12th of her parents' 13 children. Her father died when she was two. Her mother spent little time with her, but made sure she had an excellent education in subjects from Latin and Greek to mathematics and theology. She grew up a lively intellectual who spoke five European languages, was a friend of the philosopher Leibniz, had a nice sense of humour and would later write delightful memoirs. In 1658 she married Ernest Augustus, of the Brunswick-Lüneburg family, which ruled Hanover. They had seven children and Ernest Augustus was Elector of Hanover when he died in 1698.
In 1700 the question of the succession to the British throne became acute. William III had no children and his health was failing. His heir was Princess Anne, now 35. She and her amiable husband, Prince George of Denmark, had produced what seemed innumerable infants, but none of them had survived except one, Prince William, who died in 1700 just after his 11th birthday. The others, as Sophia told Leibniz in a letter, had 'inherited the Kingdom of Heaven in order to bring me nearer to the throne'. Parliament, determined not to allow a Roman Catholic to succeed Anne, passed the Act of Settlement of 1701, rejecting 57 Catholic candidates who had a better claim by blood than Princess Sophia of Hanover and declaring for her and 'the heirs of her body', provided each of them was a Protestant and did not marry a Roman Catholic.
William III died in 1702, Anne became queen and Sophia became heir presumptive. Anne and Sophia were not on friendly terms. Anne objected to Sophia's name even being mentioned in her presence and any suggestion of inviting Sophia to visit England was rebuffed.
Sophia never saw the country of which she might have been queen. A letter from Anne firmly banning Sophia and her family from England arrived a few days before Sophia's death and deeply upset her. Aged 83, she died at the palace at Herrenhausen in Hanover, collapsing after rushing indoors to get out of a sudden rain shower. Anne died at the beginning of August. She was succeeded by Sophia's eldest son, who became king as George I, founder of the Hanoverian dynasty.