Aneurin Bevan: Enemy of Complacency
Gordon Marsden revisits Henry Fairlie's prescient obituary of Aneurin Bevan, first published in History Today in October 1960.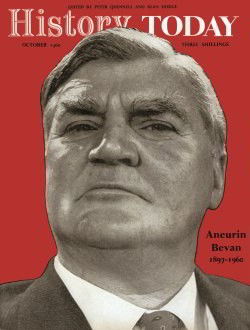 Henry Fairlie (1924-90),who produced History Today's striking obituary of Nye Bevan, had observed his subject at close quarters throughout the 1950s as a political columnist for The Times, Daily Mail and the Spectator. Christopher Hitchens, reviewing Fairlie's essays in 2009, remarks: 'The word raffish might have been coined for him.' Fairlie popularised the now ubiquitous catchphrase 'the Establishment'.
These were qualities that no doubt appealed to History Today's founding editors Peter Quennell and Alan Hodge. They too had wafted through Britain's postwar 'Establishment': Quennell as an elegant essayist; Hodge as Churchill's historical amanuensis via the great man's protégé and the magazine's founder, Brendan Bracken.
Fairlie's article underlines how avant-garde the editors were in living up to History Today's name: an ambitious assessment of Labour's architect of the National Health Service and deputy leader only four months cold. Fairlie's own politics were old-school Tory, but impish and heterodox. He falls under Bevan's spell as a 'man of size' in oratory and ideas but then argues his significance beyond that of a socialist rebel.
Fairlie develops his analysis of the media's tributes to Bevan to argue that 'as a nation we are no longer able to produce politicians of his size and capacity'. Highlighting Bevan's spontaneity ('he never gave the impression of looking over his shoulder before he spoke') and individualism ('he owed nothing to the machine'), Fairlie refracts his own disquiet about the growing commodification of politics in the West.
Half a century on we can see how pitch-perfect Fairlie writes for his time.His article appeared on the eve of the 1960 US presidential election where the television image grafted for John F. Kennedy nosed him to narrow victory over Richard Nixon. That phenomenon is echoed in the television series Mad Men, evoking ad-land in 1960s America, where the fictional agency Sterling Cooper bids for a share of the contest's ad spend. Fairlie's comments came only three years after Vance Packard's book The Hidden Persuaders lifted the lid on the Faustian pacts of American researchers with the marketing men.
Fairlie will have none of it, setting Bevan up as a champion against its spread in Britain:
'What Bevan strove to do was maintain … the predominance of politics over all its spurious rivals – sociology, economics and, most dangerous of all today, mass psychology.'
Quoting Bevan's 'politics is an art and not a science', he lauds him: 'I know of no politician of his generation who was by nature so inclined to treat the British people as adults.'
Fairlie's portrayal of Bevan steering triumphantly between the Scylla of the ad-men and the Charybdis of Parliament's yes-men anticipates Michael Foot's verdict in his 1962 biography:'He [Bevan] knew that the real treasure was his mind, he was resolved to keep it fresh and never to bury it in a cemetery of blue books and committee meetings.'
Fairlie argues that Bevan was a great patriot:'He firmly believed a Socialist Britain would be a greater Britain.' This enables him to resolve Bevan's paradoxical 1957 conference defence of the British H-Bomb as 'the logical conclusion, however agonising, of a man who pitched his claim to British leadership in the world higher than anyone except Churchill'.Here we are in 'the Lion and the Unicorn' territory,with Bevan ranked alongside Orwell's defence of both an exceptionalist and a socialist patriotism.
Fairlie is an unsparing analyst, echoing post-Suez anxieties in accusing Bevan of underestimating the precariousness of Britain's position and institutions. Bevan's 'faults of temperament' deny him the ultimate prize:'However invaluable such a man can be, no party can entrust him with the leadership.' But for Fairlie, Bevan's bigger picture redeems all, as the 'perpetual enemy of the complacency that afflicts free and apparently prosperous societies'.
Fairlie's own later life as a commentator on the United States ended sadly when, as Christopher Hirst observed, 'his versatile journalism became eclipsed by his rackety personal life'. But nothing can take away the prescient full bloom of the portrait he penned for History Today's readers that autumn in 1960.