Fashion: Draped in the Past
Benjamin Wild finds that the Middle Ages is inspiring a number of major designers.
The newspapers shout, a new style is growing.
But it don't know if it's coming or going.
There is fashion, there is fad,
Some is good, some is bad.
And the joke is rather sad,
That it's all just a little bit of history repeating.

So bellowed Shirley Bassey in her 1997 ballad, History Repeating. Few songs, or clothing commentators, have been as eloquent about the transition of sartorial trends, but it is doubtful that even Bassey, or her collaborators the Propellerheads, knew how prescient these words were.
Current financial woes have altered the way that many people think about the buying and wearing of clothes. Moments of acute socio-economic stress often trigger changes in dress because they force people to re-evaluate some aspect of their professional and personal lives. The appearance of the Zoot suit in 1930s America and Christian Dior's New Look after the Second World War reveal how such soul-searching prompts people to think differently about their appearance. The sartorial styles spawned by angst are invariably heralded as innovative, although in truth they owe much to historic vogues. Co-opting the past during turbulent times conveys a comforting sense of structure and purpose. The latest Autumn/Winter collection of Vivienne Westwood, which conjured with the Crusades and Chaucer's Canterbury Tales, is of particular interest.
Since her debut catwalk show in 1981 Westwood's clothes have attracted comment because of the supposedly challenging and subversive messages they convey on such subjects as climate change and civil rights. The septuagenarian's Parisian show in March was especially striking because it was based on a book of illuminated medieval manuscripts. Voluminous fabrics of deep purple, crimson and ultramarine were enlivened with gold embroidery and printed patterns, replete with birds, flowers and berries. Gowns were long, shoulders were angular and sleeves were puffed. To complete the effect, and create a look that was more 'Tim Burton-horror' than haute couture, bold make-up made models' faces appear gaunt and jaundiced. Westwood's show received many plaudits, but on this occasion she was hitching her cart to a fast-moving bandwagon rather than bucking a trend. Medieval-inspired vogues have become ubiquitous in recent years. In 2008 Stella McCartney's Autumn/Winter collection featured women in heraldic-printed dresses. Female models in Alexander McQueen's 2011 Spring/Summer show wore long braided locks. And it is not just the maidens that have gone medieval: in 2010 OntFront's catwalk show included male models wearing metal gauntlets.
It is curious that medieval dress should have become so popular in the last five years. Many commentators have long argued that fashion did not exist until the later medieval period. Dress of the earlier middle ages effectively indicated one's social position, as the chronicle of John of Worcester, compiled between 1130 and 1140, reveals by identifying the three social orders through the defining features of their raiment: the prelate in clerical vestments; the knight in armour; and the peasant, poorly attired, with his agricultural implements. But it was during the 15th century, when tailors became more creative with buttons, belts, necklines and hemlines, that clothes took full cognisance of the different silhouettes of both sexes. Prior to this the bodies of men and women were almost invariably shrouded in folds of shapeless fabric.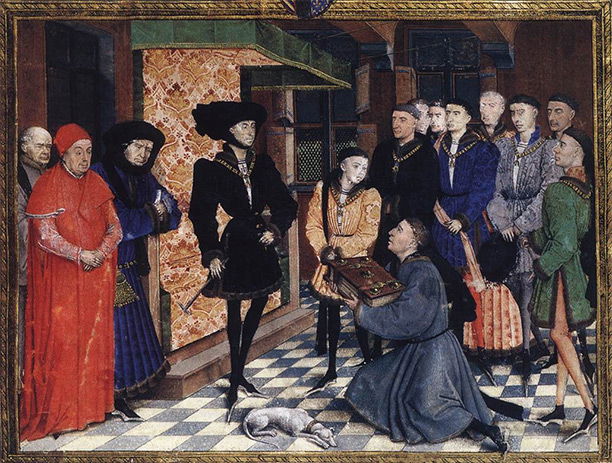 When the medieval period did become fashion-conscious the results were striking, if not extreme, with pointed shoes and very high hats, pinched waists and protruding shoulders. In the 11th century William II was condemned for his disreputable habits and decadent dress, which included shoes so pointy that they were likened to scorpions' tales. But it was during the later middle ages that dress became edgy. The illustration of Duke Philip the Bold of Burgundy on the dedicatory page of the Chroniques de Hainault (1448) provides a good example of this new look. Dressed entirely in black the duke wears a slim-fitting doublet with enlarged shoulders and a narrow waist, a large hat and pointed shoes. His silhouette is at once anthropometric and alien. In France Philip IV had restricted the length of men's footwear on the basis of social status. Knights were only permitted to wear shoes that were one and a half times the length of their feet, but dukes were entitled to wear shoes that were two and a half times longer than their feet. The feet of women were usually covered by voluminous skirts, but ladies were equally interested in the shape-altering properties of clothing, as their headwear reveals. Sixteenth-century portraits of Mary of Burgundy, daughter of Charles the Bold of Burgundy and the wife of Maximilian I, Holy Roman Emperor, illustrate the cone-shaped headdresses that aristocratic women craved. Headdresses with two peaks, often with an attached veil, were also popular. An example of this style survives from the tomb of Mary of Burgundy's mother, Isabella of Bourbon. A bronze pleurant, a life-like image of a weeping mourner, depicts a dour-faced lady wearing an enormous two-peaked headdress.
The arresting and angular creations of medieval couturiers, which appear simultaneously defensive and offensive, appeal to contemporary fashion designers because they reflect the financially frightened zeitgeist. By incorporating medieval themes into their clothes, designers like Vivienne Westwood, who made use of veils, hooded cloaks, asymmetric tailoring, elongated and transparent nails, can conceive of clothes that give their consumers a second skin by providing a confidence they have recently lost and a protection they crave. The use of medieval styling cues in modern-day dress exemplifies how clothing is a language and how the presentational choices that people make are of fundamental importance in society. This present trend also reveals that fashion, however fast-paced, changeable and capricious it may seem, often makes reference to the past. To understand fashion's present and future, it is therefore necessary to possess knowledge of its past, or as Bassey put it:
And I've seen it before.
And I'll see it again.
Yes, I've seen it before;
Just little bits of history repeating.