Publication of Sense and Sensibility 'By A Lady'
Jane Austen's Sense and Sensibility was first published in London by Thomas Egerton on October 30th, 1811.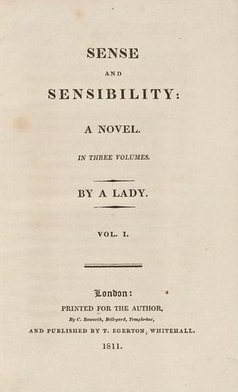 Jane Austen was 35 when her first published novel appeared and had less than six years left to live. The youngest of seven children of a Hampshire clergy-man, George Austen, she wrote stories and poems from her childhood on and read them aloud to her family, who enjoyed them, as well as plays that the family acted out. The anarchic, boisterous humour of some of the early work has been compared to Monty Python. According to her sister Cassandra, Jane had written the first version of a novel she called Elinor and Marianne by 1796 and she began First Impressions (later Pride and Prejudice) in October that year. Late in 1797 her father offered it to a London publisher, who sent it straight back by return post without bothering to read it. She drastically altered Elinor and Marianne in 1797-98.
In 1801 the Austens moved to Bath where Jane's output fell off, whether because the move made her happy or unhappy is unclear. The family moved back to Hampshire in 1809 and settled in Chawton, near Alton, in the house which is now the Jane Austen's House Museum. Revised once more in 1809-10, Elinor and Marianne came out at last in 1811 as Sense and Sensibility, 'a novel in three volumes, By a Lady', published in London by Thomas Egerton. The Lady in question was obliged to cover any losses, but in fact she cleared £140 from the first edition, equivalent to £9,000 or more today. To Cassandra she compared her feelings about seeing her work in print with those of a mother with a suckling child.
Miss Austen took care to conceal her identity. When she and her niece Anna saw a copy of the novel in the local circulating library Anna said that with a title like that it must be rubbish. Her aunt looked amused, but made no comment. She let Anna into the secret later.
The novel made a good impression and Egerton published Pride and Prejudice in 1813 and Mansfield Park the following year. The later novels were published by John Murray. Word of the author's identity spread through the literary and fashionable worlds and the Prince Regent, who was a fan, suggested she dedicate Emma to him, which she reluctantly did. Richard Brinsley Sheridan called Pride and Prejudice 'one of the cleverest things he ever read'. Another admirer was Sir Walter Scott, who wrote after Jane Austen's death in 1817:
The big wow-wow strain I can do myself like any now going; but the exquisite touch which renders ordinary commonplace things and characters interesting from the truth of the description and the sentiment is beyond me.

The plaudits have very properly gone on raining down ever since.