After Agincourt: Women and Pain
Christopher Allmand examines Alain Chartier's Le Livre des Quatre Dames, a poem written in response to the English victory at Agincourt, and asks what it can tell us about the lives of women during this chapter in the Hundred Years War.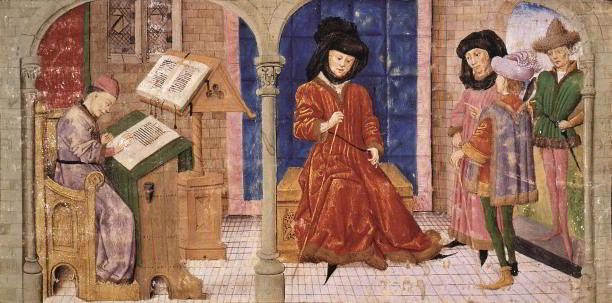 The life span of the French poet Alain Chartier (c.1385-1430) covered a period of war and deep political divisions within his country, loyalty to which inspired many of his works. Confronted by defeat at the hands of the English, who had invaded and overrun much of the northern part of France, the country faced a crisis of authority and leadership. Chartier, in a series of 'political' works, proposed a solution to these problems. The message he offered was essentially a call to loyal service and respect for the crown, which alone represented the unity of the country. The call, to be made again in Le Quadrilogue Invectif (1422), came easily from a man of Chartier's patriotism.