The great English admiral died on August 17th, 1657.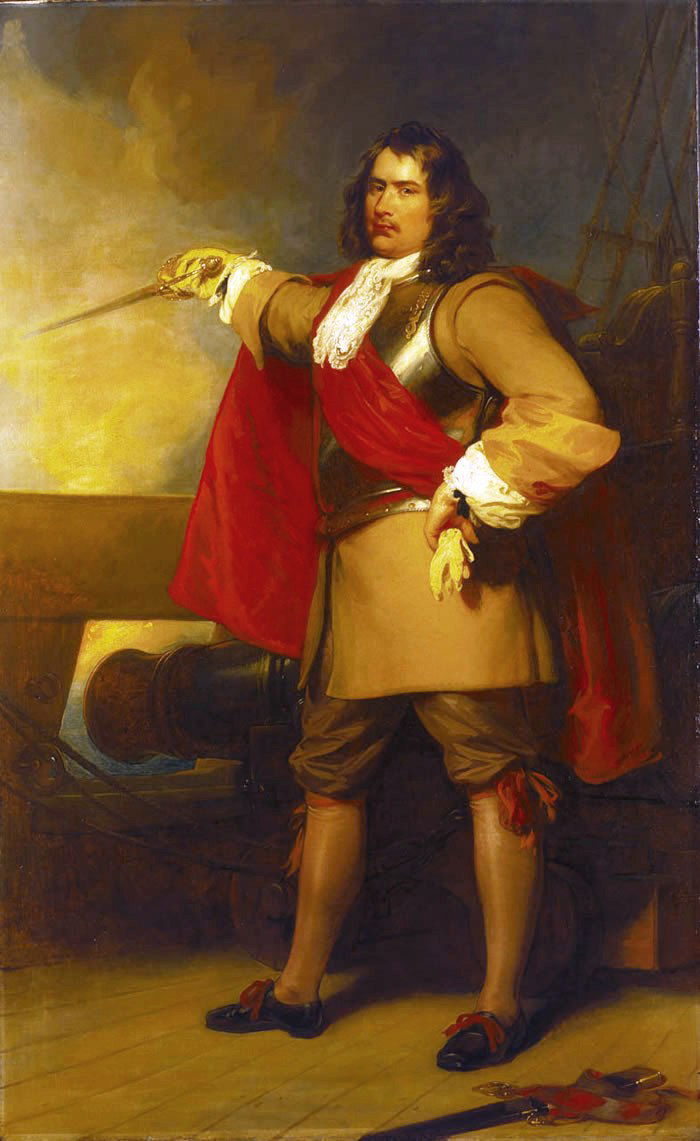 Short and thickset at 5 feet 5 inches tall, with the jowls and general demeanour of an angry bulldog, Robert Blake must have been one of the most frightening admirals ever to bestride a quarterdeck. He is often ranked with Nelson and Drake as one of the three greatest commanders in English naval history, and this despite the fact that he did no fighting at sea until he was in his forties.
A Somerset country gentleman, from a family influential in Bridgwater, Blake was a puritan and a republican member of the Short Parliament in 1640.
He fought for  Parliament in the Civil War and his successful defence of Taunton against heavy odds in 1644-45 brought him to the notice of the army leaders. In 1649 he was appointed a general-at-sea. The assumption that if you could command on land you could just as well do so at sea was dubious, but Blake learned rapidly. He beat the Dutch, bombarded the Barbary corsairs in Tunisia, blockaded the coast of Spain and in 1656 smashed the annual Spanish plate fleet. The haul of captured bullion was not quite as large as had been hoped, and some of it mysteriously disappeared on its way to be deposited in the Tower of London. 
Many English sea-captains of the time had inherited a piratical attitude from the days of Drake. They looked for a profit from seizing enemy merchant ships, while hesitating to risk their vessels against men o' war. Blake had no patience with this attitude and his treatment of officers who failed in their duty did much to eradicate it from the navy. His greatest victory was his last, in the Canary Islands in April 1657, when in a dazzling feat of daring and skill he sailed his fleet into Santa Cruz harbour, one of the best-defended in the world, used his cannon to knock out the principal forts, utterly destroyed the Spanish fleet and brought his entire force safely away. As Nelson liked to remark, a successful sea-commander has to be half mad, but there needs to be method in his madness.
The victory made the English navy feared all over Europe, while at home it aroused tremendous admiration and pride. Even seasoned royalists could not forbear to cheer. Blake, however, was now seriously ill, apparently with dropsy and scurvy. He returned to England in his flagship, the George, escorted by the Newbury and the Colchester, but died at about ten in the morning, two hours before the ships reached Plymouth Sound. He was fifty-eight. Writing to the Admiralty from Plymouth, Captain Henry Hatsell said that 'it pleased the Lord to put a period to the days of General Blake', who 'was very desirous to be ashore, and if God saw it good, to add some days to his life for settling of his estate, but his course was finished…'
Blake had made a will a year earlier. Besides bequests to his family and money for the poor in Bridgwater and Taunton, he left £50 to his black servant Domingo, some of which was to be used 'for his better education in the knowledge and fear of God'.
The admiral's body was embalmed and taken by sea to London, after the bowels had been separately interred in the Plymouth parish church of St Andrew. It reached Deptford in the Colchester, whose captain was Blake's nephew, on August 17th and was taken from there to lie in state in the great hall of the Queen's House at Greenwich until September 4th, when it was ceremoniously conveyed in a barge up river, with trumpeters, flags and a long procession of boats, to Westminster Bridge. From there it was carried between ranks of soldiers and crowds of spectators to the Abbey. The funeral was attended by Oliver Cromwell and leading members of the government as well as senior generals and admirals, and members of Blake's family, and soldiers fired three volleys in salute as the body was buried in a vault beneath Henry VII's Chapel, where it would be joined a year later by Cromwell's corpse. After the Restoration, in 1661 Blake's remains were removed from the Abbey and with others thrown into a pit outside.