Charlie and the Chocolate Inventory
Alison Barnes has unearthed a transcription of the Privy Purse Accounts of Charles II that fills the gap for 1666, for which year the originals are now lost. They offer a fascinating glimpse of how the King liked to spend his time and his money.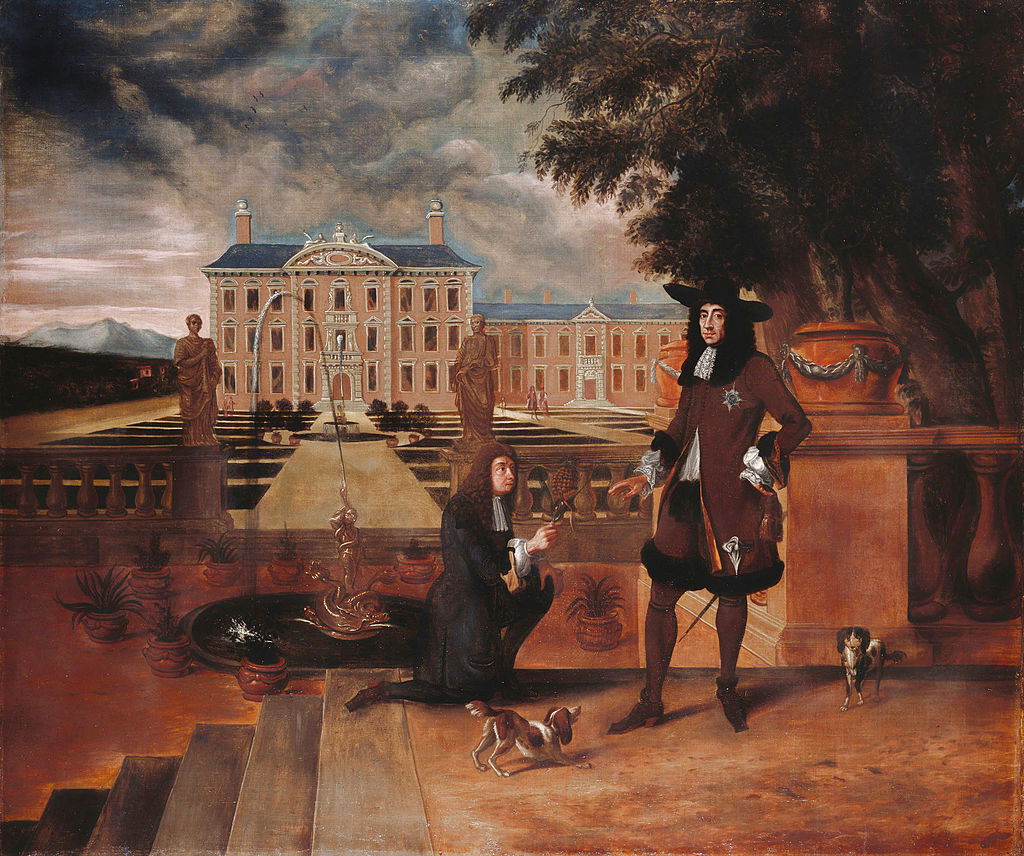 Ever since the death of Charles II in February 1685, there has been a constant stream of books written about him, most of which I have read as part of my research on the seventeenth century. Somehow none of these biographies made me feel that I knew the King, however, and it wasn't until I recently discovered his Privy Purse Accounts for 1666-69 in the Bodleian Library, (MS. Malone 44), that he suddenly sprang vividly to life. For these extracts possess an immediacy that turns the remote monarch into a flesh-and-blood human being.
Edmund Malone (1741-1812), a book and manuscript collector, transcribed these Accounts from the notebooks of Baptist May, Privy Purse, in about 1800. The full Privy Purse Accounts for 1667-69 are in the National Archives at Kew, but those for 1666 are missing, so Malone's transcripts of that year have added interest.
The main thing one notices on reading through the Accounts at the Bodleian is that Charles II was the first out-and-out English chocoholic. Chocolate in the 1660s was regarded as a nourishing drink and an aphrodisiac. Dr Henry Stubbs, who often prepared chocolate flavoured with vanilla for the King, and who wrote The Natural History of Chocolate in 1662, informs us that 'the great use of Chocolate in Venery and for supplying the Testicles with a Balsam or a Sap' was then universally believed.
By 1666 Charles was keeping two or three mistresses as well as indulging in numerous one-night stands with girls who crept up his 'privy stairs' to the trysts. So no one in the kingdom was more appreciative of chocolate's alleged strengthening properties, and he bought huge amounts of it.
The Accounts do not tell us how much the King spent every year on coffee, although we learn that he had a special 'Coffe Maker'. But we know that he usually spent about £6 a year on tea, as opposed to £57 18s. 8d. on chocolate in 1666, rising to a staggering £229 10s. 8d. in 1669.
The King's favourite wines appear to have been 'Canaree' and 'Hypocras', which he both drank himself and gave away to friends. He also occasionally bought 'Asses Milk', Juniper Water' and 'Poppy Water'.
Charles II's best-loved delicacies were 'Lamprey pyes', with which his loyal subjects kept him well supplied, the bearers of these toothsome morsels being given 10s. or £1. He also seems to have been partial to venison, pheasants, partridges, ortolans, and dotterels. And he was an avid fruit eater. Susan Sweetapples was his usual 'fruit Woman', to whom he made frequent payments of between £5 and £15. But in December, 1666 he also paid £5 to 'Orange Mall for 34 China Oranges'.
King Charles does not seem to have smoked tobacco. He did take snuff, however; paying 'Mr Mansell' about £20 a year for it. And in May, 1668, the Privy Purse rewarded 'one that found ye King's snuff Box' with 16s.
Relatively little was spent by the King on clothes for himself and his household during this period. In December 1666, he paid £35 for a fine lace 'Point' or cravat. In October, 1667, he bought '12 Cotton Cravats' for a modest £3. In April, 1668, his page boy 'Button' received a new 'Livery' at a cost of £31 14s. And in May, 1669, he bought '2 pair of silk Stockings' for Queen Catherine or one of his mistresses for 16s.
When it came to his beloved theatricals, though, the King spared no expense in dressing the actors sumptuously. So that, for example, in February 1668 he gave Thomas Killigrew £400 'to buy habits for Cattiline' – the play Cataline which John Evelyn went to see on December 19th that year.
Thomas Killigrew, manager of the King's Players, who acted at the Theatre Royal, Drury Lane, was one of the large number of 'pentioners' whose salaries and allowances Charles paid every year. He was granted £100 per annum. The poet John Dryden also obtained this sum. But John Wilmot, second Earl of Rochester had about £500, and Baptist May received £2,000.
Queen Catherine's allowance was £5,000 a year, but besides this the King paid all her gambling debts and the bills she incurred from her frequent jaunts to the fashionable 'Mulbery Garden' (on the site of Buckingham Palace). He also bought his wife jewels and medals; horses and dogs.
Charles's chief mistress of the 1660s, Barbara Villiers, Countess of Castlemaine, only had an allowance of £200 a year. But she ran up fearsome debts, which she finally confessed to in June, 1669. The King immediately obtained £16,000 from his banker, Sir Robert Viner, and paid all her creditors. 'Mrs Gwin' (Nell Gwynn) received a yearly allowance of £100 starting from April 1668.
The woman the King was madly in love with from 1665 to 1667, the beautiful Frances Stewart, never slept with him. A bit of hanky-panky must have gone on between them, however, for in December, 1666 'Mrs Stuart's Footman' was paid £1 10s. 'for lighting the King 3 times' to her lodgings.
As well as showing deep affection for his wife, his mistresses and his bastards, Charles II was passionately fond of his dogs and other pets. His two favourite dogs at this time were a setter called Tim and a pug named Pug. The King bought Tim for £13 4s. in September, 1667 and that November £10 was given to 'ye Man that taught Tim to sett'. Thereafter Tim accompanied his master on all his shooting expeditions round Newmarket and elsewhere. Pug was a more delicate animal and had his own footman to carry him about and accompany him in a coach which followed behind the King's own carriage.
In February 1666 a 'Mr Shepheard' conveyed the King's 'white larkes' from Oxford to Whitehall in a coach. Then in September, 1667, Charles bought one of Dr John Wilkins' famous 'glass Hives' for £1 2s., so that he could watch the bees at work. And in December, 1667, 'Lady Salsbury' presented the King with a new pet – 'an Otter'.
Between 1666 and 1669 Charles bought himself several horses, for which he paid anything from £10 to £100. Every spring and autumn he went racing at Newmarket and often rode in the races; the men who 'weigh'd in' the King before each race being paid £1 each. When in Newmarket, Charles always distributed largesse to the poor of the town. Indeed, wherever he went, he kindly gave £1 or so to any beggar who crossed his path.
This 'Merrie Monarch' constantly liked to be entertained by plays, his 'Italian Musick' and his 'Trumpetters'. Additionally, in November, 1668, 'Hall' was paid £20 for 'dancing on the Rope' (the acrobat Jacob Hall, who later became Lady Castlemaine's lover). In April, 1669, 'one that showed tumbler tricks' received £5 7s. 6d. And in May that year 'ye Morrice dancers at Ely' were rewarded with a guinea.
The King played many musical instruments, and between 1666 and 1669 bought 'a Viola', 'a pair of New Organs' and 'a Harpsicall', and had his 'gittar' mended.
Sport of all types was Charles's special delight, and we learn from his Privy Purse Accounts that in the late 1660s he not only played tennis and bowls, but also many rounds of golf. Every July and August the King also went swimming in the Canal in St James's Park attended by his two footmen 'Terry' and 'Crispin'.
Charles was a discerning art collector. And Baptist May lists payments of £280 to Samuel Cooper and £194 to Peter Lely 'for Pictures' in 1666. In November 1667 'ye Hermaphrodites statue' at Whitehall (a copy of the world-renowned one in the Villa Borghese, Rome) was 'repaired' at a cost of £5. In August 1668, the King bought a 'Landskip of Windsor' for £10, and in June, 1669, pictures of 'Saturne and Venus' for the same sum.
With his interest in all scientific gadgets, Charles bought many new clocks and watches in the late 1660s, and paid Ahasuerus Fromenteel the Elder to look after them at a salary of £40 a year. The King carried out numerous experiments of his own in his laboratory in Whitehall: in May, 1669, for example, buying in '3 Iron Stoves', '2 Copper pans' and a quantity of 'gold wire' for the laboratory.
The Privy Purse Accounts do not tell us much about Charles's public life in the 1660s. But they do confirm that during the Great Fire of London in 1666, the King actively helped to put out the flames, and hired men, horses and boats to assist him.
These Accounts also make frequent mention of the thousands of 'Healing Ribbands' (ribbons with small gold medals attached) that Charles bought with his own money to put round the necks of the patients he 'touched for' the King's Evil or scrofula. He regarded these 'touching' sessions as sacred. And while performing his healing rites, sober and completely focused, he transcended his usual affable but essentially shallow nature and, momentarily, attained a dignity appropriate to the figure his patients considered him to be – their divinely appointed, miracle-working King.