Did Britain Fail Hong Kong?
Could Britain have done more in the years leading up to 1997 to ensure Hong Kong's freedoms?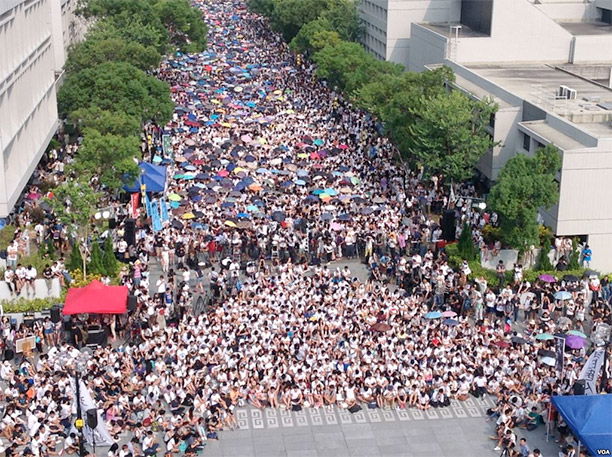 At midnight on June 30th, 1997 Hong Kong reverted from British control back to China. Looking back, did Britain fail the people of Hong Kong?
To answer this question it is important to understand the relative balance of power between China and the United Kingdom. During the 19th century Britain was in its heyday. The Royal Navy could project her power to any seaport in the world. Britain was able to coerce China into signing the treaties that acquired Hong Kong and leased the New Territories for 99 years. By the late 1970s, those days were long gone. Delicate negotiation, rather than gunboat diplomacy, was Britain's best hope of keeping control of Hong Kong.
Much has been made of Prime Minister Thatcher's visit to Hong Kong in September 1982. Images of her tripping on the steps at the Great Hall of the People and reports of Deng Xiaoping's irritation at her proposal of keeping a British presence in Hong Kong, have been well documented and criticised. However before Margaret Thatcher even arrived in Beijing, the British had encountered Deng's ire over Hong Kong. Deng had made clear his intention to re-acquire Hong Kong and the New Territories to Hong Kong Governor Sir Murray Maclehose in 1979.
Deng hated the treaties that gave control of Hong Kong over to Britain and saw them as invalid. Deng made it clear that the People's Liberation Army could walk into Hong Kong any time it liked and there was little the British could do about it. Deng felt so sure that he held all the cards; he told the Prime Minister in 1982 that if an agreement was not reached within the next two years, China would take unilateral action.
Margaret Thatcher left Beijing chastened and the whole world knew it. Within ten days of Thatcher's trip to Beijing, the Hong Kong stock market had lost 25 per cent of its value.
Official negotiations began in October 1982 and were tough from the beginning. First, because the Chinese would not continue until Britain acknowledged Chinese sovereignty over Hong Kong and then because the British pressed for administration of Hong Kong after 1997. While talks stalled, the Chinese took the initiative in Hong Kong. They released their plans for Special Administrative Regions (SAR), while the Chinese Communist Party (CCP) began selling unity with the People's Republic of China (PRC). All the while the British delegates, led by Sir Percy Cradock and later Sir Richard Evans, watched Deng's deadline approach.
On September 26th, 1984 Ambassador Evans and Zhou Nan initialed the Sino-British Joint Declaration. The British had conceded both sovereignty and administration. It stated that in 1997 Hong Kong would revert back to China with a high degree of autonomy, except in foreign and defense affairs. The people of Hong Kong had no official representative at the talks. The Chinese refused to acknowledge that Sir Edward Youde, then Governor, represented Hong Kong.
The details about how far Hong Kong's freedoms would stretch would be worked out in the drafting of a Basic Law. The Basic Law Drafting Committee (BLDC) was made up of 82 people, including 23 from Hong Kong. Beijing's hand skillfully and somewhat covertly guided everything the BLDC did. The end result provides Hong Kong with special status for 50 years, and that one third of the legislative council will be elected from 1997 and half by 2003.
The Executive Council dithered on democratising moves after 1985. Everyone who did want more democratisation was worried about angering Beijing. In February 1990 the British did persuade the Chinese government to agree to increase the number of directly elected members of the Legislative council from 10 to 18. This number would then be increased to 20 in 1997, 24 in 1999 and 30 in 2003 (out of a total of 60 seats). This was far less than what many in Hong Kong had asked for, but it was as far as the British were prepared to push.
In July 1992 Chris Patten, the last governor of Hong Kong, arrived. He was a politician, not a diplomat, and didn't understand the Chinese. Patten made proposals that increased the electorate and modernised electoral techniques. The proposed reforms pushed the Basic Law to its limits, but did not break it. However this was not how Beijing saw it. Patten failed to realise that the Chinese Communist Party didn't fully understand western democracy. The CCP's lack of understanding made them think he was trying to do more than he was.
Tired of the lack of progress in negotiations, Patten passed his reforms in the legislative council in June 1994. The Chinese promptly terminated negotiations, claiming the British had broken their agreements. Beijing began to act unilaterally to create a post-1997 government, locking the British out of Hong Kong's future. As soon as Hong Kong passed to their control, the CCP would dismantle Patten's changes. They created a provisional legislative council, which included 33 members of the existing council, but selected members who were friendly to them.
During all negotiations the British were hampered by their strategic disadvantage. In addition to this, London pressured the delegates to balance Hong Kong's value against good relations with a resurgent China. Deng, on the other hand, was willing to do whatever it took to get Hong Kong back. He did not want to damage Hong Kong's enormous economic value, but he was prepared to weather any storm to erase the shame of the unequal treaties. After the Joint Declaration was signed, power shifted to the Chinese. This is partly because the the declaration reflected the value that the British placed on Hong Kong.
The British never regrouped well after they lost the battle to stay in Hong Kong beyond 1997. If the British had been more organised and assertive prior to Patten's arrival, they might have been able to entrench democratising moves within the parameters of the Basic Law. The British didn't completely fail, but they could have done more if they had been willing to challenge Beijing for Hong Kong's freedoms.
Thomas Benge has a Masters degree in International History from Staffordshire University, and taught full curriculum in Seoul for three years.