The Woman Who Shocked Russia
Hugh Fraser looks at one of Russia's more memorable female protestors, Maria Spiridonova.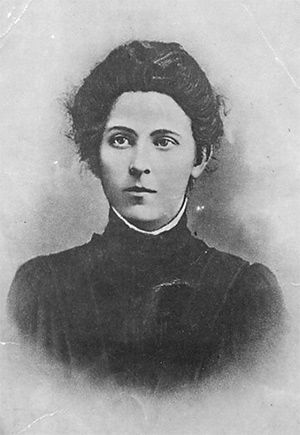 Russia's women protesters know how to make a splash. The female band Pussy Riot are serving harsh jail sentences for performing a "punk prayer" in Moscow's Cathedral of  Christ the Saviour. And when members of Femen, the Ukrainian topless protest group, recently revealed themselves before the steely gaze of President Putin he declared, "I like it". Indeed, women with anarchic tendencies are nothing new in Russia. 
Before the Revolution, Russia's most celebrated political terrorist was a young woman, yet her name is almost forgotten now: Maria Spiridonova.  
In 1905 Spiridonova joined the Socialist Revolutionary Party in the provincial town of Tambov. The following year, she stalked a local official, G.N. Luzhenovsky. The SR party had sentenced him to death for his cruel acts of repression against peasants .
Luzhenovsky was about to board a train, when a young woman called out his name. He turned to look at her. She was dressed as a schoolgirl.  Concealed inside her person was a Browning pistol which she fired five times into his belly. The stunned Cossacks who guarded Luzhenovsky could not pick out the assassin from among the crowd. Then Maria Spiridonova stepped forward and said: 'Kill me now! I lay down my life for truth and justice!' 
The Cossacks dragged her by her pony-tale across the platform.  It was the start of a brutal treatment of the prisoner. She was sexually humiliated and her skin was burned with cigarettes. When a letter she wrote describing her suffering was smuggled out of prison, she became a national hero. The newspapers described her as an "angel." The court sent her to a Siberian penal colony.  At every station along the way, her prison train was met by crowds singing revolutionary songs and strewing flowers onto the track. 
After the 1917 Revolution, she briefly became a celebrity again. She was the main attraction at congresses of Socialist Revolutionaries. Unfortunately she belonged to  the wrong party. The Bolsheviks saw the SRs as rivals. In August 1918, another female SR, Fani Kaplan, shot Lenin at close range,  emulating Spiridonova's famous revolutionary act.  
Spiridonova herself was arrested in in 1919 and sent to a mental asylum.   Eventually she was executed in 1941. Sadly it seems that Russia's female protestors  almost always suffer a "martyr's" fate.