William Hogarth and Georgian Life
William Hogarth's life was a microcosm of the three main themes of Georgian life, argues Michael Dean.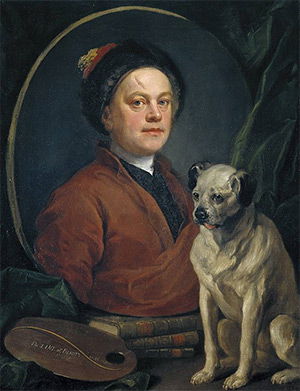 In many ways William Hogarth's life was a microcosm of the three main themes of Georgian life:  money, the home and sex.
Hogarth was born in Spitalfields, one of the poorest areas of London with houses which had escaped the Great Fire just about standing. He spent his boyhood in debtor's prison, after his writer father had run into debt and the booksellers and printers foreclosed. Prisoners who could not pay the warden of the Fleet Prison, John Huggins, a caption fee faced peine forte et dure. Torture. The young entrepreneurial Hogarth and his mother peddled home-made Gripe Water to keep money coming in.  
One of Hogarth's earliest prints centres on money, and the wicked ways of the money world. An Emblematical Print on the South Sea Scheme  (1721)  was a moral engraving of what became known as the South Sea Bubble, a financial crash eerily like that of 2008.
As a young man, Hogarth came up with a new way of marketing his works, to stop the printers and booksellers swindling him,  as they had his beloved father. He sold the engravings of both the Harlot and Rake series by direct subscription. (Interestingly,  his first venture with the new method, Harlot,  did considerably better than the second.) He also pushed The Engraving Copyright Act though Parliament. Known immediately as Hogarth's Act,  this bulwark against piracy lasted until 1911. 
Turning now to the other two strands of Georgian life,  the home and sex:  Hogarth's home, on a long lease at £275 a year, was at 30 Leicester Fields,  where Frederick Prince of Wales also lived (though his lease was £6,000). It was (then!) one of the quietest as well as the most elegant squares in the capital.   Hogarth had married Jane Thornhill, daughter of the painter Sir James Thornhill. It was a lifelong happy marriage. But they did not – almost certainly could not  - have children. Hogarth probably had syphilis.
It is a sad irony that England's greatest painter of children  (The Graham Children,  for example)  was childless. However, Hogarth and Jane worked tirelessly for the Foundling Hospital, helping other people's children. The love for them fuelled Hogarth's masterpiece, his portrait of the founder of the Foundling Hospital, Thomas Coram.
Hogarth's last years were tragic: he knew that his Harlot series had been destroyed in a fire at William Beckford's bizarre dwelling at Fonthill in 1755 and believed (wrongly) that Rake had gone up with it.
His 1759 portrait of Jane as Sigismunda, Mourning Over the Heart of Guiscardo was derided with unparalleled ferocity. Worse, Hogarth had made enemies of two of the most vicious men in London, John Wilkes and Charles Churchill.   Their ad hominem attacks on Hogarth in Wilkes's magazine The North Briton and in Churchill's 638 line poem, Epistle to William Hogarth, make painful reading.
But Hogarth was a Georgian success. Money-a-plenty, two lovely homes (a second in Chiswick) and a wife who loved him to the end.