Second-hand books don't just tell the stories of their authors but of their former owners, too.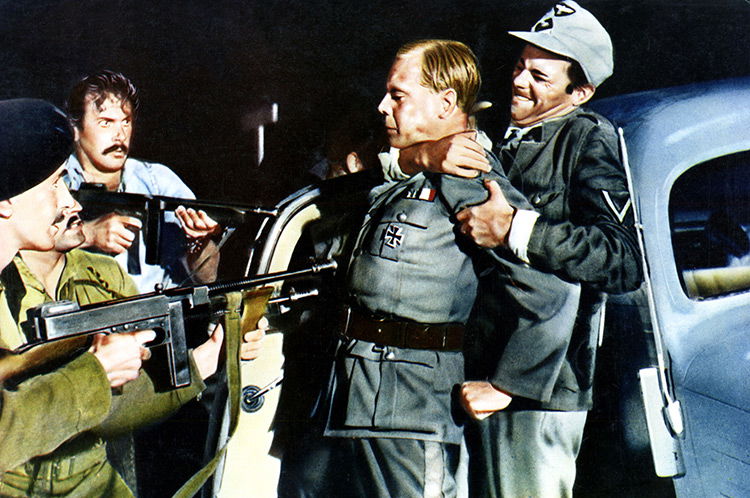 Patrick Leigh Fermor's kidnapping of the German General Kreipe on Crete during the Second World War is a well-told tale in book and film. Leigh Fermor and a couple of his SOE cohort lay in wait for the general's car at night, hustled him out and led him across the mountains until he could be evacuated. There is even a touching moment where one completes the other's ode of Horace. It has come down to us as a heroic endeavour. Except the version we have is nonsense.
I came to learn this in an odd way. In 2007 I embarked on a project to track down the owners of my second-hand classics books and write about them. Among the 11 owners I tracked down is an academic called Thomas Dunbabin, who had owned my copy of a commentary on Herodotus. It was already 75 years old when I came to buy it as an undergraduate. The book, with its thick wine-dark covers, expounded on the first historian, where he had been and what he had seen. But Dunbabin's story was so much more interesting to me then than that of Herodotus.
Inside the book, a curling hand wrote: 'T.J. Dunbabin, C.C.C., Oxford, 13.3.31.' This was plenty to go on: CCC is Corpus Christi College. A quick enquiry with the college archivist led me to a bare-bones account of his life – his birth, parents, academic career, military career, his own family and his books – and then to the email addresses of his children, themselves distinguished academics. His children, along with careful archive-ransacking, led me into Dunbabin's life, brief but genuinely heroic.
Dunbabin was born in Australia. After his degree, he became an academic, alternating time in Oxford with long stretches in Greece. When war came, like so many classicists, he was called up to serve in Greece.
His responsibilities were complex for someone who spent much of the war up trees and in caves disguised in Cretan clothes with a semi-convincing moustache: he did not just have to subvert the Germans, he had to negotiate a civil war between the nationalists and the communists then brewing on the mainland. This latter task involved the cultivation of new political parties, the diffusion of aggression, strategic placating and occasional assassinations.
The Germans were still enemy number one and attacks on them had to be managed with delicacy for fear of brutal reprisals. Dunbabin, unshowy and cautious, was the perfect man to lead such a campaign. As a servant of such a man, Leigh Fermor – attention-seeking, self-aggrandising, indifferent to the consequences – was less than perfect.
In Ill Met by Moonlight, his account of the kidnap, W. Stanley Moss says they left a note in General Kreipe's car after they had taken him: 'TO THE GERMAN AUTHORITIES IN CRETE ... We would like to point out most emphatically that this operation has been carried out without the help of CRETANS or CRETAN partisans.' This ham-fisted attempt to persuade the Germans not to take revenge on the locals was as ineffective as it was foolish: the Germans razed the village of Anoyia, where they had kept the general on their march.
What makes this inglorious episode worse is that Dunbabin says he was sure it would be pointless. 'Much of the purpose of the operation was lost', he wrote in a report after the war, since the real target – the cruel General Müller – had already been replaced in Crete and Kreipe was a recent, weak substitute. A colleague of Dunbabin's I spoke to said Dunbabin would never have approved of it, caring more for the lives of Cretans than for a tale to tell. Leigh Fermor was all about tales to tell.
Dunbabin's was just one life I stepped into, which span the decades: Belinda Dennis was born almost a century ago, in August 1915, Seb Armesto in 1982. They lived in countries from Britain to Australia, via Italy and Greece, Turkey and Georgia, India and Papua New Guinea. They are teachers and students, actors and authors, lovers and poets, haters and fighters. They are the story of a century and all are in my ragtag library.
Take Dennis, a Latin teacher in London. The book she owned was a guide to the monuments of the Via dei Fori Imperiali in Rome, those lesser-known public spaces of Augustus and Trajan. But it was more than that: the book had a dark fascist provenance, which led me on to disturbing truths about Italy in the 1930s.
Donald Russell is a particular favourite. My tutor at Oxford in the abstruse art of turning English into Greek verse, it turned out that he had cracked codes at Bletchley Park during the war; but Japanese ones, not German, a part of Britain's war story hardly known.
Everyone who owns a second-hand book: think of the lives your books have lived next time you look.
Josh Spero is art critic of the Tatler. You can help fund his Secondhand Stories at Unbound.