Sticky Archiepiscopal Ends
A surprising number of Archibishops of Canterbury have met a violent end. Christopher Winn looks at some of the more notorious examples.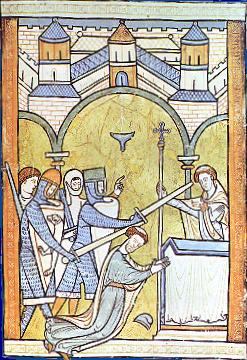 13th-century manuscript illumination, an early depiction of Becket's assassination
In December 1170 Thomas Becket, 40th Archbishop of Canterbury, was murdered in Canterbury Cathedral by four knights who were responding to Henry II's apocryphal plea: 'Will no-one rid me of this turbulent priest?'
A number of other Archbishops of Canterbury have met a violent end, including . . .
St Alfege, who became the 29th Archbishop of Canterbury in 1006, was captured in Canterbury by a Danish raiding party in 1012. Held hostage at Greenwich, he refused to allow a ransom to be paid for his release and so on Easter Day he was summarily hacked to death with an axe. A church was built in Greenwich on the site of his martyrdom in the 12th century and was most recently rebuilt by Nicholas Hawksmoor in 1714. It is the last resting place of Tudor composer Thomas Tallis and General Wolfe.
Simon Sudbury, the 58th Archbishop of Canterbury from 1375 until 1381, crowned Richard II in 1377. As Lord Chancellor he introduced the Poll Tax that incited the Peasant's Revolt. On reaching London the mob chased Sudbury from his London home, Lambeth Palace, to the Tower of London, where the guards allowed the archbishop to be dragged out on to Tower Hill and beheaded.
Thomas Cranmer, 69th Archbishop of Canterbury from 1533 until 1555, helped arrange Henry VIII's divorce from Catherine of Aragon, compiled the Book of Common Prayer and crowned Edward VI. When Catherine's daughter, the Catholic Mary I, came to the throne Cranmer was initially forced to renounce his Protestantism, but was still tried for treason and burned at the stake in Oxford – in a final act of defiance he plunged the right hand with which he had signed his recantation into the flames first.
William Laud, 76th Archbishop of Canterbury from 1633 until 1645, attempted to slow down the pace of Protestant reform, alienating Parliament in the process. A loyal supporter of Charles I, Laud was prosecuted for endangering the Protestant faith under a Bill of Attainder introduced by Parliament and was beheaded on Tower Hill in January 1645, presaging his monarch's execution at Whitehall in January 1649.
From the Archive:
Is There a Case for Archbishop Laud?
Richard Wilkinson argues against the prevailing orthodoxy, which agrees that William Laud was one of Charles I's worst appointments.
In 1381 England witnessed a 'summer of blood' as the lower orders, emboldened by the labour shortages that followed the Black Death, flexed their muscle. Dan Jones tells the story of one of medieval England's most dramatic yet curiously neglected events.