Native America's post-war history in ten works of art. 
In the early 1830s, the Indian Removal Act drove those Native American peoples living on desirable land in the eastern United States west along the 'Trail of Tears' onto newly designated Reservations. A large scale Indian exodus from the Reservation system would not occur until the Second World War, in which 25,000 of 350,000 Native Americans served, proportionally more than any other minority. Integration into wider American society the post-war period would prove a fraught process.
Produced by Native American artists, the ten works below offer a journey through the community's post-war history, confronting issues surrounding assimilation, land theft, representation, poverty, the economic renaissance and coming to terms with history.
Works chosen by: Jeff Berglund (Northern Arizona University), Anya Montiel (Yale Group for the Study of Native America), Joy Porter (University of Hull), Joyce Szabo (University of New Mexico), Chris Vecsey (Colgate University).
***
Paper Dolls for a Post Columbian World with Ensembles Contributed by the U.S. Government
Jaune Quick-to-See Smith, 1991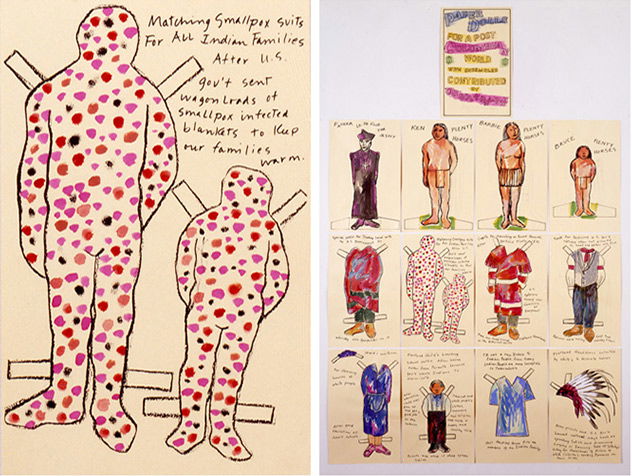 In 1991, in response to the celebratory events marking the quincentennial of Christopher Columbus's arrival in the Americas, artist Jaune Quick-to-See Smith (1940–) produced a drawing depicting a family of Native American paper dolls, the 'Plenty Horses', as well as a Jesuit priest who proselytises to them. Smith drew clothing options for the family including a fur trapper jacket, a maid's outfit, and a boarding school uniform for the child. 
Smith also presented an outfit of 'matching smallpox suits for all Indian families after U.S. gov't sent wagon loads of smallpox infested blankets to keep our families warm' which acknowledges the harsh realities of life for Native people after the arrival of Europeans. The spread of disease was the most harmful effect of the 'Columbian Exchange', the phrase used to describe the impact of European settlers on Native peoples. Smallpox, or 'running face disease', had the most devastating effect. (AM)
***
Comrade in Mourning
Allan Houser, 1949
Painter Allan Houser (1914–1994) was commissioned to create a sculpture honoring Native Americans killed in the Second World War in 1947. The Carrara marble artwork, Comrade in Mourning, marks the first monumental sculptural commission received by a Native American. Houser is now known as the 'father of American Indian sculpture'. 
Some estimates suggest that 25,000 – as many as one third of able-bodied Native American men – fought in the US Army during the Second World War. Serving in unsegregated units, involvement in the army marked the first large exodus from the reservations and integration with the outside world since the establishment of reservations in the mid 19th century. (AM)
***
Ceremony
Leslie Marmon Silko, 1977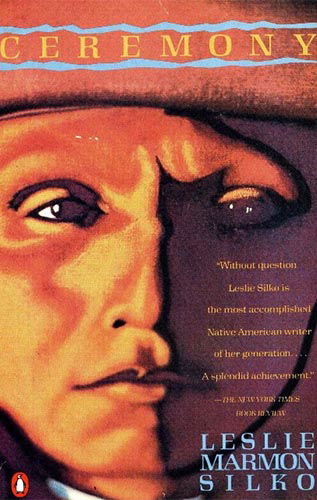 "Anyone can fight for America, even you boys" 
A more critical reflection on the Native war effort was produced 30 years later by the Laguna Pueblo author Leslie Marmon Silko, who has been named as a key figure in the First Wave of the 'Native American Renaissance'. Ceremony uses storytelling – which has a central role in Pueblo culture, despite white attempts to eradicate it – to explore the Native American experience of the Second World War. 
In the postwar world, the New Mexico reservation from which the protagonists originate is endangered by runoff from a uranium mine on the nearby Cebolleta land grant, and a generation of young Pueblo men who sought to escape the poverty of reservation life and achieve acceptance into mainstream America is decimated. (JB)
***
Umine Wacipe: War and Peace Dance
Oscar Howe, 1958
For its Indian Annual exhibition in 1958, the Philbrook Museum of Art in Tulsa, Oklahoma, rejected Oscar Howe's abstract painting as 'a fine painting – but not Indian.' Howe (1915–1983) responded, declaring:
Indian Art can compete with any art in the world, but not as a suppressed art … are [Indians] to be herded like a bunch of sheep, with no right for individualism … put on reservations and treated like a child, and only the White Man knows what is best for him? I only hope … the Art World will not be one more contributor to holding us in chains. 
Considered a manifesto to the Native art world, the following year the Philbrook revised its judging rules, and the curator later remarked that Howe 'set in motion a chain of events which changed the course of the history of Indian art.' (AM)
***
Indian with Beer Can
Fritz Scholder, 1969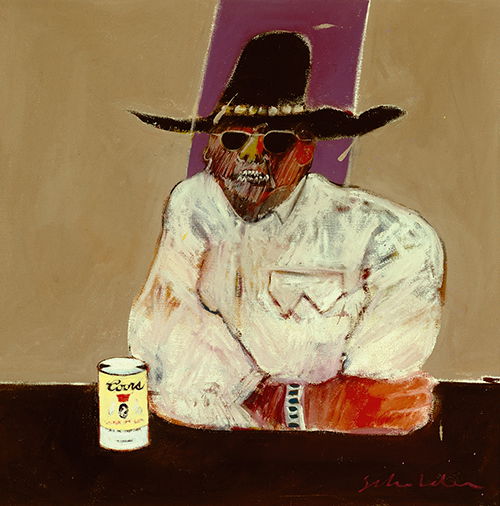 Indian with Beer Can was painted after Fritz Scholder (1937–2005) had been at the Institute of American Indian Arts in Santa Fe for about five years and dramatically broke with the romanticized portrayals of Native people stuck in the past. 
Scholder's painting was produced at a time when the emphasis on preserving indigenous culture, language and ceremonies was far from prevalent. Many Indian artists, including Scholder, have spoken of feeling shame at being Indian. The painting references the Native American community's historic problems with alcoholism. (JS)
***
Link Wray
Link Wray, 1971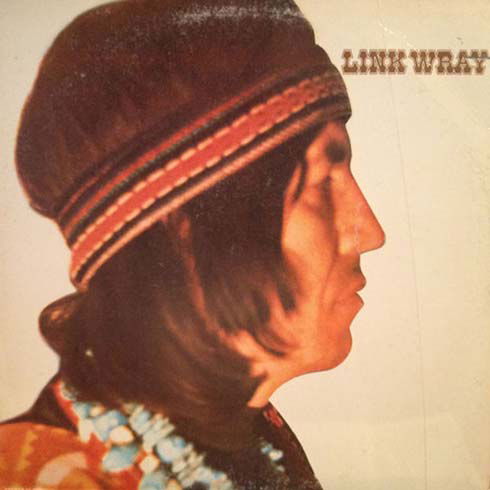 Shawnee musician Link Wray (1929–2005) completed his transformation from 60s rock'n'roll instrumentalist (best known for the 1958 song 'Rumble') to Americana singer-songwriter with his self-titled 1971 record. Said transformation saw Wray lose the black leather jacket instead adopting more traditional Native attire on the sleeve, a move, it has been suggested, aimed squarely at the developing 'hippie marketplace'. 
It's unlikely the change was motivated by such cynical motives; despite its poor commercial performance, Link Wray is an example of a countercultural American rock record with lyrics that speak directly of the Native experience, particularly Link's childhood, which he described as being largely defined by fear of white people.
Listen: 'La De Da'
***
Artifact Piece
James Luna, 1986
When performance artist James Luna laid his partially-naked body in a museum display case at the San Diego Museum of Man in 1986 surrounded by text labels 'documenting' his life, he challenged how museums had represented Native people as artifacts of study, untouched by modern life. 
Artifact Piece ushered in a new era of how museums work with Native people and handle their material culture, beginning with the American repatriation law NAGPRA in 1990. The act requires federal agencies and institutions that receive federal funding to return Native American 'cultural items' to lineal descendants and culturally affiliated Indian tribes. (AM)
***
Speaking To Their Mother
Rebecca Belmore, 1991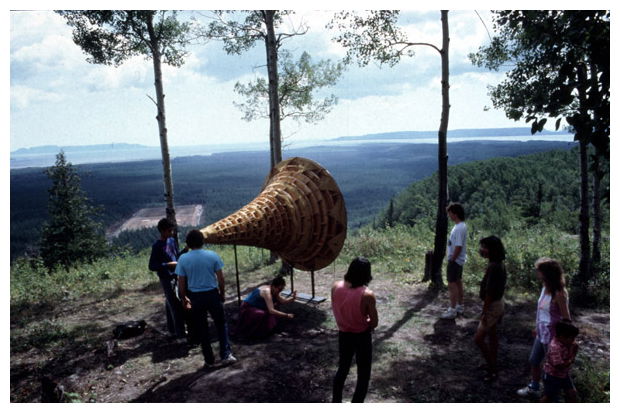 Speaking To Their Mother was a response to the Oka Crisis of 1990, a land dispute between a group of Mohawk people and the town of Oka in Quebec, which sought to build a golf course and residential development on a Mohawk burial ground and pineland. 
Belmore produced a large wooden megaphone encouraging Native peoples in Canada and the U.S. to literally voice their protest. The object was installed in many locations, reservation, rural, thus, in the words of the artist, 'locating the Aboriginal voice on the land'. (CV)
***
We The People
John Kahionhes Fadden, 1991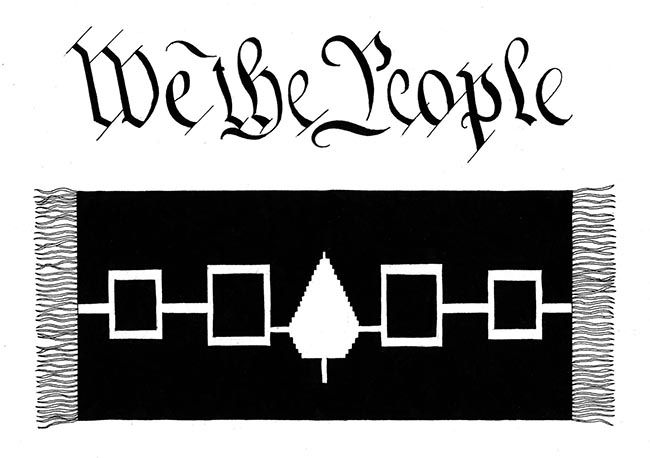 Mohawk artist John Fadden's work isn't modernist and is not fashionable – it speaks to abiding traditional themes and it is therefore outsider art in the sense that it does not fit into elite notions of 'Indian art', but speaks instead to mainstream Indian tastes. 
In We The People, part of the preamble to the US Constitution is written above the Haudenosaunee Hiawatha Wampum Belt, which represents the original Five Nations. The work references the long tradition of fair dealing and sovereign-to sovereign relationships between the Iroquois and Euro-Americans between Indian and non-Indian nation-states. (JP)
***
Smoke Signals
Dir. Chris Eyre, 1998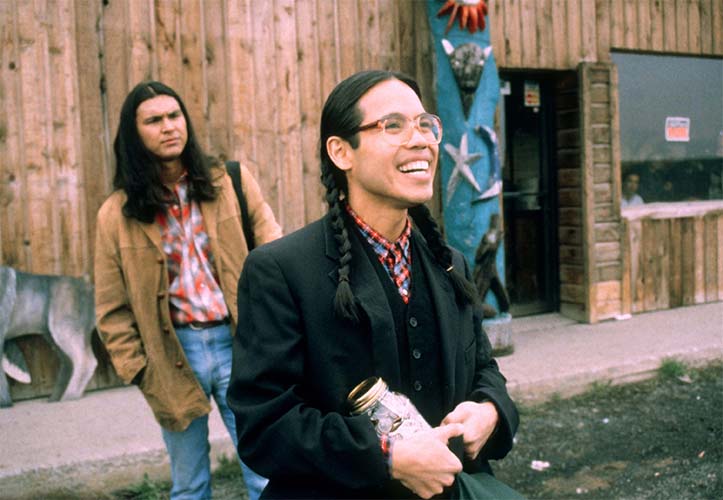 "You're leavin' the rez and goin' into a whole different country, cousin."
Featuring a cast of diverse Native characters who defy stock stoic Hollywood stereotypes, Smoke Signals quickly became the most successful film directed by a Native American. Based on Sherman Alexie's short story collection The Lone Ranger and Tonto Fistfight in Heaven, the film is a road movie which explores, among other things, what it means to be Indian. (JB) 
There is an interesting historical context to the film, which centres on members of the Coeur d'Alene tribe in northern Idaho. In the decade in which the movie was made the Coeur d'Alene reservation became what the Washington Post described as an 'economic powerhouse', following the opening of a casino and bingo hall in 1992. 
The success of such casinos followed the 1988 Indian Gaming Regulatory Act by which states have limited power to forbid gambling on reservations land, prompting a boom in the number of gambling operations run by native people. 
Additionally, in 1991 the tribe filed a lawsuit against the local silver, lead and zinc mining industries for dumping millions of tons of heavy metals into the Coeur D'Alene watershed, prompting America's second largest Superfund cleanup project, expected to cost $120 million.
Rhys Griffiths is editorial assistant at History Today.