Charles de Gaulle's Big Idea
De Gaulle's secret was an ability to project a sense of French gloire, even when it didn't really exist.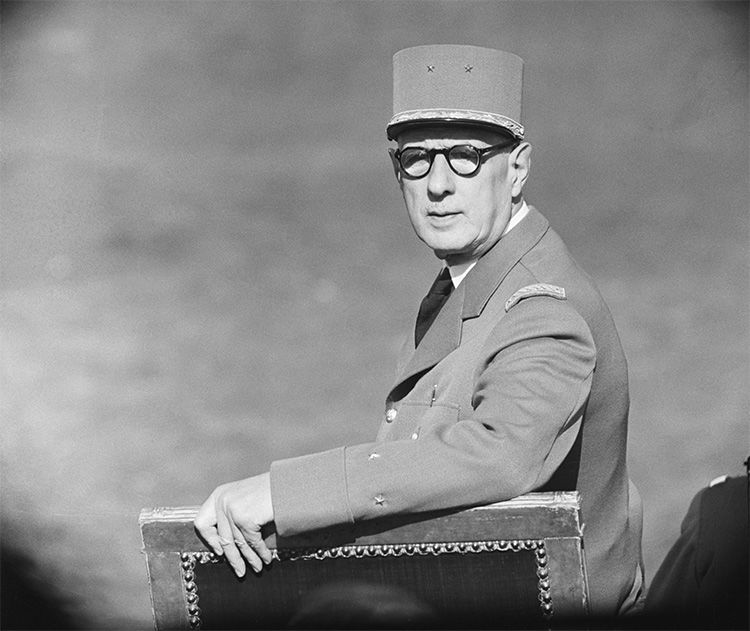 It is a good moment to take the pulse of the man who epitomised France in the 20th century. In 2020, General Charles de Gaulle will have been dead for 50 years. Twice in his lifetime this imposing figure with his chinless 'aubergine' profile stepped in to rescue his country – once in 1940, when ancient continental rivalries flared up, and again in 1958, when its troubled colonial legacy threatened to convulse it. Its proximity to disaster on both occasions and the ignominious manner in which his own constitutional reforms were rejected in 1969 in the wake of the previous year's students' revolt, suggest that his career was uneven, its political underpinnings shaky.
Today he has consolidated his place as a cross-party national symbol – to the extent that, in his official presidential photograph, the liberal internationalist Emmanuel Macron displayed, on his desk, an open copy of his predecessor's War Memoirs.
De Gaulle's secret, Julian Jackson suggests in this absorbing biography, was his ability to project a sense of French gloire, even when it didn't really exist. As the general disarmingly noted in those memoirs, 'France cannot be France without grandeur'. In the same passage he wrote, 'All my life I have had a certain idea of France' – words that Jackson adopts as his title and seeks to tease out in his book.
It is interesting to learn about de Gaulle's intellectual background. Never a fascist, but hardly a democrat, as a young man he was a scholarly Catholic monarchist, prone to reading conservative authors, such as the philosopher Henri Bergson and the poet Charles Péquy, whose efforts to marry political action with religious values led to the idea of 'patriotic faith'.
Turning his back on academia, he joined the army officer training school at Saint-Cyr. The military was going through a period of reassessment. Still smarting from defeat in the Franco-Prussian War in 1871, it had endured the buffeting of the Dreyfus Affair. De Gaulle, tellingly, was not particularly for or against Dreyfus, only worried that the debate had torn apart his beloved army.
Joining the historic 33rd Regiment, he served with distinction in the First World War. After being wounded, he was captured and held prisoner for 32 months. His experiences and his reflective nature made him a natural lecturer on military history at Saint-Cyr. From there he attached himself as ghostwriter to Marshal Pétain, the 'Lion of Verdun', who initially helped his career, before they fell out.
Having commanded the 4th Armoured Division at the start of the Second World War, his romantic 'idea of France', together with his taste for action, pushed him to reject his country's armistice with Germany and to lead the London-based Resistance in June 1940.
Relations with his British hosts proved prickly, however, particularly after the Allied bombing of the French fleet in Mers el Kébir and the arrest of Admiral Muselier, head of the Free French navy, on false charges of treason. De Gaulle had to work hard for domestic support: a trip to the Middle East resulted in only 5,000 defeated Vichy soldiers rallying to his cause and 30,000 preferring to be repatriated to France.
His political vision of Gaullism was hardly popular either, even after he returned victorious to Paris in 1944. Ejected from office soon afterwards, he lived contentedly for over a decade at Colombey-les-Deux-Eglises, his modest country estate in Haute-Marne, where he wrote his memoirs, inspired by the 19th-century writer Chateaubriand, who had similarly tried to reconcile his conservative values with the troubled legacy of the French revolution.
With the Fourth Republic riven by factions, exacerbated by divisions over Algeria, de Gaulle accepted President Coty's invitation in May 1958 to return to government, which he quickly took over in a Brumaire-style coup. Jackson is good on the General's slyly Machiavellian relations with the French Algerians, to whom he promised an Algérie Française, though the phrase does not appear in his collected speeches.
After skilfully engineering Algerian independence, he was the target of 30 assassination attempts, mainly by the Organisation Armée Secrète (OAS), the military refuseniks who opposed this initiative. (Their efforts to kill him in August 1962 provided the plot for Frederick Forsyth's 1971 thriller The Day of the Jackal.) De Gaulle countered with a series of abrupt constitutional reforms, which his Socialist opponent François Mitterand pilloried in the title of his 1964 book The Permanent Coup d'Etat.
He now had the opportunity to put his ideas into action. As his country entered its 'trente glorieuses' postwar years, he pushed for it to take its rightful place in the 'first rank' of the world. He committed it to the EEC (while denying Britain access), removed French troops from NATO, built up France's nuclear energy and arsenal and tried, with the help of his consigliere Jacques Foccart, to forge a neo-colonialist empire in Africa. However, according to Lord Gladwyn, a close observer as British ambassador to Paris, 'his chief failing' was 'to cast his country into a role which was beyond her power'.
Unlike his protégé (and successor) Georges Pompidou, he disliked 1960s' permissiveness. The satirical paper Le Canard enchaîné once parodied him in a cartoon that showed a scantily clad Brigitte Bardot beside his wife Yvonne, buttoned up to the neck and praying.
In a rare humorous note, de Gaulle compared his influence on the world with Tintin, though, always a nationalist dreamer, his real hero was Clovis, who consolidated the Frankish throne around ad 500 and made France a Christian country.
With its useful appendix of mini-biographies of the various characters involved, Jackson's book is well argued and presented, though its uncharacteristically erroneous reference to Joseph Conrad's novel Lucky Jim is itself irresistibly amusing.
A Certain Idea of France: The Life of Charles de Gaulle
Julian Jackson
Allen Lane
887pp £35
Andrew Lycett has written lives of Wilkie Collins and Arthur Conan Doyle.