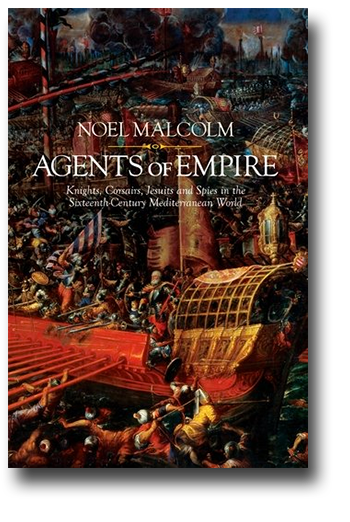 Agents of Empire: Knights, Corsairs, Jesuits and Spies in the Sixteenth-Century Mediterranean World
Noel Malcolm
Allen Lane  604pp  £30
The Mediterranean, as a world in itself or as a gateway to other worlds, old and new, has been much studied. For the period covered by the book under review, the 16th century, the 'classic' study was contributed by Fernand Braudel. This was written from prison and his treatment of the Mediterranean during the reign of Philip II is – consequently – rather impressionistic. By contrast, and from different circumstances, Noel Malcolm's study, Agents of Empire, is anchored in a wide range of specific source materials, primary and published, and reveals a considerable knowledge of areas of the Mediterranean not often frequented by Anglophone historians.
Malcolm's starting point may appear rather unusual, from two families originating from 'Venetian Albania', the Bruni and the Bruti. In his introduction, the author apologises for a 'micro-historical' approach and it is true that some 'micro-histories' have emerged from raids on little known archives resulting in 'challenging' worldviews usually compiled from atypical Inquisition records. However, the Bruni and the Bruti lead the reader into a much wider world and Malcolm handles its – and their – stories extremely well. Throughout, their careers and family circumstances are woven into the greater narrative.In the 16th century, Albania existed – then, as now – on a frontier between Islamic and Christian states and between Islamic and Christian (Greek Orthodox and Roman Catholic) religions. But the frontier was a porous one; espionage, negotiation, trade, the exchange of prisoners, regional politics between the 'divides' of East and West could flourish.
The Bruni and the Bruti, like other families from marginalised areas of Europe, made their way into a wider world and here Malcolm takes his treatment onto the wider stage of the Mediterranean. Each chapter encloses a clear and compelling narrative of such great events as the Siege of Malta (1565) and the Battle of Lepanto (1571), while alert to other issues, for example the Ottoman threat to south-eastern Italy and Spanish ambitions in North Africa. 
The coverage of key figures and courts is well researched and clear. But the author is always ready to shift focus from a wider to a more specific stage: the arming of a Venetian galley, how completely – or incompletely – did the Ottoman Empire recover from Lepanto, the nature of Venetian holdings in Albania and Istria in terms of strategy, population, government and resources. He also discusses the concept and aims of sea power in the period, arguing that the Mediterranean naval powers did not seek 'Jutland'-style confrontations, but rather used their fleets to raid, acquire coastal cities and strong points and to transport armies. This may be to downplay the contemporary appreciation of sea power. Malcolm's study draws repeatedly on information on the construction, arming, readiness and movement of vessels and navies.
Throughout, this study, or series of studies, is informative and thought-provoking, from discussions of 'armchair' strategic thinking in the Vatican, to divisions and unrest in the Balkans, to the Venetian Republic's ability to keep 'punching (or rowing) above its weight' and whether the weakness of some of its Balkan possessions helped to prolong their place in the Venetian stato di mar.
Agents of Empire includes a useful and necessary 'Note on Names, Conventions and Pronunciations', covering, for example, the many changes over time to place names. It also includes some effective maps, though given the geopolitical situation in the Balkans Malcolm discusses, a relief map would have been useful. In all, this book greatly enriches our understanding of Mediterranean history on both international and local levels. It should also be recommended reading for the Foreign and Commonwealth Office and its more thoughtful representatives in the Balkans and Middle East. Finally, it should spur scholars to consult the sadly neglected archives of Koper (Capodistria) in the Biblioteca Nazionale della Marciana in Venice.
John Easton Law is Reader in History and Classics at the University of Swansea and former editor of Renaissance Studies.