Paul Lay pays tribute to the playwright, dissident and former Czech president, who has died aged 75.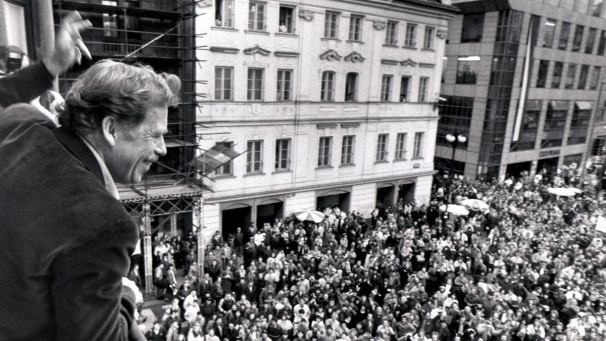 The excellent website Arts and Letters Daily collects a number of articles paying tribute to Vaclav Havel, the great Czech statesman and hero of the Velvet Revolution, who died yesterday at the age of 75. It comes to one third of the space devoted to the polemicist Christopher Hitchens who died last week at the age of 62.
I was privileged to meet Havel, in 1988, when Czechoslovakia's freedom still felt a long way off. It was in his favourite pub, U Rybu (The Fish), which was notable at the time for opening late and serving decent food – fish and chips – as well as the ubiquitously brilliant Czech beer. Havel was with his wife and two young fellow dissidents. On the adjacent table were two secret servicemen. He chain smoked his way through conversation, charming and eloquent in his hang dog way. Even I didn't expect him to be president so soon after.
Havel had learnt the hard way that much of mankind's misfortune rests on the need for simple certainties, the kind which the study of history mitigates against. Just last year, he was at his eloquent best, addressing a Prague audience at a conference called 'The World We Want to Live in'. Reflecting on the economic crisis, born of hubris, Havel, typically insightful and humble, said:
'I sense behind all of this not only a globally spreading short-sightedness, but also the swollen self-consciousness of this civilisation, whose basic attributes include the supercilious idea that we know everything and what we don't yet know we'll soon find out, because we know how to go about it. We are convinced that this supposed omniscience of ours which proclaims the staggering progress of science and technology and rational knowledge in general, permits us to serve anything that is demonstrably useful, or that is simply a source of measurable profit, anything that induces growth and more growth and still more growth, including the growth of agglomerations.
But with the cult of measurable profit, proven progress and visible usefulness there disappears respect for mystery and along with it humble reverence for everything we shall never measure and know, not to mention the vexed question of the infinite and eternal, which were until recently the most important horizons of our actions.
We have totally forgotten what all previous civilisations knew: that nothing is self-evident.'
From the archive:
Michael Simmons draws on many years experience of living in, and reporting from, central Europe to look back at the upheavals in Czechoslovakia of 1968.