25 Times History Made Perfect Clickbait
The best of #historicalclickbait.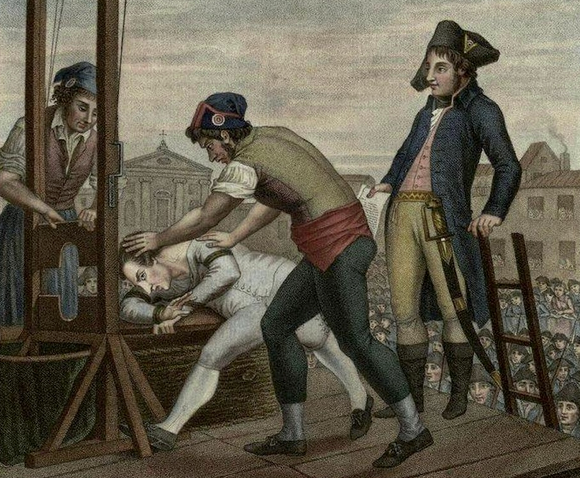 Following a conversation in the office on Friday afternoon we posted this very silly tweet with the hashtag #HistoricalClickbait – historical events written as sensationalist headlines guaranteed to attract readers:
#HistoricalClickbait: This King Made Terrible Decisions and His Barons' Reaction Was Perfect

— Kate Wiles (@katemond) July 24, 2015
Because this was a brilliant idea (or perhaps because it was Friday), #HistoricalClickbait ended up trending on Twitter, meaning that at that point it was among the ten most talked about topics in the UK.
You can view the entire collection but here are some of our favourites.
WATCH: The East India Company got a nasty surprise from this Boston flash mob. You'll never believe what they did! #historicalclickbait

— Cynthia Lukyanenko (@clukyanenko) July 25, 2015
This lady was told to sit at the back of the bus, but what she did next shocked everyone. Check out that guy's face! #historicalclickbait

— Matteo Orsini Jones (@matteoOJ) July 22, 2015
Schroedinger put a cat in a box. What happened next simultaneously will and will not blow your mind #HistoricalClickbait

— Roger Willis (@rogerhwillis) July 24, 2015
You won't BELIEVE what was found in this abandoned wooden horse. #historicalclickbait

— Adam Gilbert (@adamrgilbert) July 24, 2015
"Marx out of 10." Europe's top communists rated by the people who know them best. #historicalclickbait

— James Doleman (@jamesdoleman) July 24, 2015
27 one-hit madrigals that only 1590s kids will remember #HistoricalClickbait

— Michele Banks (@artologica) July 24, 2015
@Scriblit Plague Doctors hate her! Find out how this suburban mom has been keeping 50% of her family Black Death-free! #historicalclickbait

— JurBaxxic World (@Baxfail) July 25, 2015
12 Times Bismarck's Moustache Was PERFECT During The Austro-Prussian War #HistoricalClickbait

— Thomas Gardiner (@Thomas_Gardiner) July 24, 2015
Which signatory to the death warrant of Charles I are you? Click to take the quiz #historicalClickbait

— Mark Wallace (@wallaceme) July 24, 2015
St. Patrick Exclusive: Snakes On A Plain. You won't BELIEVE what happened next #HistoricalClickbait

— Vox Hiberionacum (@VoxHiberionacum) July 24, 2015
This art school threw him out for being useless - You'll be amazed at what he did next #HistoricalClickbait

— Quins Jim (@quinsjim) July 24, 2015
REVEALED: The identity of the KILLER of the Princes in the Tower #HistoricalClickbait

— Angus J Wyatt (@anguswyatt) July 24, 2015
Marie and Pierre Curie Just Met, But Their Chemistry Is INCREDIBLE! #historicalClickbait

— Greg Jenner (@greg_jenner) July 24, 2015
10 ancient mummification techniques you won't believe you haven't tried yet! Number 9 is a no brainer! #historicalclickbait #AncientEgypt

— Robyn Codlin (@RobynLouLa) July 24, 2015
He only posted a list on the door of a church, what happened next will shock you #historicalclickbait

— Matt PK (@MallPriffick) July 24, 2015
How often should you change your wives? Hint: sooner than you think! #HistoricalClickbait

— Henry Tudor (@KngHnryVIII) July 24, 2015
This secret audio of President Nixon will make you question his integrity #HistoricalClickbait #ExpletiveDeleted

— Dr Edward Packard (@paxcyclist) July 25, 2015
#historicalclickbait Enjoy meeting new people? Want to surprise your friends and family. Join the Spanish Inquisition now

— GS_973 (@GS_973) July 24, 2015
#HistoricalClickbait 1536: Anne Boleyn Tries The Off The Shoulder Look

— Graham Buxton (@BungleFinchley) July 24, 2015
#historicalclickbait You CAN beat hemophilia - Rasputin shares his secrets.

— Lindie Koorts (@lindiekoorts) July 24, 2015
He came. He saw. What happened next will blow your mind... #historicalclickbait

— Dave Rodney (@daverodney) July 24, 2015
#HistoricalClickbait Shocking! This inn in Bethlehem refused to let an unmarried couple stay in a room. You won't believe what happens next!

— Chris Sowton (@UniversityShed) July 24, 2015
This slippery adviser told Eve to change her diet - you'll never believe what happened next #historicalclickbait pic.twitter.com/QvXpUEk95K

— Chris Dale (@chrisdaleoxford) July 25, 2015