The author Agatha Christie mysteriously disappeared on December 3rd, 1926. Christopher Winn recounts that, and other vanishings from this month.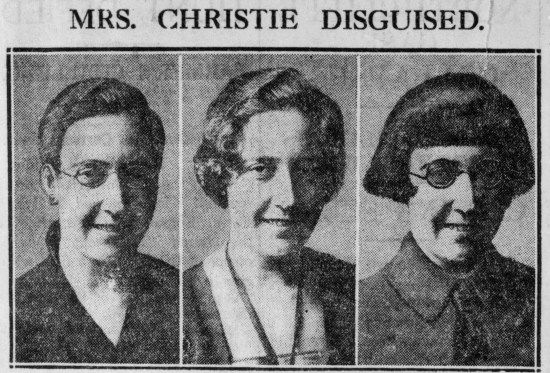 On the evening of December 3rd, 1926, the author Agatha Christie drove away from Styles, her Berkshire home, and vanished. Her Morris Cowley was found abandoned with the lights still on in the car park of the mysterious Silent Pool in the Surrey Hills and a nationwide manhunt ensued that even drew in the talents of fellow crime writers Sir Arthur Conan Doyle and Dorothy L. Sayers. Christie was discovered 11 days later staying at a hotel in Harrogate, Yorkshire, under the name Mrs Teresa Neele. Here are some other figures who disappeared (or reappeared) in December.
On December 4th, 1872 the British brigantine Dei Gratia came across the Marie Celeste, a small cargo ship bound for Genoa out of New York, adrift in the Atlantic east of the Azores, completely deserted. The captain's table was set for a meal, but there was no indication of what had happened to the crew of eight, along with the captain's wife and daughter who were passengers. They were never found.
On December 15th, 1944, American band leader Glenn Miller boarded a Norseman transport plane at Twinwood airfield, near Bedford, to fly to Paris, where his band were booked to perform for the troops. He flew off into the mist and was never seen again. No wreckage or body was ever found and official records show that no planes took off from Twinwood on that day due to the foggy conditions.
On December 17th, 1967, just 22 months after becoming prime minister of Australia, Harold Holt went for his customary swim off Cheviot Beach near Melbourne. The sea was rough and his friends on the beach saw Holt struggling to swim back to shore before he disappeared and was never seen again. A two-day manhunt failed to find the body and Holt was presumed dead, becoming the third Australian prime minister to die in office.
John Stonehouse, postmaster general under Harold Wilson and the only acting British government minister to be a proven Communist spy, was surprisingly discovered in Melbourne on Christmas Eve 1974 after apparently disappearing a month before while swimming off the coast of Florida. His clothes were found in a pile on the beach and he was presumed drowned, but he had faked his death to escape investigation of his business affairs. He was apprehended in Australia by police who thought they had found the missing Lord Lucan.
From The Archive
Detective Novels: A Very British Crime Wave

Detective stories captured the imaginations of the British middle classes in the 20th century. William D. Rubinstein looks at the rise of home-grown writers such as Agatha Christie, how they mirrored society and why changes in social mores eventually murdered their sales.