The invention of the telephone, the early years of the steamboat and other great Scottish firsts.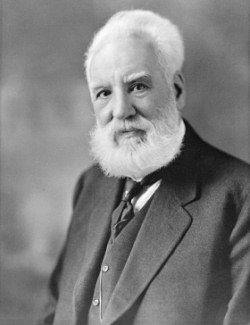 'Mr Watson, come here, I want to see you.' These words, the first words to be transmitted by telephone, were uttered on March 10th, 1876 by Edinburgh-born Alexander Graham Bell (1847-1922), inventor of the world's first practical telephone. He went on to found the Bell Telephone Company, which became AT&T, and was a founding member of the National Geographic Society. Here are some other Scottish firsts.
- In 1788 poet Robert Burns and artist Alexander Nasmyth became the first passengers ever to travel in a steamboat. It was a prototype built by Lanarkshire-born engineer William Symington (1764-1831), who conducted trials on Dalswinton Loch in the grounds of his sponsor, banker Patrick Miller. Symington went on to build the world's first commercial steamboat, the Charlotte Dundas, named after the daughter of a subsequent sponsor Thomas, 1st Baron Dundas. In 1982 his descendant, Lord David Dundas, was the first person to write a jingle for the newly formed Channel Four: he composed the four-note signature tune used by the TV channel from 1982 to 1992.
- In 1839 Kirkpatrick Macmillan (1812-78), the son of a Dumfriesshire blacksmith, became the first person to ride a pedal bicycle. He was inspired by watching a 'hobby-horse' – an early form of bicycle propelled by the rider's feet – pass through his home village of Keir Mill. Macmillan's introduction of pedals was so successful he was fined for speeding while riding to Glasgow in 1842. Macmillan's niece Mary Marchbank became the world's first female cyclist, when she borrowed Macmillan's bicycle to ride through Keir Mill. Macmillan's smithy still stands and bears a plaque that reads: 'He builded better than he knew.' Indeed he did; there are now more than one billion bicycles in the world.
- In 1925 John Logie Baird (1888- 1946), born in Helensburgh, Dunbartonshire, became the first person ever to watch live television, when he succeeded in transmitting a moving picture of an office worker, William Taynton, in his laboratory in London's Soho. Three years later Baird achieved the world's first colour television pictures and the world's first transatlantic transmission, between London and New York.
From The Archive
From pigeon post to the Internet - Dagmar Lorenz on how the communications revolution has produced the global village.