The Beauty of Physical Ageing
In contrast to today's youth-obsessed media, in Ancient Egypt, eye bags and wrinkles were seen as signs of a long life, well lived.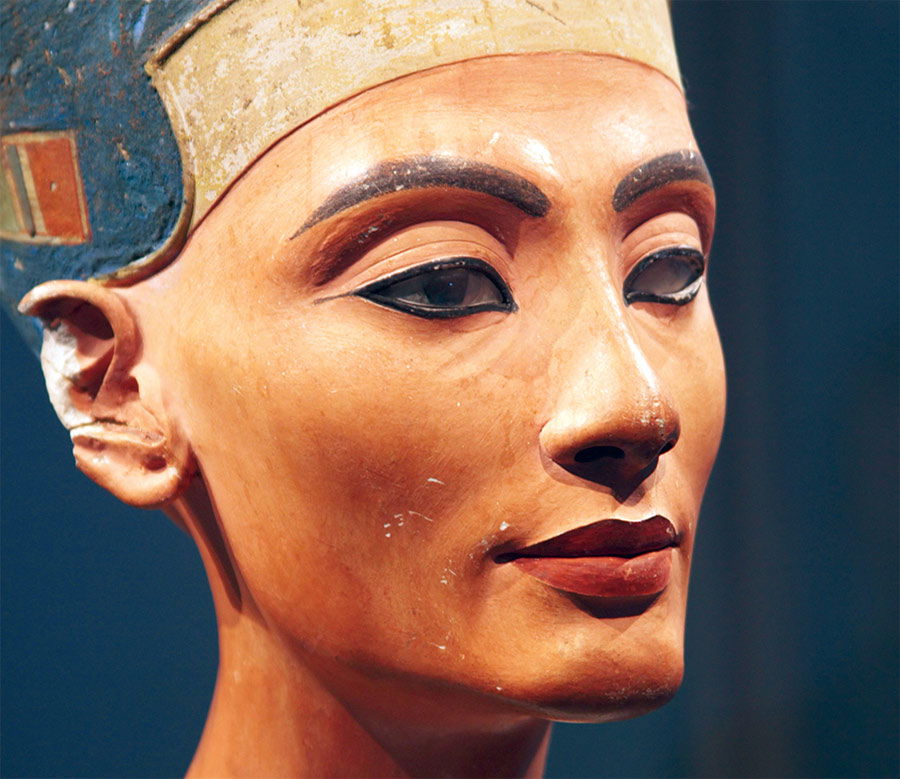 'Really wonderful work. No use describing it, you have to see it.' So wrote Ludwig Borchardt in his official excavation diary on 6 December 1912, the day he discovered the 'life-size colourful bust of Queen'. Last July, 105 years after that discovery, my Oxford students and I were privileged to enjoy a pre-museum opening tour of the Amarna Collection at Berlin's Neues Museum led by Friederike Seyfried, Director of the Egyptian Museum and Papyrus Collection. Having spent time alone with Nefertiti in the semi-darkness of the north dome room, I was therefore sceptical as to what Tyldesley's 'creation of an icon' could add to my unique face-to-face encounter with Nefertiti's actual face.
The answer is: a great deal. Tyldesley dissipates the myth that the sculptor Tuthmose, in whose workshop the bust was discovered, was a solitary artist. A fragmentary piece of ivory inscribed with his name provides her innovative entry point to position him as the manager of a thriving industrial concern. Discovered in 1912, in what Tyldesley argues was Tuthmose's compound, it was only identified in 1983 as a horse blinker. Tyldesley convincingly argues that it represents a luxury gift from the pharaoh Akhenaten, allowing us to picture the sculptor accompanying his benefactor's family as they drove their respective chariots along the Royal Road at Amarna.
Tyldesley nicely picks up on the intersections of age and ethnicity in relation to materiality. In what are salient lessons for us today, she correctly points out that Nefertiti's physical ageing – now pleasingly accentuated by David Chipperfield's raked lighting – was never a sign of shame. Rather, eye bags and wrinkles were a tribute that one had managed to live so long. Skin colour and racial heritage were equally irrelevant. At stake was what it meant to embrace core Egyptian values.
Useful footnotes and an extensive up-to-date bibliography enhance the volume. Less successful is the frustrating lack of textual referencing to the 15 accompanying photographs. Moreover, supplementary artefacts – often discussed in detail – are rarely illustrated.
This highly readable volume captures Nefertiti as a German queen: 'An insignia of national identity', her repatriation was blocked by Hitler in 1933. Ultimately, Tyldesley convinces us that the bust left Egypt legitimately. Gustave Lefebvre, French Inspector of Antiquities and handler of the division, was a philologist who seemingly preferred an Amarna inscription for the Cairo Museum. No wonder that Lefebvre later stated that 'he could not remember whether or not he had seen the bust', during what Tyldesley amusingly notes 'was for him simply another day at the office'.
Nefertiti's Face: The Creation of an Icon
Joyce Tyldesley
Profile Books 228pp £20 
Rosalind Janssen is Lecturer in Education at the Institute of Education, University College London and former curator of the Petrie Museum and, subsequently, a Lecturer in Egyptology at the Institute of Archaeology.