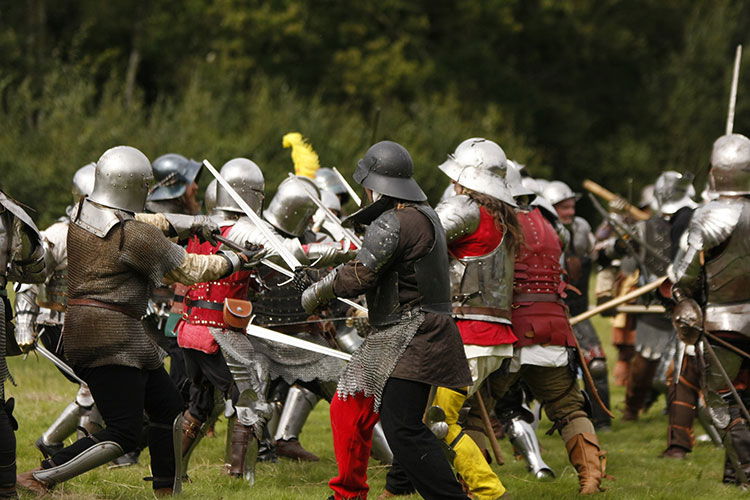 The popular perception of different historical epochs varies over time, but the Middle Ages have endured the most mixed of reputations. Rejected during the Renaissance and the Enlightenment, embraced by Romantics and revivalists, the Medieval accrues new misunderstandings at every turn yet absorbs them with all the distinction of a gracefully aging castle. It even found itself rammed into a single reductive adjective by Quentin Tarantino in his 1994 film Pulp Fiction.
The era's continuing importance was made plain following the events of September 11th, 2001. When in 2003 the Labour Education Secretary Charles Clarke described medieval history as an 'ornamental' subject, one of his ministerial colleagues drily observed that his own university dissertation, on the Crusades, was 'not wholly irrelevant' in the light of 9/11. ISIS broadcasts its avowed medieval credentials as proof of its authenticity. Prime Minister May's proposed use of royal prerogative to trigger Brexit was picturesquely caricatured by a judge as 'the clanking of medieval chains'.
Now the Economist, in an article crowd-pleasingly and predictably illustrated by a detachment of cavalry from the Middlish Age TV series Game of Thrones, mulls over a parallel line of descent between the Crusaders and the Trumpian 'alt-right'. The Economist appears to regard medieval history as a potentially dangerous influence once it reaches beyond specialised handling. The period, apparently hitherto unknown outside a small group of Marxist scholars, has somehow escaped to exert a baneful fascination both on the American far right and its Islamist mirror image. It can only be tamed and made civically useful if judicious 'emphasis' is applied by liberal academics. This timorous argument concludes in a warily optimistic hope that the 'grittiness, rowdiness and bawdiness' of Game of Thrones et al might join forces with academic 'nuance' to promote 'diversity' over 'homogeneity' in the ensuing social lessons of the Middle Ages.
What alt-right keyboard warriors, ISIS recruiters, utilitarian politicians, fashionable lecturers and meretricious scriptwriters all have in common is their transactional attitude to the remote past. They raid it for moral, strategic or commercial potential, while divesting it of that which confuses and alienates them. Taking account of the period's complexity, true historians provide a service to a hungry public when they defend diversity and attack homogeneity with reference not to the society of the present, but to the evidence of the past. They are not ethical guides, nor are they likely to be effective should they claim such a role. The historian's task is to convey the past's landscape, portrait, idiom and temperament without reference to a modern standard. This requires care and compassion for a context that, though past, need not ever be altogether lost.
Minoo Dinshaw is the author of Outlandish Knight: the Byzantine Life of Steven Runciman (Allen Lane, 2016).