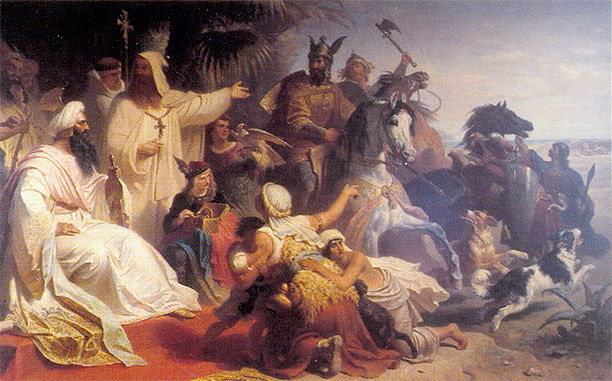 Of the 37 Abbasid caliphs who held sway in Baghdad between 762 and 1258, one name eclipses all others. Harun al Rashid (r. 786-809) owes his fame above all to The Arabian Nights, a collection of fantastical Indian, Persian and Arab tales dating to the eighth and ninth centuries. 
The Harun of the Nights is a charismatic, nocturnally street-prowling ruler, always ready for adventure. In the 387th Night his companions are two concubines, from Medina and Kufa. The Arabian is massaging his legs, the Iraqi his arms. Harun gets an erection, which the girls compete to control. 'I see you're trying to monopolise our capital and keep it to yourself', the Kufan complains; 'Give me my share.' The Medinan replies with a line from the Prophet: 'If someone brings uncultivated ground to life, it belongs to him and his descendants.' Not to be outdone on Islamic jurisprudence, the Kufan shoves the Medinan to one side, 'takes Harun's member in both hands' and shoots back with the Prophet's saying: 'Game belongs to the hunter and not to the beater.'
The quest to find the 'real' Harun leads the historian to a trio of medieval works, by Mohammed ibn Jarir al Tabari (History of the Prophets and Kings), Masudi (Meadows of Gold) and Abu al Faraj al Isfahani (Book of Songs). The sources are hardly abundant: no surprise given that we are in the eighth and ninth centuries.